Hudson Guild Theatre Company Seeks Talent for New Online Showcase | Live performances are on hold until their theatre can safely reopen–but that hasn't stopped Hudson Guild from nurturing new talent. Set to broadcast monthly through June, Talent Jam! is a new virtual showcase presented on the Guild's YouTube channel. Each episode will feature 2-3 short performances. People of all ages and levels of experience are encouraged to submit MP4 files for consideration. All forms of expression are welcome, including music, dance, monologues, and stand-up comedy. Only one rule: That thing you do must be no longer than 5 minutes. Send your MP4 file to jfurlong@hudsonguild.org any time between now and May 1. Need technical help? Send an email to Jim Furlong (see address in previous sentence), with a description of your act and what sort of assistance you need. Or, call Furlong at 212-760-9837. For more information, visit www.hudsonguild.org and see the below flyer.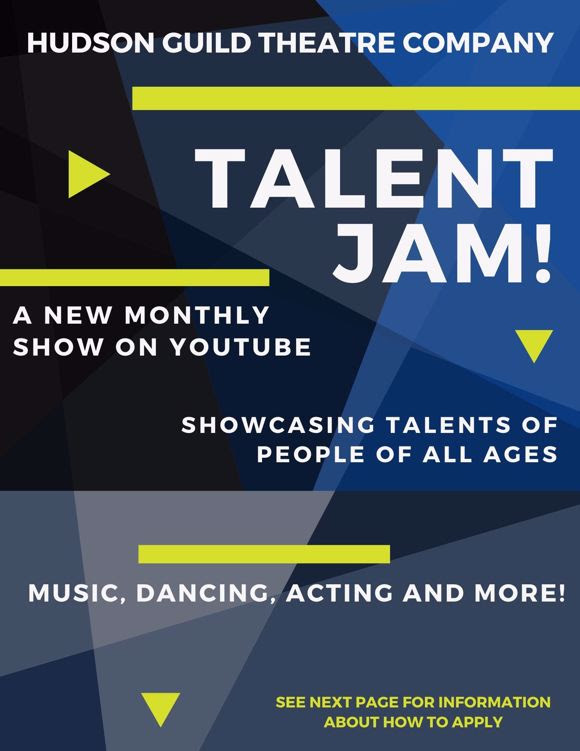 COMMUNITY BOARD APPLICATIONS ARE BEING ACCEPTED THROUGH 5PM ON FEBRUARY 1 | Manhattan's 12 community boards are local organizations each composed of 50 volunteer members serving staggered two-year terms. Notes Manhattan Borough President Gale Brewer (who is responsible for appointing new community board members), community boards are "tasked with being the independent and representative voices of their communities—the most grass-roots form of local government. The boards are pivotal in shaping their communities and work to enhance and preserve the character of the city's many unique neighborhoods." Online applications can be accessed at manhattanbp.nyc.gov/cbapplication. Physical applications (downloadable here as a PDF) may also be mailed and postmarked by February 1, 2021, but online submissions are strongly preferred. See the below calendar to get a good sense of what Chelsea's community board does.
JANUARY MANHATTAN COMMUNITY BOARD 4 (CB4) COMMITTEE MEETINGS | Meeting dates, times, locations and agendas were current as of 12/31/2020, but are subject to change. Please visit CB4's website (https://cbmanhattan.cityofnewyork.us/cb4/meetings/) for updated info.
Social and Racial Justice Task Force | Tues., Jan. 19. 5:30pm. 
Video/phone Conference. To register, click here. Or by Telephone: 646-518-9805
Webinar ID: 980 8063 9242. Barry's Boot Camp on W. 20th St. will do a presentation, for the renewal of their special permit.
Transportation Planning Committee (TRANS) | Wed., Jan. 20, 6:30pm. Video/Phone Conference. To register, click here. Agenda TBD.
Housing, Health and Human Services Committee (HH&HS) | Thurs., Jan. 21, 6:30pm. Video/Phone Conference. To register, click here. Presentation: Midtown Community Court will discuss District Harm Reduction Initiatives, and the Ryan Chelsea/Clinton Health Center will also present.
Executive Committee (EXEC)
 | Mon., Jan. 25, 6:30pm. Video/Phone Conference. To register, click here. Agenda TDB.
NEXT FULL BOARD MEETING | Wed., Feb. 3. 6:30pm. For Zoom registration, click here.
Gone but Not Forgotten: January 2021 Committee Meetings That Have Already Taken Place
its, Culture, Education, Street Life Committee (ACES) | Mon., Jan. 11, 6:30 p.m.
 Video/Phone Conference. To register, click here. Presentation: Chashama to present EnlivenNYC,a program to revitalize the City's vacant storefronts and offices while helping artists. Also, ACES will discuss DOESH and MS admission policy changes.
Business Licenses & Permits Committee (BLP) | 
Tues., Jan. 12, 6:30 p.m. 
Video/Phone Conference. To register, click here. New liquor, wine, beer & cider applications will be discussed, as will be alteration, class change, and/or method of operation applications. There will be a presentation on Neighborhood Cleanup Programs and, from SDNY, info on their derelict bicycle program and the status of corner basket.
Clinton/Hell's Kitchen Land Use Committee (CHKLU)
 | Wed., Jan. 13, 6:30p.m.
 Video/Phone Conference. To register, click here. The committee will discuss and vote on the Draft Scope for Draft Environmental Impact Statement for Citywide hotels. There will also be a presentation, then vote, re: LPC application for the McGraw Hill Building at 330 W. 42nd St.
Chelsea Land Use Committee (CLU) | Wed., Jan. 13 6:30pm.  Video/Phone Conference. There will be a presentation by Flixbus, on potential development of 300 W. 31st St.
Waterfront, Parks & Environment Committee (WPE) | 
Thur. Jan. 14, 6:30p.m.
 Video/Phone Conference. To register, click here. There will be a presentation by the High Line, then a vote by the committee re: design of new permanent stairs structure to replace the existing temporary stairs at W. 20th, 26th, 28th Sts. There will be a discussion, then vote, re: the lease for presence in Hudson River Park of the Intrepid Sea, Air & Space Museum.
Tues., Jan. 12, 4-6pm: NYC Council Speaker Corey Johnson's District Office presents a Virtual Housing Clinic | Held on the second Tuesday of the month, this Housing Clinic continues to observe social distancing and other important pandemic-era precautions by conduction its business remotely, via phone. Appointments last about 20 minutes, during which time you'll learn a lot, courtesy of a courteous housing attorney. Registration is required. To do so, click here and fill out the RSVP sheet. You will receive an email 24 hours before the Clinic with details of your appointment. (Note: This listing was updated on the evening of Jan. 11, by which time registration for the following day's Housing Clinic was closed. Clicking on the above RSVP sheet link  will now allow you to register for the Feb. 9 clinic.)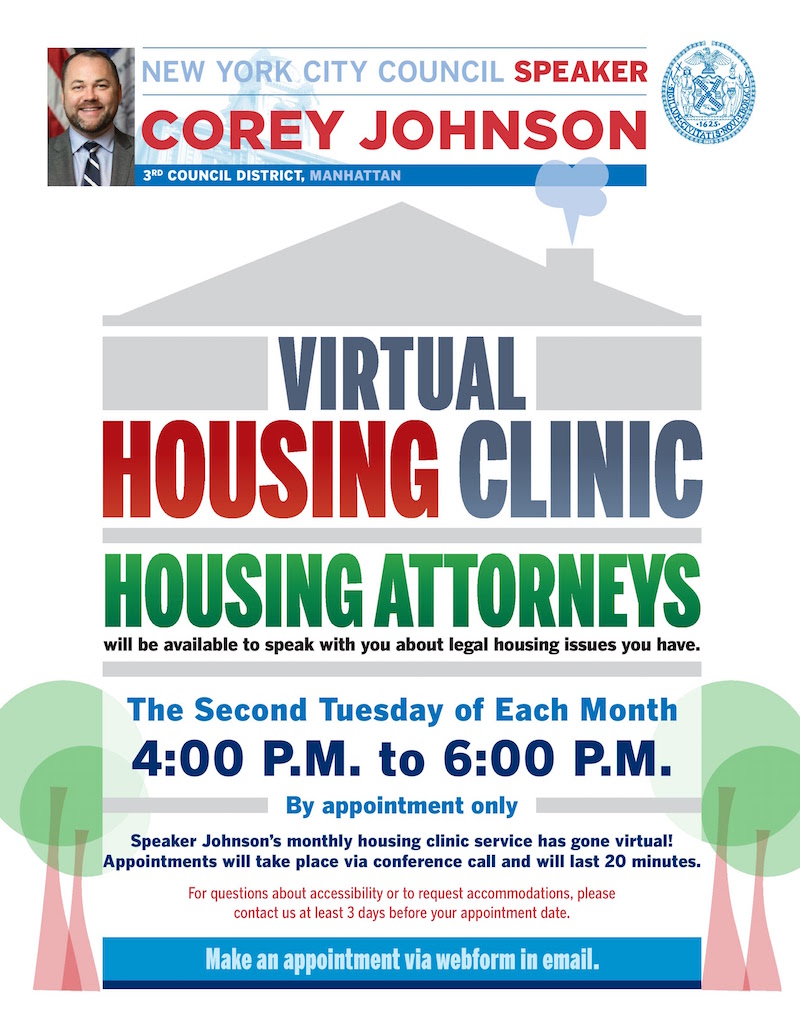 Wed., Jan. 13, 6pm: The NYS EMERGENCY EVICTION ACT & BREAKING DOWN THE BASICS OF HOLDOVERS | That's the topic of New York City Councilmember Helen Rosenthal's monthly housing clinic. This particular edition is co-sponsored by TakeRoot Justice and Goddard Riverside Law Project's housing clinic. Click here to register to attend, via Zoom (registration form includes options to ask a question to the housing attorneys, and request a phone meeting with a pro bono housing attorney). Click here to visit Councilmember Rosenthal's website, and click here to visit her Councilmember page.
–Compiled by Scott Stiffler
Chelsea Community News is made possible with the help of our awesome advertisers, and the support of our readers. If you like what you see, please consider taking part in our GoFundMe campaign (click here).To make a direct donation, give feedback, or send a Letter to the Editor, email scott@chelseacommunitynews.com.