Tues., Jan. 26, 8pm: The 10th Precinct Sector A Build the Block Meeting | Neighborhood Coordination Officers Ricardo Roman and Samuel Baezveras host this Zoom-held event that gives neighborhood residents and business owners a chance to discuss their public safety concerns–or any concern, for that matter. If it's anything like what went down when we attended a recent Zoom-Held Sector C Build the Block meeting, expect your hosts to cultivate an informal tone that encourages multiple exchanges within each Question/Answer element, often ending with a bit of backstory you won't get anywhere else–except, perhaps, a Community Council meeting, which just so happens to be happening the following day. For more information about Chelsea's 10th Precinct, click here. See the below flyer for info on how to attend Tuesday's Sector A Build the Block meeting.
Wed., Jan. 27, 7pm: The 10th Precinct Community Council | Several months into holding meetings in this manner, the novelty factor of noting that the 10th Precinct Community Council has embraced Zoom has finally worn off. What remains is exactly what you've come to expect: Council President Larry O'Neill presides; Deputy Inspector Captain Robert Gault lays out the latest 28-day and year-to-date crime stats; and anyone and everyone in the public chat room can ask any question of Captain Gault, who has established a solid track record of providing the best answer available information allows, promising action on a certain matter will be taken, or–and here's the plot twist–readily admitting he doesn't know and vowing to find out or turning the virtual floor over to an attending colleague who knows the score. For info on how to attend, see the below flyer. You can also access the Zoom meeting link by clicking here.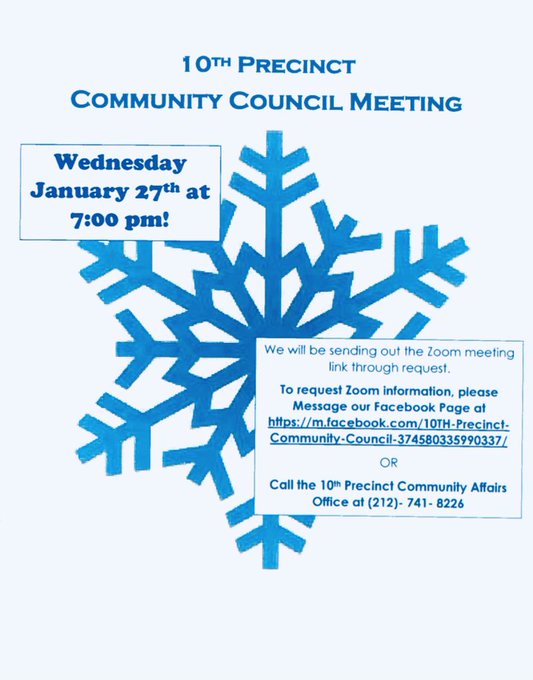 COMMUNITY BOARD APPLICATIONS ARE BEING ACCEPTED THROUGH 5PM ON FEBRUARY 1 | Manhattan's 12 community boards are local organizations each composed of 50 volunteer members serving staggered two-year terms. Notes Manhattan Borough President Gale Brewer (who is responsible for appointing new community board members), community boards are "tasked with being the independent and representative voices of their communities—the most grass-roots form of local government. The boards are pivotal in shaping their communities and work to enhance and preserve the character of the city's many unique neighborhoods." Online applications can be accessed at manhattanbp.nyc.gov/cbapplication. Physical applications (downloadable here as a PDF) may also be mailed and postmarked by February 1, 2021, but online submissions are strongly preferred. See the below calendar to get a good sense of what Chelsea's community board does.
UPCOMING MANHATTAN COMMUNITY BOARD 4 (CB4) COMMITTEE MEETINGS | Meeting dates, times, locations and agendas were current as of 12/31/2020, but are subject to change. Please visit CB4's website (https://cbmanhattan.cityofnewyork.us/cb4/meetings/) for updated info.
Executive Committee (EXEC)
 | Mon., Jan. 25, 6:30pm. Video/Phone Conference. To register, click here. Agenda TDB.
NEXT FULL BOARD MEETING | Wed., Feb. 3. 6:30pm. For Zoom registration, click here.
Hudson Guild Theatre Company Seeks Talent for New Online Showcase | Live performances are on hold until their theatre can safely reopen–but that hasn't stopped Hudson Guild from nurturing new talent. Set to broadcast monthly through June, Talent Jam! is a new virtual showcase presented on the Guild's YouTube channel. Each episode will feature 2-3 short performances. People of all ages and levels of experience are encouraged to submit MP4 files for consideration. All forms of expression are welcome, including music, dance, monologues, and stand-up comedy. Only one rule: That thing you do must be no longer than 5 minutes. Send your MP4 file to jfurlong@hudsonguild.org any time between now and May 1. Need technical help? Send an email to Jim Furlong (see address in previous sentence), with a description of your act and what sort of assistance you need. Or, call Furlong at 212-760-9837. For more information, visit www.hudsonguild.org and see the below flyer.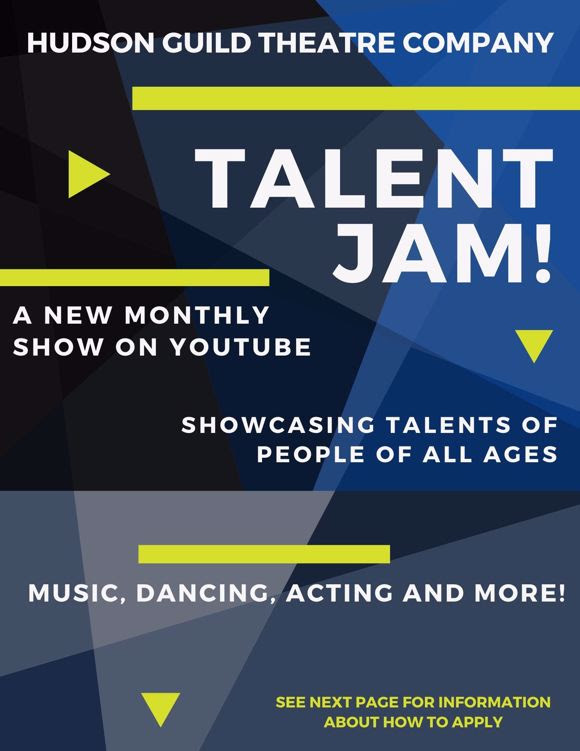 –Compiled by Scott Stiffler
Chelsea Community News is made possible with the help of our awesome advertisers, and the support of our readers. If you like what you see, please consider taking part in our GoFundMe campaign (click here).To make a direct donation, give feedback, or send a Letter to the Editor, email scott@chelseacommunitynews.com.