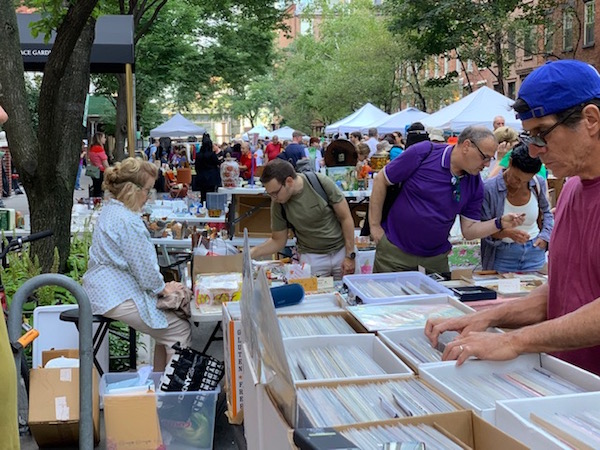 After a cruel, cruel summer of street fairs featuring the same funnel cake stands and tube sock hawkers, the London Terrace Street Fair (W. 24th St. btw. 9th & 10th Aves.) is a browser's paradise where much of what's up for sale is one-of-a-kind. Even the cookies are anything but cookie cutter."
Having helmed a Chelsea-centric newspaper, then website, since March 2010, coming up with colorful teaser copy like that has been as much a part of this reporter's annual routine as attending the iconic event itself.
Drawn by bargains as well as the likelihood of seeing old familiar faces, crowds return year after year to this quintessentially New York City location that sees London Terrace residents putting a sales tag on stuff that's been occupying the back of their closet for years, sometimes decades. The result is a browser's paradise, where designer name clothes, classic LPs, and collectibles gathered from all corners of the globe are scooped up by savvy shoppers every bit as eclectic and eccentric as the vendors and their wares.
Held annually on one of September's lattermost Saturdays—and functioning as West Chelsea's unofficial bridge between summer and fall, it's hard to imagine a year without the London Terrace Street Fair—but that's exactly what happened this past year, when its cancellation (second time in 28 years, the first being 9/11) was just one more unimaginable thing to take place because of COVID-19.
Faced without their major fundraising event of the year and the yearlong philanthropy it helps bankroll, the London Terrace Tenant's Association (LTTA) did a deep dive into their reserves, to ensure none of the good causes that benefitted from a successful Street Fair were left hanging. (The primary beneficiary, Holy Apostles Soup Kitchen, was especially in need this year, having ramped up its daily serving of meals due to COVID19-related demand.)
"So far this year," noted LTTA president Inge Ivchenko, noted, in late 2020, the London Terrace Tenants Association "donated almost $5,000 for LTG [London Terrace Gardens] staff to get hot meals.  The funds went to nearby Chelsea Square Restaurant [Ninth Ave. at W. 23rd St.] and was a form of credit for each LTG worker. We felt this would also help Chelsea Square stay in business, while showing appreciation to our doormen, rovers, porters, maintenance people, etc. We consider them essential workers in our building, who helped residents during this pandemic, especially our seniors."
Reached one month later, Ivchenko noted, "In December, we donated an additional $250 to the Tenants Pac as well as the Met Housing Council, and we sent an additional $500 to Holy Apostles Soup Kitchen, after the $1,000 we previously donated." Among additional donations: $250 to Chelsea Community News, and the ongoing hosting of Zoom calls for the monthly meeting of the Council of Chelsea Block Associations.
As for the return of their Street Fair (a question that's constantly asked, said Ivchenko), "We are planning to hold it again this year in September. We just need to see how the vaccination program progresses, and whether there is another surge. Please check our website for updates. We like to think that the day of our Street Fair is the best day of the  year!  It is an annual gathering of artists, crafts people, vendors of vintage collectables, friends, and neighbors."
—By Scott Stiffler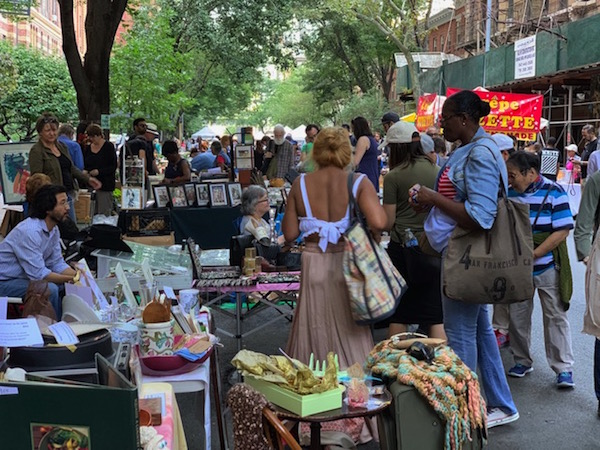 Chelsea Community News is made possible with the help of our awesome advertisers, and the support of our readers. If you like what you see, please consider taking part in our GoFundMe campaign (click here). To make a direct donation, give feedback, or send a Letter to the Editor, email scott@chelseacommunitynews.com.