COMMUNITY BOARD APPLICATIONS ARE BEING ACCEPTED THROUGH FEBRUARY 22  | Manhattan's 12 community boards are local organizations each composed of 50 volunteer members serving staggered two-year terms. Notes Manhattan Borough President Gale Brewer (who is responsible for appointing new community board members), community boards are "tasked with being the independent and representative voices of their communities—the most grass-roots form of local government. The boards are pivotal in shaping their communities and work to enhance and preserve the character of the city's many unique neighborhoods."
Online applications can be accessed at manhattanbp.nyc.gov/cbapplication. A complete application must be submitted online or postmarked by no later than 5pm on Mon., Feb. 22nd. Physical applications (downloadable here as a PDF) may be mailed, but online submissions are strongly preferred. "The online application must be completed in one session," notes BP Brewer's office, adding, "It is recommended you copy and paste your essay responses from a separate document into the corresponding fields in the application. Be mindful of word limits. Failure to meet the word count requirements will result in an error message when attempting to submit this application. Additionally, please have your resume or short bio prepared to upload and attach as part of this online application."
Applicants who have successfully submitted all required materials will receive confirmation via an automated email receipt from "Office of Manhattan Borough President Gale A. Brewer," no-reply@wufoo.com. Check your Spam folder for this email and contact the office if you do not receive your receipt. Following the submission deadline and an internal review process, my staff will contact you regarding next steps, which may include an interview. After applications have been reviewed and interviews are completed, appointments will be announced in late spring.
Tues., Feb. 2, 6pm: London Terrace Tenants Association in Conversation with NY State Senator Brad Hoylman | The LTTA invites you  to join them for updates on what Sen. Hoylman is doing in Albany. Ask questions. Air your concerns. Sen. Hoylman is also running for Manhattan Borough President. You can ask him about his plans for Manhattan or about issues of concern to you in his role in Albany. To attend the online Zoom event, click here.

Wed., Feb.3, 6:30pm: Manhattan Community Board 4 (CB4) Full Board Meeting | New year, same routine–albeit a relatively recent one:  Until the pandemic era of 2o2o took hold, CB4 meetings were brick and mortar affairs, with no digital footprint, let alone a live video recording immediately archived to be viewed at will, via MCB4's YouTube channel. As 2021 begins, MCB4 finds more members of the public accessing their work than ever before, via Zoom. So it goes on Feb. 3, as the full board convenes to vote on matters brought to them by various committees who held their own monthly meetings in the weeks prior. To view the letters scheduled to be voted on, click here and see the complete packet. Before that, however, Public Hearings are scheduled, including CB4's Response to the Fiscal Year 2022 Preliminary Budget. Following that, members of the public are encouraged to voice their concerns, via the Public Session. MCB4 First Vice Chair Jeffrey LeFrancois lets no moss grow on the proceedings, timing each speaker's slot at two minutes, and chiming in with a practiced timbre that warns speakers they have 15 second to wrap things up. You have until 6:45pm on Jan. 6 (the day of the meeting) to register for the Public Session. Click here to do so. But what good is signing up if you can't get to the meeting? In order to do so (you know where this is going by now), click here.  To visit the MCB4 website, click here.
Thursday, Feb. 4, 6:30pm via Zoom: COVID-19 Vaccine Q&A
| See the below flyer for details, and
click here
to register.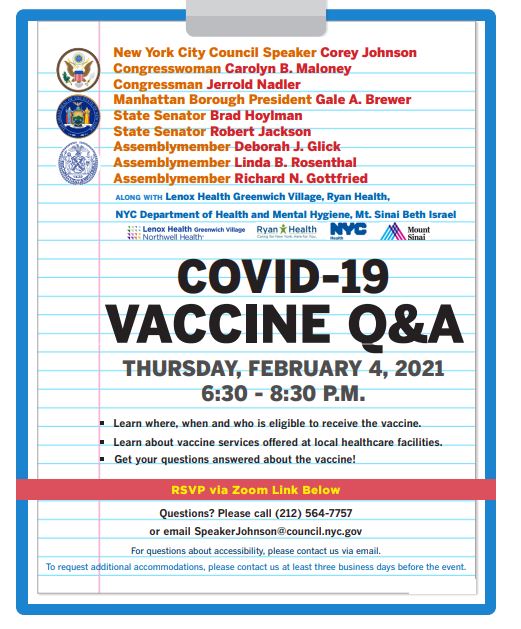 –Compiled by Scott Stiffler
Chelsea Community News is made possible with the help of our awesome advertisers, and the support of our readers. If you like what you see, please consider taking part in our GoFundMe campaign (click here).To make a direct donation, give feedback, or send a Letter to the Editor, email scott@chelseacommunitynews.com.