BY ELIZABETH ZIMMER | Chelsea has, per capita, a high percentage of creative artists; we're surrounded by dance theaters, and within a few blocks of my Penn South apartment I found four contemporary choreographers. They're all, of course, challenged by our yearlong pandemic restrictions. I asked each a few questions about what they've lost and what they've found. Here are their responses and images of their work.
Rebecca Stenn, a longtime Chelsea resident, lives with her family on West 24th Street but has spent much of the pandemic in a cottage in Rocky Point, on the north shore of Suffolk County. A classically trained dancer originally from London, Ontario, she attended Juilliard, where she crossed paths with choreographer Moses Pendleton, and wound up performing in his hugely popular ensembles, Pilobolus and Momix. She subsequently founded her own eponymous troupe, and is still making dances. She has two sons, one a freshman in college and the other in eighth grade, and thus has been "overseeing a good deal of remote learning." She teaches remotely at several colleges, including the New School, Princeton, and Dartmouth, where she's a choreographer-in-residence, creating digital works with members of the Dartmouth Dance Ensemble in collaboration with its director, choreographer John Heginbotham.
And she's been painting; in November she was part of a group show at Chelsea's Agora Gallery (530 W. 25 bSt.), out of which she sold several works. "I really only started painting three years ago, but during the pandemic and ensuing lockdown, I had, for the first time in my life really, time and space to paint. I painted every day and became incredibly curious and inspired about what could happen with time, space, color, texture and movement, on a canvas. I also started to paint portraits of the young kids we were working with at the I Have a Dream Foundation, exactly during the height of the Black Lives Matter protests this past summer. I superimposed headlines and articles from the New York Times onto their clothing–their stories and futures and lives. I wanted to uphold and celebrate and share them."
Stenn says she's "watched numerous clips on Facebook and Instagram. I am drawn to people sharing what they have come up with in their living rooms. I also loved the film Dean Moss premiered recently at Danspace."(Moss's Untitled (perfect human) ran on the Danspace site through December, and can now be accessed at https://vimeo.com/424958870/6d93aa1e51 or at his website, deanmossgametophyte.org.)
About dance on film in general, she says, "I have profoundly mixed opinions. Part of me feels drawn to the idea of a 'new' frontier, and I have indeed seen 'dance films' which I find moving and powerful. But dance is not a 2D thing and should be experienced in 3D, in real time, in a real space. It is an ephemeral art and because of this, has a kind of shimmering, impermanent quality that all goes away on film."
Dance, she believes, "needs to return to a corporeal form." Stenn and her ensemble have been putting together her Elusive Bird Trilogy for years. Its premiere, at the Hopkins Center for the Arts in New Hampshire, was pushed back by the pandemic and will now likely happen in June of 2022.
Elizabeth Keen has lived in the same walk-up building on West 21st Street since the fall of 1960, soon after she graduated from Barnard College. Keen began her career performing with the Paul Taylor and Helen Tamiris/Daniel Nagrin dance companies, and choreographed for her own troupe, the Elizabeth Keen Dance Company, from the early 1960s to the 1980s, with support from the National Endowment for the Arts. She has taught in the Fordham/Ailey BFA Program and at Marymount Manhattan, after long stints at the Juilliard School, Sarah Lawrence College, Princeton University, the José Limón Summer Dance Program, and the Perry-Mansfield School of Theatre and Dance in Colorado. She also performs and choreographs with Dances for a Variable Population, which provides classes for older adults and, under ordinary circumstances, offers an annual show at Grant's Tomb and other locations around New York City.
"I teach Craft of Choreography," Keen says, "also known as dance composition or just plain Makin' Up Dances, mostly to career-minded dancers of college age. I am also taking piano lessons and music courses in the Juilliard Evening Division." The lessons, like most everything else, are over Zoom.
She's been "trying to stay in shape, working on my own as well as taking Zoom ballet class from Ernesta Corvino. I am choreographing a new solo for another dancer based on a poem by Karen Klein [that's] a reflection on a drawing by Kathe Kollwitz with imagery suggestive of movement."
Since March she's kept busy watching dances shared online by the Joyce Theater and PBS, and the occasional live performance at ARTS ON SITE, featuring David Parker and the Bang Group, Chelsea Ainsley, Elizabeth Streb, and Claire Porter.
Cherylyn Lavagnino lives in London Terrace, down the block from Stenn. An associate professor at NYU's Tisch School of the Arts, she's also the director of Cherylyn Lavagnino Dance (CLD for short). With a background as a ballet dancer, she brings eloquence and dignity to her choreography, even when, as in her recent piece Tales of Hopper, it involves the most ordinary people. Based on the paintings of Edward Hopper, it had its world premiere at the Baryshnikov Arts Center a year ago, just before the COVID-19 crackdown.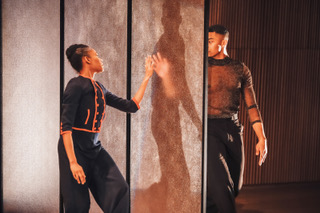 Lavagnino's pandemic project has been collaborating with her dancers on, she says, "a Zoom-reimaged version of Nighthawks, a section of Hopper. We had the wonderful opportunity to travel to Hunter, New York, for a residency during which we created a section for a new dance we plan to premiere in November 2021." She hopes to have a CLD season this November in Hunter, New York, and in the city, to premiere this new work on a program with Tales of Hopper.
During the pandemic Lavagnino has watched a good deal of dance online, including programming from New York City Ballet, the Joyce, City Center, American Ballet Theatre, and PBS; she's also had the chance to work on transforming a stage work for online consumption. "Our exploration made me realize that the work should be driven by imagery as much as movement," she reveals. "Gesture and deeply considered human moments can be very effective when juxtaposed with some movement sequences. Space is limited for full movement sequences for most of us now. Multiple camera angles of the same sequence can create a complex visual and emotional experience for viewers. The work takes on a very internal exploration that the stage cannot achieve due to [spectators'] distance from the performer. Both are valid, but the Zoom experience can be more personal and intimate. I plan to make more work in this manner–I enjoyed the new challenges and found the process exciting and gratifying."
Brian Brooks, a native of Hingham, Massachusetts, lives in Penn South. He became interested in choreography in high school, and while not initially trained as a dancer, has had a remarkable career as a performer and choreographer since arriving in New York City in 1994. "Over a period of ten years, I worked with daredevil choreographer Elizabeth Streb, first as a dancer, for three years, and then periodically as rehearsal coach, teacher, and director of the student company. Twenty-five years ago, I met and began training with Risa Steinberg, former principal dancer with José Limón, Juilliard faculty, and performer in Sleep No More. I continue to take her class each week, and she has worked as my choreographic advisor and rehearsal coach since 2014." Brooks also danced with Hilary Easton, Sean Curran, and Eun-Me Ahn, among many others, and has choreographed and performed with Wendy Whelan, now the associate artistic director of New York City Ballet.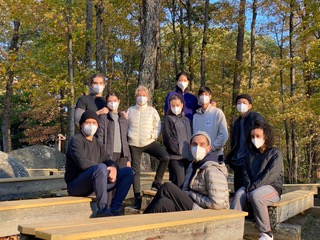 Brooks is an avid runner, sometimes joined by his partner and their dog in trots along the Hudson River. But for months after the dawn of the pandemic, he did nothing creatively. "My choreographic work has since been compressed into several, short, isolated moments," he told me. "All of my company's work was cancelled due to the pandemic, and I had to lay off all eight dancers, in addition to six collaborators and designers."
But things soon began to look up. "In October, the Jacob's Pillow Dance Festival provided a 10-day, COVID-compliant, quarantined residency," said the choreographer, "where I was able to briefly rehire and reunite with the dancers. We've confirmed two additional residencies, as we can't rehearse in New York City, and are planning for outdoor performances in 2021, and perhaps indoors in 2022. So, I've returned to some choreography and training each week, although from my living room on Zoom."
Two unexpected commissions "for dance videos engaged me in a spontaneous way in the past six months," recalled Brooks. "In July, composer Michael Gordon challenged me to create and post a new dance every day on Instagram to his 31 short piano pieces, written during lockdown. The Guggenheim also commissioned our short dance video, November as part of their virtual series on YouTube."
Brooks is also developing an Augmented Reality performance project with a technology partner in Seattle, "which started during my two-year Mellon Foundation Creative Artist Fellowship at the University of Washington. Phase 1 premiered in January 2020, and Phase 2 is scheduled to launch in July 2021. Throughout 2021, we have sporadic work scheduled in safe environments, including quarantined creative residencies and outdoor public performances. We're planning for a national tour in theaters for 2022, if they're able to open.
Brooks is clear that "we'll continue to build technology platforms for dance, regardless of the inevitable return to live performance. I imagine pursuing both, in an effort to offer as much accessibility as possible. The unique lens of our screen offers new choreographic tools, enabling dance to be something it can't on stage. I would encourage choreographers to dig in to the new and unique choreographic possibilities enabled by technology, potentially expanding the definition of dance itself. If we're doing things online that we can't replicate in person, it also, in some ways, preserves and celebrates live performance as the irreplaceable ritual we all know and love," says Brooks, adding, "We're all working and living in both real and virtual spaces. Dance practice as well as performance is finding its way within these boundaries, and will only continue to improve with time. Dance will forever exist online."
Chelsea Community News is made possible with the help of our awesome advertisers, and the support of our readers. If you like what you see, please consider taking part in our GoFundMe campaign (click here). To make a direct donation, give feedback, or send a Letter to the Editor, email scott@chelseacommunitynews.com.