BY DONATHAN SALKALN | For those that pulled the lever for Bill de Blasio in the 2013 Democratic primary, many are still smarting and numb. During his run for the Mayor's office, de Blasio was arrested with hands bound by police zip-ties while protesting the conversion of Long Island Hospital in Brooklyn to luxury condos. After being elected to office, luxury condo conversions became the norm for not only hospitals (loss of COVID-19 beds), but also for everything else vulnerable in all five boroughs. It was as if the previous Mayor Bloomberg had left a giant Trojan Horse at the highly guarded Gracie Mansion, filled with all of Bloomberg's developers. And then there's six years of First Lady Chirlane McCray's ThriveNYC mental health program lacking any transparency and costing taxpayers an amount approaching one billion dollars.
At the January 23, 2021 Zoom forum sponsored by both the Chelsea Reform Democratic Club (CRDC) and the Hell's Kitchen Democrats (HK Dems), those that joined the meeting were introduced to eight candidates running for New York City Mayor. Each candidate had met the forum's requirement of $250,000 in public fundraising from at least 1,000 donors. They were: Eric Adams, Shaun Donovan, Kathryn Garcia, Zachary Iscol, Raymond McGuire, Dianne Morales, Scott Stringer, and Maya Wiley (Note: Zach Iscol has since dropped out of the mayor's race but is running for NYC Comptroller and is included in this reporting).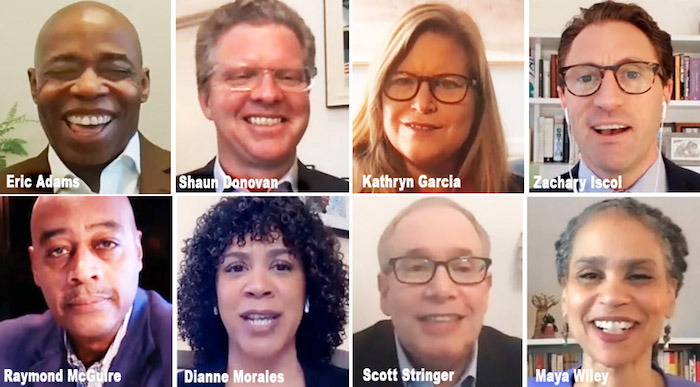 It's hard not to trust this slate of Democratic candidates for mayor, as they are all dynamos with experience of leadership to move this city forward in a more inclusive way, and most have dedicated their lives to public service for both NYC and the country.
The moderators, whose questions drew out many new ideas, were CRDC District Leaders Sylvia DiPetrio and Steven Skyles-Mulligan, CRDC President Mindy Rosier-Rayburn. CRDC Treasurer Mark Gottlieb on Zoom tech, HK Dems District Leaders Paul Devlin and Marisa Redanty, HK Dems President Nick Franklin, and HK Dems Paulette Osborne as timekeeper.
Below, find excerpts from the candidates, presented in alphabetical order. Click on the first appearance of their name to be taken to their website.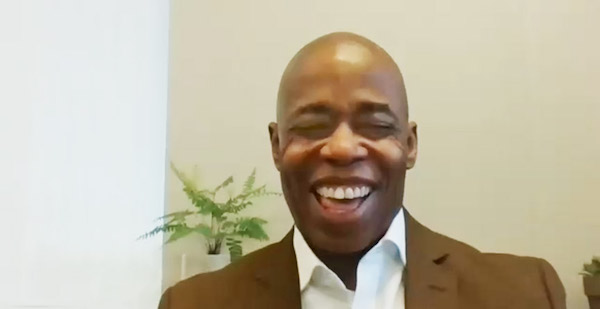 ERIC ADAMS | "It shouldn't take four years to get rid of officers like Pantaleo (who choked Eric Garner to death). We need to profile people who are abusive with zero tolerance. We need to be proactive, not reactive," said Brooklyn Borough President Eric Adams, whose proactive philosophy is the backbone of his campaign. "I want to prevent the crisis, not be the crisis."
As a black growing up in Bayside, Queens, followed by twenty-two years as a New York City police officer, Adams experienced and witnessed racial disparity on a daily basis. He also obtained a master's degree in public administration from Marist College, a degree from New York City Technical College and John Jay College of Criminal Justice. After retiring as a Captain from the NYPD, Adams went on to serve eight years in Albany as New York State Senator and most recently seven years as Brooklyn Borough president. He has proposed a 100-step program to better the city.
Adams wants to stem the flow of youth from city communities to city jails by investing in students with learning disabilities, expanding school and instruction options, and to get all children free internet connections. He told the attendees, "New York City is not failing all students. New York City is failing Black and Brown students." Adams also wants to prevent homelessness before people are forced into the streets. "We spend $120 a night for individuals and $196 a night for families. We could do better by reinvesting in an Advantage-type program (rental subsidy) to save people from becoming homeless instead of responding after they're homeless, " he said. As an early computer geek, Adams also wants to set up a single app to get city services and benefits, and as author of books about eating healthy, he wants to replace public school's menu with healthy, locally grown food.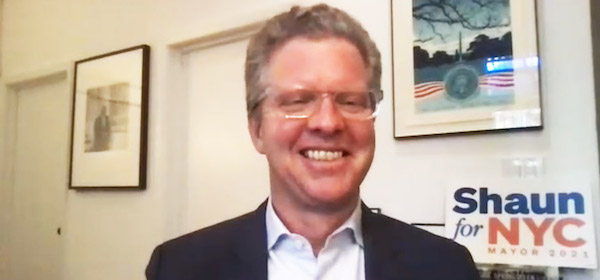 SHAUN DONOVAN | "This is a moment where we must repair and rebuild our city. We must re-imagine this city that works for everyone," said Shaun Donovan, who served five years as Secretary of Housing and Urban Development (HUD) in the Obama Cabinet. "The single most precious affordable housing resource we have is public housing—deeply affordable. The only way we're going to save public housing is by getting more federal money. RAD can be used as an effective tool. But it's not the only tool," he said, explaining his work with NYCHA Chairman Greg Russ in creating a Public Housing Preservation Trust using Section 8 money.
Although he spent much time in Washington with HUD, and then as Director of the Office of Management handling the federal budget, Donovan was born and raised in New York City and currently lives in Brooklyn. He holds a B.A. and Masters degrees in Public Administration and Architecture from Harvard University. Donovan was Commissioner of the New York City Department of Housing Preservation and Development from 2004 to 2009 under Mayor Michael Bloomberg, where he built or preserved much affordable housing.
"I want to treat homelessness, mental health, and substance abuse problems as health problems, not as criminal problems," said Donovan. "Let the police focus on guns and violent crime." He also plans to use CUNY students majoring in education along with qualified high school students to help vulnerable public school students headed to failure. "I want to plan with communities, not for communities!"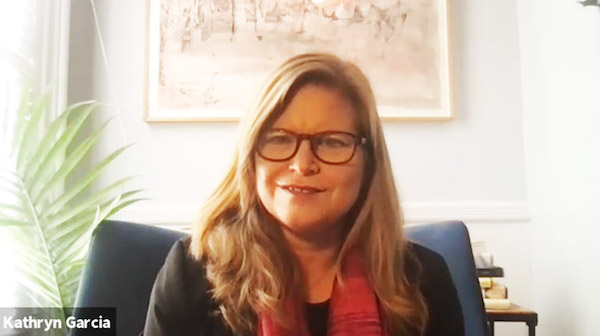 KATHRYN GARCIA | "I would focus on the resources that principals and teachers need. What is best for the classroom is where we need to spend the money. I would be very willing to cut redundant positions out of the central office as well as the extra chancellors, extra superintendents across the board." said Garcia, former Commissioner of the NYC Sanitation Department. "We know we're going to be thin."
A Brooklyn native with a BA in Economics from University of Wisconsin, Garcia spent six years with the NYC Department of Environmental rising to Chief Operating Officer before heading up NYC Sanitation in 2014. She has also proven to be an effective troubleshooter for Mayor de Blasio, heading up of New York City's emergency food program that delivered 100 million free meals during the coronavirus pandemic, responding to water main breaks in the middle of the night, and heading up a response to the lead paint poisoning in NYCHA buildings.
"We need more accountability of officers. Police need to be engaging in communities and holding forums," said Garcia. She wants to cut the "planning" and focus on "executing" badly needed repairs at NYCHA, and also wants to work with the governor exploring efficiencies within the MTA, in addition to expanding the open streets program to the arts. "We need to be using all of our plazas to stage events. Using our public spaces—our parks, our streets—to ensure that we are creating a vibrant cultural scene," said Garcia, noting, "It feeds our souls."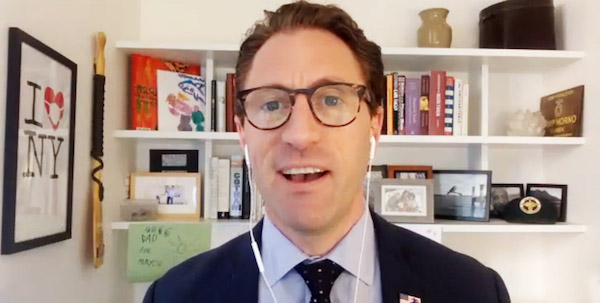 ZACHARY ISCOL | "One of the hallmarks of my platform is to create a framework of transparency across city government, whether we're talking about the classroom, law enforcement, or getting our homeless off the street," said Iscol, a former Platoon Commander for the US Marines in Iraq. "We will use technology tools to enable people to see where their tax dollars are going."
Although he has since dropped out of the mayoral race (now running for NYC Comptroller), Iscol raised unique ideas to improve and invigorate New Yorkers to rise-up. Born in New York City and growing up in Westchester County, he earned a BA in government from Cornell University and then served two tours in Iraq. After his return to NYC, Iscol founded the Headstrong Project, a nonprofit that provides mental health care treatment for military veterans and their families. Its services have since expanded across the country. Most recently he was the Deputy Director of the Javits Medical Center, in response to COVID-19.
"An ounce of prevention is worth a pound of cure" said Iscol. "We need to reduce the need for critical healthcare in the emergency rooms, whether it's physical health care or mental health care. That's addressing food deserts, open parks, green spaces, and training support groups." Iscol also wants to create a culture of accountability for not only police officers but for all city employees. "As a public servant your job is to serve the public," he asserted. As for the arts, Iscol said he "would do everything possible to keep artists in this town. If you are an art or cultural institution in a neighborhood, it irrigates a small garden of retail, small businesses, and restaurants."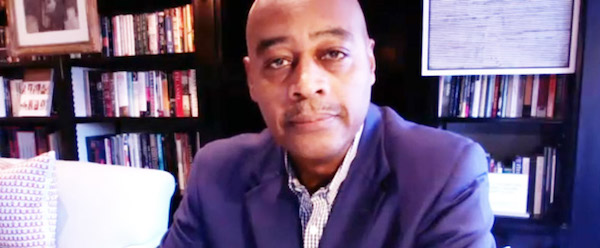 RAYMOND McGUIRE | "If you look into the communities most impacted by COVID, they are Black and Brown communities,"  said Raymond McGuire, former Citibank's Global Head of Corporate and Investment Banking. "We need to make sure we have primary care facilities in these geographies with health care networks for citizens at affordable rates —especially for children and seniors."
On his website, McGuire tells of his mother and grandmother drilling him, "Because I'm black, I have to work twice as hard to be considered half as good." McGuire must have worked four times as hard. He went from his early years in Dayton, Ohio to Connecticut's Hotchkiss School (historically a prep school for Yale University), and then to obtain BA at Harvard College, followed by degrees in law and business, again from Harvard. McGuire then spent the next 36 years on Wall Street, recruiting and building teams to do multi-billion-dollar deals, while advising CEOs on how to help their businesses grow, thrive, and create jobs.
"We need to return to community policing. We need to reinvest in the mental health organizations that can intervene where we don't need the police. We need to reinvest in youth by giving them jobs." McGuire explained. He also demands that the arts return to the education system and wants to create a comprehensive citywide plan in collaboration with each community that protects residents from gentrification. He promises to fix NYCHA as he puts it, "It is at the heart of any effort to keep New York City affordable."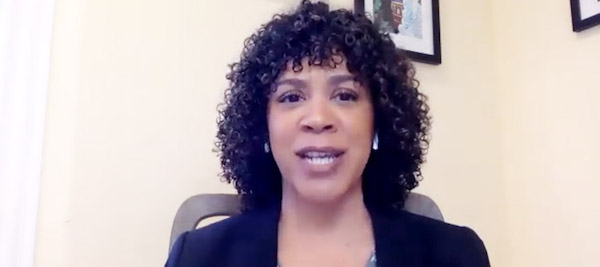 DIANNE MORALES | "We need to remove police from our schools and invest those dollars in services and programs that really help children thrive," said Dianne Morales, executive director of Phipps Neighborhoods organization. "That must include mental health services, expanding recreation, the arts, and job training."
As a Bedford Stuyvesant lifer, Morales got a BA from Stony Brook University, a masters from Harvard University and a Masters of Education from Columbia University. She worked for NYC Department of Education helping open the Office of Youth Development and School-Community Services under Chancellor Joel Klein. Morales also served as a director of The Teaching Commission, was a founding member of Jumpstart, served as executive director of youth development organization called The Door, and for the past decade, the executive director of Phipps Neighborhoods in the South Bronx, a Bronx social services organization that fights poverty.
Morales believes in releasing many of the elderly from prisons to save money. "This is a low-risk way to address the impending economic challenges, while saving people's lives that have been historically subjected to a system criminalizing Black and Brown people and low-income people in a disproportionate way," said Morales, who also supports giving NYCHA residents expanded decision-making control over the future of their homes.
SCOTT STRINGER | "We're facing three crises at the same time—a health crisis, economic crisis and social justice crisis. We need a mayor with vision and skills to tackle all three. We can see how City Hall is incapable of managing anything at all. As City Comptroller, I've said during this pandemic we have to find efficiencies in every city agency so that we don't have to cut services for kids or laying off city workers," said Stringer, who stood up to Mayor de Blasio's plan to borrow $5 billion in order to pay bills. His criticism of the mayor didn't stop there. "The mayor must reset the relationship with Albany," said Stringer. "You can't play checkers with Governor Cuomo. You need to play chess!"
Born and raised in Washington Heights, Stringer obtained a BA at John Jay College of Criminal Justice. He worked as a legislative assistant to NYS Assemblyman Jerry Nadler, before serving 13 years himself as NYS Assemblyman, followed by eight as Manhattan Borough President. During his 28 years in office he has been an advocate for public schools, building new affordable housing, and helping working families and small businesses. When others were silent, Stringer was an early voice condemning Stop and Frisk.'
"We've seen mayors that haven't shared our progressive values," Stringer pointed out. As for waste: "It's time to shut down the Tweed courthouse (headquarters of the Board of Education) and move all those administrators into positions that actually help kids." Stringer wants to create a teaching residency program because "Forty percent of our teachers leave after five years."
MAYA WILEY  | "We can be a city where we can all live with dignity. Dignity means developing without displacement. It means seeing every last one of our children as exceptional. It means having public safety from crime, but also from police violence," said Maya Wiley, a University Professor at the NYC's New School. "What's critical to me is to lead in a way that listens, that learns, and that leads in partnership."
Born and raised in Washington DC, Wiley has since amassed an extensive resume including a BA from Dartmouth College and a law degree from Columbia University. She went on to be legal defense at NAACP, chaired the NYC Civilian Complaint Review Board, was Council for the Mayor, legal analysis reporter on President Trump's missteps for MSNBC, co-chair of School Diversity Working Group NYC Department of Education, and most recently professor at the New School. She lives in Brooklyn.
Wiley wants to eliminate arrest warrants for people who skip their desk appearances. "We have a policing of poverty rather than problem solving. We need a strong mayor that determines with our elected leaders and communities the right priorities of policing," said Wiley, who also criticizes the Mayor and Board of Education for not using the summer to come up with a proactive plan for reopening schools and improving remote teaching. She feels the mayor also failed the arts, noting, "We have a private sector that is willing to step up when asked. One of the failures of our current administration is the failure to call us together, to put on the table what we have to contribute."
NOTE: Donathan Salkaln, who wrote the above report, is the CRDC's VP, Member Relations. To learn more about the CRDC leadership, click here.
Chelsea Community News is made possible with the help of our awesome advertisers, and the support of our readers. If you like what you see, please consider taking part in our GoFundMe campaign (click here). To make a direct donation, give feedback, or send a Letter to the Editor, email scott@chelseacommunitynews.com.