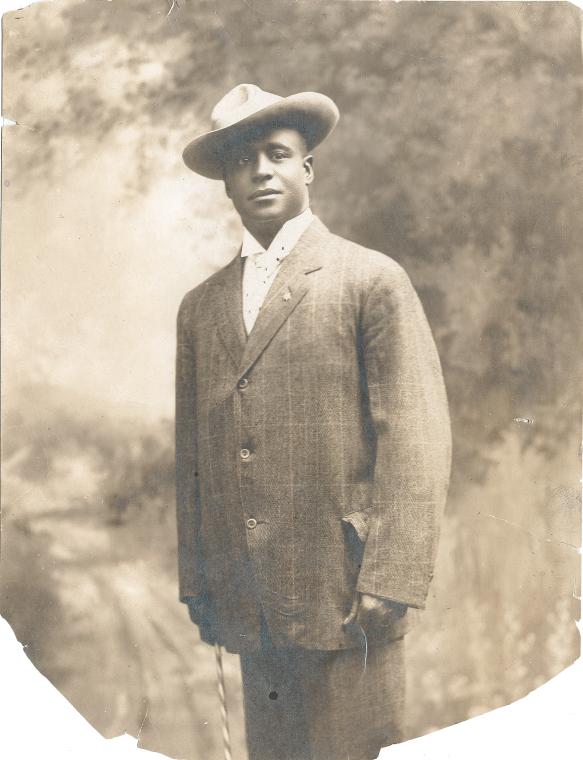 BY TRAVS.D. | For Black History Month, we present you with weekly slices of the Tenderloin, the now-defunct New York City neighborhood that at its furthest extent ran between 24th and 62nd Streets between Fifth and Eighth Avenues, thus overlapping with modern Chelsea. The Tenderloin was so-named by a local police captain who relished the nabe for its savory graft. In its heyday of the 1880s through the early 1910s, it was a nightlife mecca full of saloons, dance halls, gambling dens, and bordellos. Prior to the Jazz Age and the northward migration to Harlem and San Juan Hill (where Lincoln Center is now), it was also where much of NYC's African American population resided. This month, we will celebrate several black showbiz heroes and pioneers who lived there.
Today's subject's real name was Reuben Crowders. He took the stage handle "Ernest Hogan" during his minstrel days because it sounded Irish—In emulation of the leading minstrel men of the era (e.g., E.P. Christy, G.W. Dixon, Dan Rice). Born in Kentucky ca. 1865, he started out as a child performing with Black Patti's Troubadours, a major touring show of the time, headlined by African American soprano Sissieretta Jones, a.k.a. The Black Patti. It was common in that day for black performing artists to perform minstrel material, often, ironically, in blackface.
Today Hogan is unfortunately best known as the author of the 1896 hit song "All C–ns Look Alike to Me," which was such a smash hit that it set off a national craze for so-called "c–n songs." While the content of the songs is today (and was even then by some) considered horribly racist, a broader view shows that Hogan was also one of the key figures responsible for the popularity of ragtime in general. The sword, as it so often is, was double-edged.
In 1898, he toured with Isham's Tenderloin Coon Company, one of the first mentions of his name in connection with the neighborhood. The crowning irony is that, despite his complicity in the perpetuation of certain stereotypes (his stage name was "The Unbleached American"), he was still hated and resented by angry whites to such an extent that he was nearly lynched along with George Walker in the Tenderloin race riot in 1900, which we mentioned last week. He apparently couldn't win!
Yet there had to have been satisfactions. After all, the mob of animals was after him for having been so successful. Hogan was the first African American to perform on a Broadway stage (albeit in shows like The Octoroons, Jes' Lak White Folks and Rufus Rastus), one of the first to play "white vaudeville" (at such prestige houses as Hammerstein's Victoria and the Winter Garden), and he made thousands in royalties from his songs and the shows that he penned. He passed away in 1909. The cause, consumption.
For more on black artists in American show business, check out nearly 500 posts on Travalanche: https://travsd.wordpress.com/category/ethnicities-identities-representations/african-american-interest/.
Chelsea Community News is made possible with the help of our awesome advertisers, and the support of our readers. If you like what you see, please consider taking part in our GoFundMe campaign (click here). To make a direct donation, give feedback, or send a Letter to the Editor, email scott@chelseacommunitynews.com.