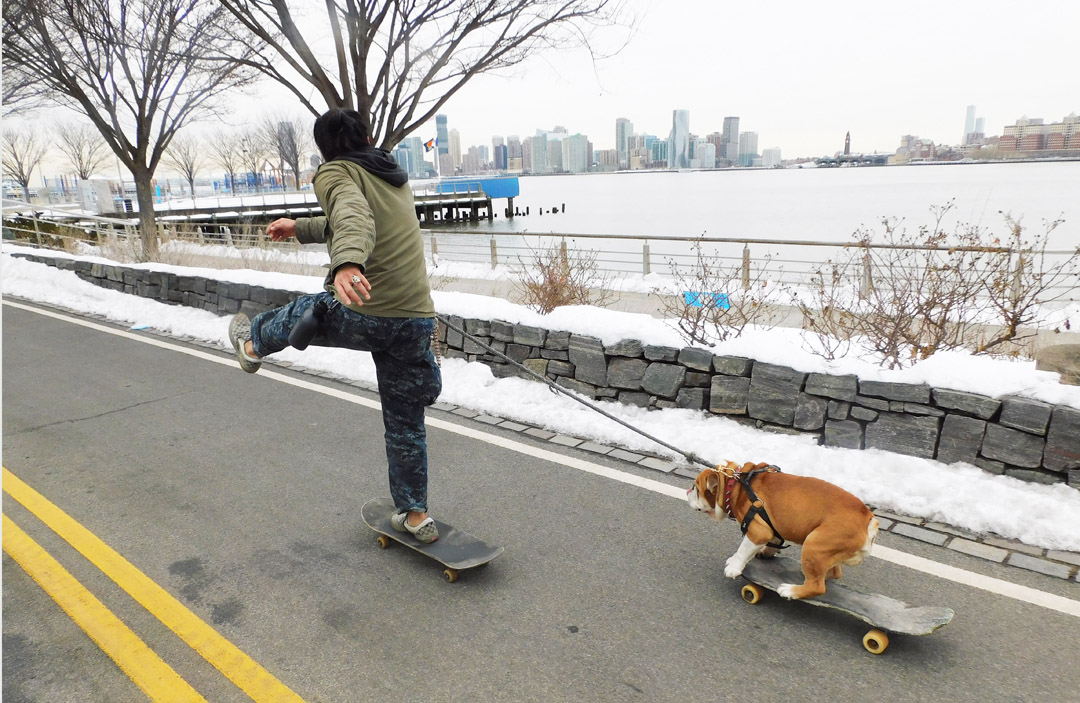 BY DONATHAN SALKALN | Although COVID-19 led to a worldwide lockdown, it didn't stop New Yorkers from enjoying Hudson River Park's 550 acres. Strollers, joggers, bicyclists, picnickers, kayakers, and so many others took sanity breaks from being homebound by heading to the city's West Side retreat. While most practiced social distancing, everyone got to enjoy the fresh, salty breezes, and sunny afternoons—all great supplements for body and soul.
"There are so many people, across the city and across the world, whose eyes have been opened about how important parks and open spaces are," said Noreen Doyle, Executive Vice President Acting President of Hudson River Park Trust (HPRT). "It's not something to take for granted. The park was incredibly crowded this past summer, maybe as crowded as ever."
Currently, a number of sweeping changes are in the works, via collaboration between HRPT's staff, board members, electeds, and working public groups. Those plans include a much-needed expanded dog run and bathroom at Chelsea Waterside Park, a beach and marsh habitat at the former NYC Sanitation Department's facilities at Gansevoort Peninsula, a performing arts center at Little Island; a classroom and marine gallery at the former NYC bus parking shed at Pier 57, and a large open space at the former NYPD Tow Pound.
I recently sat down with (masked and more than six feet apart from) Noreen Doyle, at HRPT headquarters on Pier 40. She is currently Acting President of HRPT, as Madelyn Wils resigned on Feb. 5, after serving 10 years as President and CEO. While we spoke in the conference room, just outside, scaffolding was going up to repair Pier 40's facade, while, below us, the pitted steel piles were being wrapped by fiberglass tubing and filled with poured concrete. Above us, a large swath of roof was to be replaced. No matter where you are in the park, there's always something happening.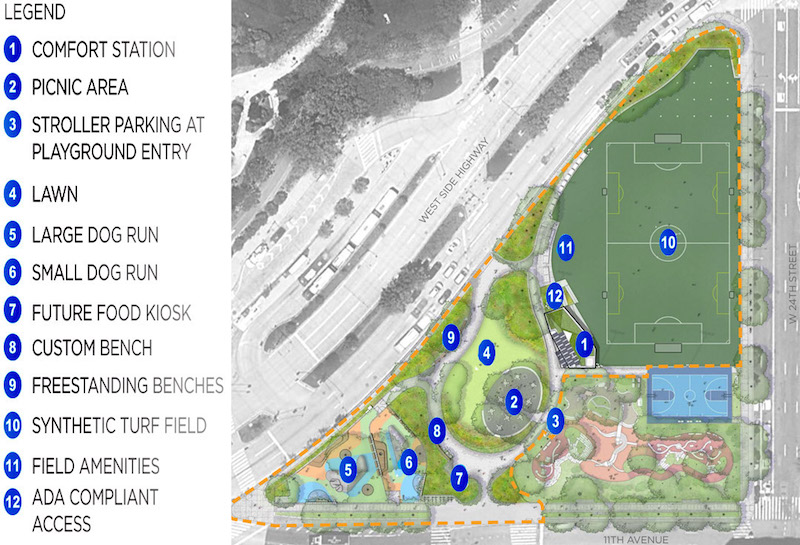 The Chelsea Waterside Park at West 23rd St. | With all the wonderful improvements coming to the Chelsea Waterside Park, it might seem that the parkland Gods are smiling down on Chelsea. In reality, it's been the dedicated advocacy of the Chelsea Waterside Park Association, Community Board 4, local electeds, and a generation of park users that together scripted a future vision of its space. With the opening of the spectacular children's playground and refurbished basketball court hardly old memories, blueprints to redo the rest of Chelsea Waterside Park are soon to be realized.
"The park is getting the long awaited comfort station, a permanent picnic area, an expanded dog run, and some stroller parking associated with the children's playground," noted Doyle. "The dog run will have separate areas for big dogs and small dogs, and both areas will have water features." She pointed out changes to the overall design, saying, "Instead of the concrete pathway that currently cuts through the park, there will be a big green area that will have plants and also festive lighting over a picnic area."
Improvements include re-surfacing the soccer field. "The artificial turf has had its useful life and it is time for it to be replaced," said Doyle, adding, [New York City] "Council Speaker Corey Johnson and Manhattan Borough President Gail Brewer came through with the funds to resurface the ball field."
The field was last resurfaced in 2010, by then-Council Speaker Christine Quinn. In addition, the plans call for the footprint of the field to be expanded. An underused elevated seating area in the northwest corner of the park will be eliminated, becoming an athletic warm-up area.
The approved plans were designed by Abel Bainnsen Butz, LLP. and bidding for the Chelsea Waterside Park work is expected to start in early summer at an anticipated cost of $12.6 million. Speaker Corey Johnson is kicking in $3.6 million and Manhattan Borough President Gale Brewer is adding $100,000 to the project, with the balance of funds coming from past sales of Chelsea Pier air rights.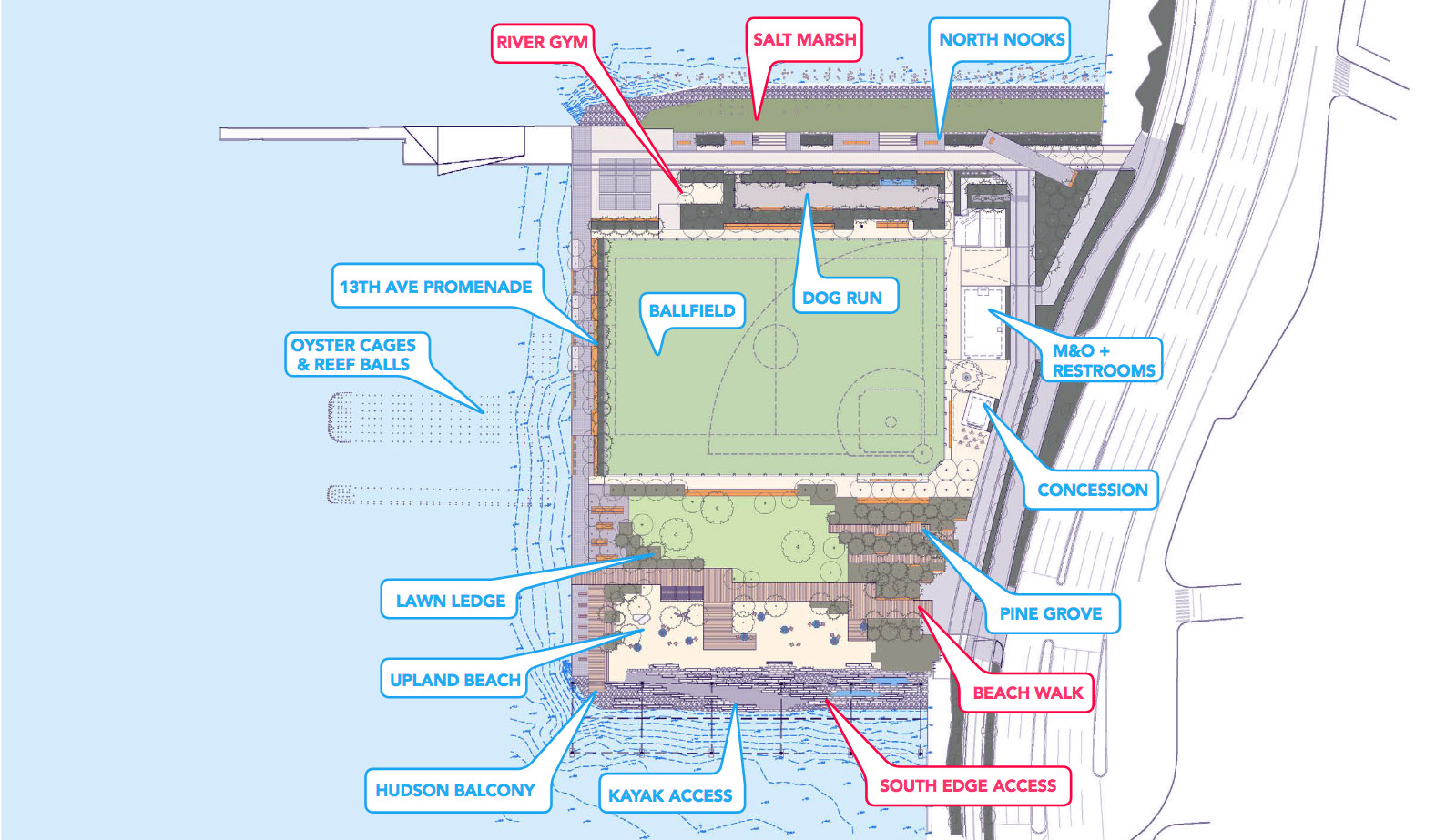 Gansevoort Peninsula at West 12th St. | Much like a caterpillar's larva turning into a butterfly, Gansevoort Peninsula is in a state of metamorphosis. Gone are the NYC Sanitation Department garbage trucks and salt piles. The ugly metal sheds and the behemoth brick incinerator with it's stained smoke stacks have been leveled and removed, and approved plans are moving forward for a beautiful park to spread its wings.
Exciting to those who pass the river's 12th St. site are the foundation posts implanted in the river for the Whitney Museum's art installation called Day's End. They can be seen rising out of the water. When completed, the piece by David Hammons will be a skeleton of a pier building that was once at that same spot. The art is inspired by the past work of art by Gordon Matta-Clark, who, in 1975, pierced the roof and sides of an abandoned shed, letting in sun, moonlight, and nature.
"Below the 'Days End' installation on the south side will be the beach area," explained Doyle. "On the north side will be a salt water marsh for habitat. There will also be a ball field, a dog run, outdoor fitness equipment area, and wood decks for walking."
James Corner Field Operations is the designer for Gansevoort Peninsula. Bidding for the work is already underway, and is a NYC-funded project.
Pier 55: Little Island at W. 15th St. | The artistic planners of Little Island are already working on outdoor artistic performances slated for later this year. With close to two and a half acres of space, the park offers an exceptional airy space for social distancing, while retaining the intimacy of setting rarely found anywhere else.
"We expect Little Island to open in spring, on schedule," recalled Doyle. "They made remarkable progress on it throughout COVID, and it's been fantastic to see it proceeding. It's a public pier, so it will be open as with other public park piers, and will be subject to any COVID restrictions on events or the amphitheater space that would come from the State or the City."
The designer of Little Island, is London-based Heatherwick Studio. The total cost is approximately $250 million, funded mostly by the Diller-Von Furstenberg Family Foundation.

Pier 57 at W. 17th St. | Although Pier 57 will be mostly commercial space occupied by Google offices, Noreen expressed much excitement about ground floor space specifically reserved for HRPT. She and her team of environmental educators are in the midst of designing a classroom and an exhibit room celebrating the Hudson River Park Estuarine Sanctuary.
"Currently we only have one small indoor classroom in the whole park, which is on Pier 84," explained Doyle. "Even in the summer it can be too hot sometimes for certain types of activities, or things cancelled because of rain. On Pier 57 there will be a classroom that our river staff will run. Next to that we're working on a high-tech based exhibit focused on different aspects of the Hudson River."
Much of the Pier 57 facade restoration has been completed. The interior work of transforming its former use as a parking garage for New York City's buses to becoming office space has been delayed due to COVID-19. The City Winery, a restaurant and entertainment venue located on the south side of the shed opened late last year, but closed when pandemic restrictions went into effect.
Pier 76 at W. 36th St.| This past January, the NYPD finally vacated their tow pound at Pier 76. A plan is moving forward to remove the building and create an enormous open space. The pier's use for community and commercial purposes will be determined through a lengthy process of public hearings.
"The piles that support the pier will need to be redone and that's a very expensive and long process. The pier will not even support trees," said Doyle. "The governor is focused on delivering an open space to the community sooner. State Parks is the lead on creating an interim open space."
Chelsea Community News is made possible with the help of our awesome advertisers, and the support of our readers. If you like what you see, please consider taking part in our GoFundMe campaign (click here). To make a direct donation, give feedback, or send a Letter to the Editor, email scott@chelseacommunitynews.com.