This Week's "This Week in Chelsea"
In Order of Appearance:
10th Precinct Build the Block and Community Council Meetings / 13th Precinct Build the Block Meeting / Free Tax Prep / A Sidewalk Survey  / CB4 Co-Sponsors a Sock & Underwear Drive / A Hudson Guild Call for Talent / Archived Events: Community Board Applications
Wed, Feb. 24: Build the Block, Sector B (6pm)  and 10th Precinct Community Council (7pm) Meetings | The 10th Precinct serves Chelsea, Clinton/Hell's Kitchen South, and the Hudson Yards neighborhoods. At Build the Block meetings, Neighborhood Coordination Officers (NCOs) speak with the public about neighborhood crime and public safety concerns. The 10th Precinct has three Sectors: A, B, and C, each with their own Build the Block presence whose area of coverage is, respectively, 14th to 21st St., 21st to 29th St., and 29th to 43rd St.
Sector B is the focus of this Feb. 24 event, when NCOs Mark Pagano and Daniel Bavuso host the meeting. See the below flyer for details, and click here to be taken directly to the Zoom link. Next up, literally, it's a case of rare alignment, when the February installment of the 10th Precinct Community Council directly follows the Sector B Build the Block meeting (also on Zoom, but via a separate link). From crime statistics to Q&As, expect the Council to cover much of the same ground as their Build the Block colleagues–with a few differences. First and foremost, the crimes stats encompass the entire 10th Precinct area, not just a single A, B, C zone. It's also worth noting that the Community Council is a civilian-led entity, whose president, Larry O'Neill, recently moved the brick and mortar happening into the modern age, by taking these meetings into the virtual realm.
For the Feb. 24 installment, expect to see O'Neill host the proceedings, but quickly hand the (virtual) podium over to Captain Robert Gault, who began his assignment as the new 10th Precinct Commanding Officer in late September. Gault's been known to drop more than one "heard it here first" nugget of intel within his opening remarks, especially concerning the much-discussed "crime corridor" of Eighth Ave. btw. W. 20th & 23rd Sts. Past updates from Gault saw news of impending civil proceedings against a corner convenience store at W. 21st St. & Eighth Ave., where undercover members of the NYPD purchased stolen goods–twice. Gault notes there exists in the surrounding area an underground economy where one type of crime feeds or serves the other. For example, noted Gault, a thief may buzz  the buzzers on a 200 W. 21st St. block building, claiming to be a delivery person. A well-meaning tenant might buzz them in–at which point they will case the lobby for delivered packages, rip open a few boxes, and walk away with an item they can take down the block to the corner store, and sell. That cash doesn't go far, as drugs and prostitutes are readily available just around the corner (deals of the chemical and carnal kind go down, say neighbors, amid the massive scaffolding that hangs outside of PS 11 during construction and cloaks criminal activity).
Several City and NYPD entities are, Gault assures, working on individual matters of crime prevention and prosecution as it relates to the Eight Ave. corridor, and there will be a point in the fudge where those efforts combine to provide a long-term solution to the problem (part of that problem is criminal recidivism; loiterers or petty thieves are arrested, then soon back on the street).  Got a question about it? You won't have long to wait, as O'Neill concludes the meeting with a Q&A session during which attendees are invited to bring their inquiries and concerns directly to Gault.
To attend the Community Council via Zoom, click here. For information on the 10th Precinct, click here. The 10th Precinct's Community Affairs Office can be reached at 212-741-8226. The precinct's main number is 212-741-8211. On Twitter: ‪@NYPD10Pct. On Facebook: www.facebook.com/NYPD10PCT. For access to NYPD crime statistics particular to the 10th Precinct, click here.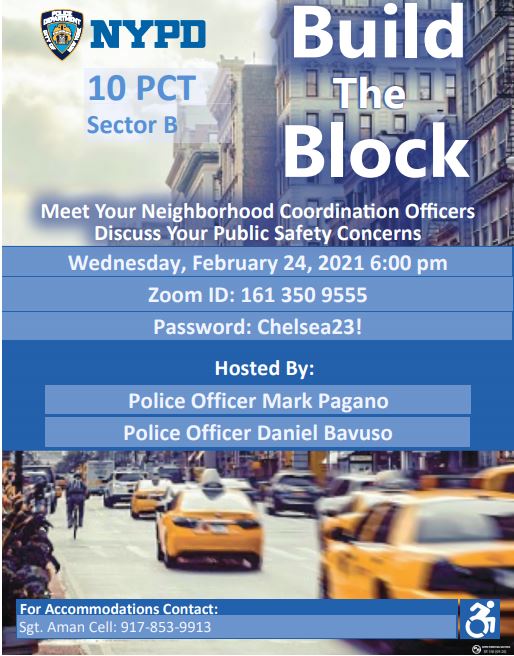 Wed., Feb. 24, 6pm: : Build the Block, Sector C Meeting of the 13th Precinct  | The 10th Precinct serves Chelsea, Clinton/Hell's Kitchen South, and the Hudson Yards neighborhoods. At Build the Block meetings, Neighborhood Coordination Officers (NCOs) speak with the public about neighborhood crime and public safety concerns. The 10th Precinct has three Sectors: A, B, and C, each with their own Build the Block presence whose area of coverage is, respectively, 14th to 21st St., 21st to 29th St., and 29th to 43rd St. See the below flyer for details.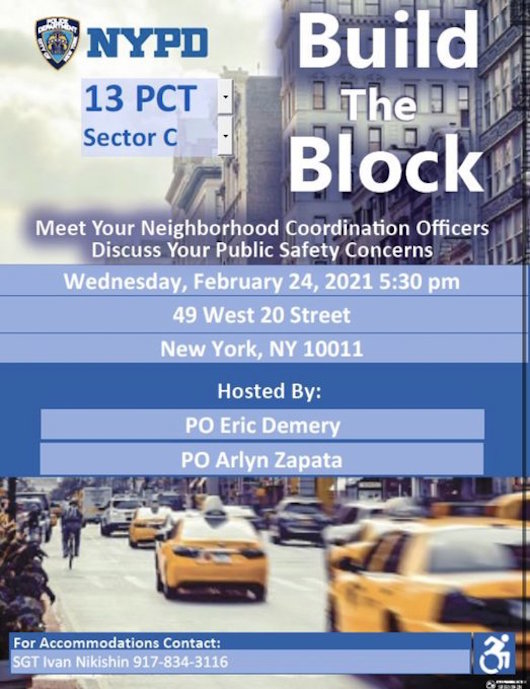 The NYC Department of Consumer Affairs Announces NYC Free Tax Prep | If you earned $68,000 or less in 2020, you may be eligible to file your taxes for free. NYC Free Tax Prep offers trusted, professional service online and in-person to help you stay safe and avoid tax preparer fees. If you didn't receive one or both Pandemic stimulus checks, NYC Free Tax Prep can assist with claiming the equivalent amounts as a "Recovery Rebate Credit." Filers may also take advantage of a one-time look-back provision, allowing them to choose to use their 2019 or 2020 income for the Earned Income Tax Credit and the Child Tax Credit. This service is offered online or in person. Click here for more information. The deadline to file 2020 tax returns is April 15, 2021.
Through Monday, March 1: Take the Manhattan Community Board 4 (MCB4) Sidewalk Conditions Survey | Sidewalks are vital arteries for the millions of New Yorkers who use transit and walk. Manhattan Community Board 4 (MCB4) is seeking your input to better address the current state of the walking infrastructure, including sidewalks, curbs, and crossings in our City – under normal and snowy conditions. Click here to fill out the survey, which should take 5-7 minutes.
Sat., Feb. 27 & Sun., Feb. 28, 12:30pm-4:30pm: Manhattan Community Board 4 (CB4) and Rauschenbusch Metro Ministries Host a Sock and Undergarment Drive | The hosts of this annual drive urge you to donate new socks and undergarments for children and adults who live in shelters in the CB4 District. Drop-Off is at Metro Baptist Church (410 W. 40th St. btw. 9th & 10th Aves.). See the below flyer for details.
Hudson Guild Theatre Company Seeks Talent for New Online Showcase | Live performances are on hold until their theatre can safely reopen–but that hasn't stopped Hudson Guild from nurturing new talent. Set to broadcast monthly through June, Talent Jam! is a new virtual showcase presented on the Guild's YouTube channel. Each episode will feature 2-3 short performances. People of all ages and levels of experience are encouraged to submit MP4 files for consideration. All forms of expression are welcome, including music, dance, monologues, and stand-up comedy. Only one rule: That thing you do must be no longer than 5 minutes. Send your MP4 file to jfurlong@hudsonguild.org any time between now and May 1. Need technical help? Send an email to Jim Furlong (see address in previous sentence), with a description of your act and what sort of assistance you need. Or, call Furlong at 212-760-9837. For more information, visit www.hudsonguilod.org.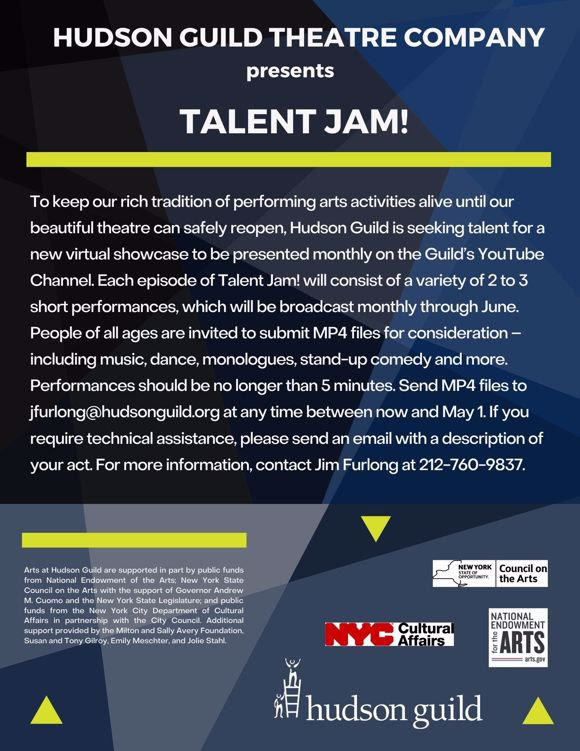 COMMUNITY BOARD APPLICATIONS ACCEPTED  THROUGH 5PM MONDAY, FEBRUARY 22  | Manhattan's 12 community boards are local organizations each composed of 50 volunteer members serving staggered two-year terms. Notes Manhattan Borough President Gale Brewer (who is responsible for appointing new community board members), community boards are "tasked with being the independent and representative voices of their communities—the most grass-roots form of local government. The boards are pivotal in shaping their communities and work to enhance and preserve the character of the city's many unique neighborhoods."
Online applications can be accessed at manhattanbp.nyc.gov/cbapplication. A complete application must be submitted online or postmarked by no later than 5pm on Mon., Feb. 22nd. Physical applications (downloadable here as a PDF) may be mailed, but online submissions are strongly preferred. "The online application must be completed in one session," notes BP Brewer's office, adding, "It is recommended you copy and paste your essay responses from a separate document into the corresponding fields in the application. Be mindful of word limits. Failure to meet the word count requirements will result in an error message when attempting to submit this application. Additionally, please have your resume or short bio prepared to upload and attach as part of this online application."
Applicants who have successfully submitted all required materials will receive confirmation via an automated email receipt from "Office of Manhattan Borough President Gale A. Brewer," no-reply@wufoo.com. Check your Spam folder for this email and contact the office if you do not receive your receipt. Following the submission deadline and an internal review process, my staff will contact you regarding next steps, which may include an interview. After applications have been reviewed and interviews are completed, appointments will be announced in late spring.
–Compiled by Scott Stiffler
Chelsea Community News is made possible with the help of our awesome advertisers, and the support of our readers. If you like what you see, please consider taking part in our GoFundMe campaign (click here).To make a direct donation, give feedback, or send a Letter to the Editor, email scott@chelseacommunitynews.com.