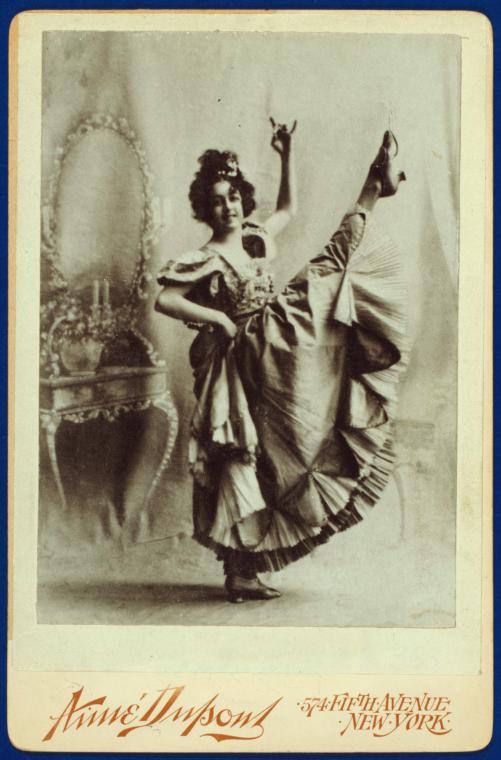 BY TRAV S.D. | For Women's History Month, we will continue our series on famous vaudeville performers connected with the Tenderloin District. Now long defunct, the Tenderloin was a NYC neighborhood that at its furthest extent ran between 24th and 62nd Streets between 5th and 8th Avenues, thus overlapping with modern Chelsea. The Tenderloin was so-named by a local police captain who relished the nabe for its savory graft. In its heyday of the 1880s through the early 1910s, it was a nightlife mecca full of saloons, dance halls, gambling dens, and bordellos. This month, we will focus on female stars connected with Koster and Bial's Music Hall, which was located at the present day site of Macy's Department Store. Koster and Bial's had the unique distinction of being both posh and somewhat disreputable, presenting entertainment similar in spirit to burlesque at the height of the Victorian era.
Saharet (Paulina Clarissa Molony, 1878-1964) was a popular performer of the vaudeville, burlesque, music hall, and musical comedy stages of the fin de siècle and early 20th century.
Saharet was born in Australia to a Chinese mother (from Ballarat, actually) and an Irish immigrant father. She was already dancing in Australian music halls and vaudeville stages in her youth, using the name Clarice Campbell. By 13, she was performing in San Francisco with a group called the Lilliputians, which (contrary to natural assumption) was NOT the same company as Pollard's Lilliputian Opera Company, which was also from Australia.
She took the stage name "Saharet" prior to 1894, an apparent reference to the Sahara Desert, no doubt a reflection of the Little Egypt and belly dancing trend that gripped the show business world since the 1893 Chicago World's Fair. Her repertoire ranged from French quadrilles to risqué cooch and snake dances. In the mid to late '90s, she toured with M.B. Leavitt's companies, and performed at such venues as Koster and Bial's and the roof garden at Hammerstein's Olympia. Starting in 1898 she made several tours of the Continent (and even appeared in several German films), and performed on Broadway and on tour with the likes of Anna Held. In 1909, she headlined at the American Music Hall, a vaudeville house run by William Morris that was located across from the present site of New York's Port Authority bus terminal.
Saharet's three husbands were all German-born. The first was Isaac Rosenstamm a.k.a Ike Rose, to whom she was married 1896-1913. Rose was also her agent and manager during her peak years, when she earned huge sums of money at the cabarets and music halls of Europe. The second was millionaire industrialist Fritz von Frantzius, whom she married in 1913. Frantzius married Saharet on the condition that she give up dancing. She could only take four days of the oppression, tore up the marriage contract, and ran off with her dance partner, Jose Florido. Her third husband was Maxim Phidias Lowe, also her agent, to whom she was married 1917 through 1930. Saharet seems to have retired from dancing around 1920 when she was in her early 40s. She had one daughter, Carrie Rose (b. 1896), who performed on Broadway as Madeline La Varre in The Century Revue (1920-21) and The Midnight Rounders of 1920. Carrie later took vows and spent years of her life in a convent and became an officer in the U.S. Naval Reserve. She committed suicide in 1950 following a massive car accident. Saharet died in 1964, some think also by her own hand.
 For more on Saharet and her husband and agent Ike Rose, please check out Rose's Royal Midgets and Other Little People in Vaudeville. 
For more on vaudeville, please click here to visit Travalanche.
 Chelsea Community News is made possible with the help of our awesome advertisers, and the support of our readers. If you like what you see, please consider taking part in our GoFundMe campaign (click here). To make a direct donation, give feedback, or send a Letter to the Editor, email scott@chelseacommunitynews.com.