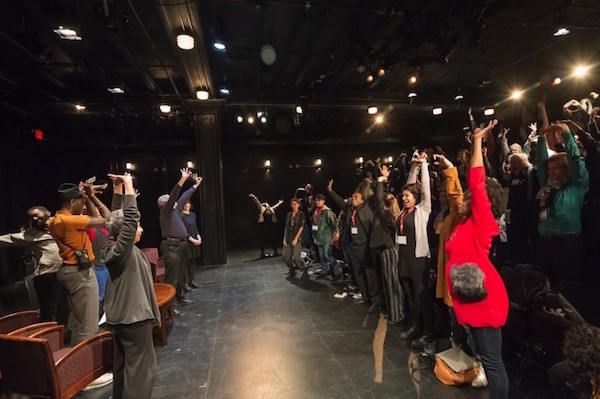 BY ELIZABETH ZIMMER | New York City's dance community has been hammered by the pandemic; thousands of jobs have been lost, projects evaporated, careers disrupted. But next week, the artists and scores of professionals who love, support, and rely on them will gather virtually for Justice. Transformation. Education.—a four-day symposium designed to "reimagine the dance ecology" of the region.
A digital program book, composed of essays by the "thematic guide curators" along with other materials, will include writings by artist Jonathan Gonzalez, Yanira Castro, and Maura Nguyen Donohue. Opening day, March 17, features legal clinics and opportunities for individual consulting sessions with a range of professionals. The keynote address, that evening at 6pm, will be offered by cultural anthropologist Dr. Aimee Meredith Cox, who teaches at Yale; a virtual dance party will follow.
Previous symposia have included speakers like Darren Walker, president of the Ford Foundation, and various directors of New York City's Department of Cultural Affairs. These in-person events were held in the capacious studios of Gibney, initially at 890 Broadway and more recently at 280 Broadway, up the block from City Hall. The second floor space at 280 includes many studios, a fully functional black-box theater, and a skylit atrium that encourages mingling and the kind of informal networking, over free lunches and other refreshments, that make such gatherings a crucial part of the city's artistic life.
But COVID-19 has forced the Dance/NYC Symposium onto the Internet for the second year in a row. The 2021 event, which runs through Saturday, March 20, uses an all-in-one digital conference platform called Whova. It will be accessible to the hearing-impaired via ASL interpretation and closed captions, with recordings available to all registrants post-symposium. Sessions, which run Wednesday morning and evening and all day Thursday through Saturday, include "dance breaks," panels, and a Virtual Expo Showcase. Among the speakers is Alejandra Duque Cifuentes, Dance/NYC's executive director, whom we recently wrote about here. Rates, registration, and full details are available at www.dance.nyc.
According to publicity materials, the four-day symposium aims to reimagine "the dance ecology with a focus on advancing justice, civic engagement, and the whole dance worker." Forty-four foundations, corporations, and nonprofit arts organizations have stamped their logos on the program's releases, signaling their support of the event, and organizers expect virtual attendance to top 500 unique visitors.
Candace Thompson-Zachary, Manager of Justice, Equity and Inclusion Initiatives at Dance/NYC, is the lead curator and producer of this symposium. A cultural producer and strategist born in Trinidad and Tobago and now living in Brooklyn, she operates between the spheres of dance, cultural production, and fitness and wellness, with a focus on the Contemporary Caribbean. She's been working for Dance/NYC since late 2019. Of tantamount importance to her is the vital role dance plays in our communities, and she is eager to see dance artists of various styles, practices, and traditions thrive in New York City.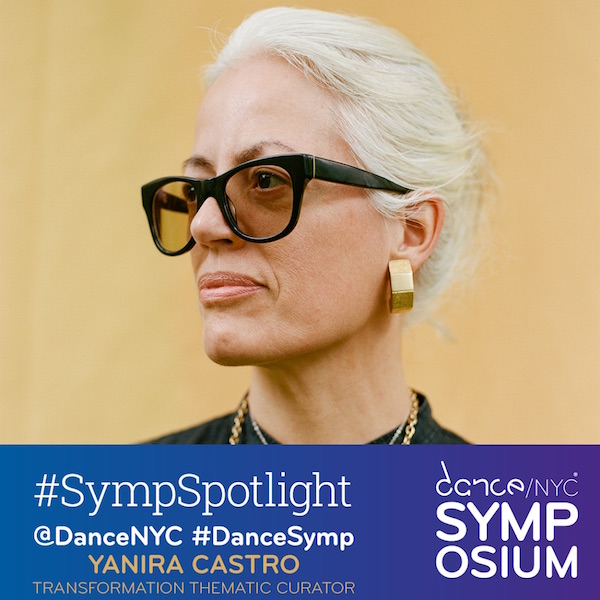 One of three Thematic Guide Curators is Yanira Castro, a Puerto Rican interdisciplinary artist who makes work with her collaborative group, a canary torsi. A newcomer to the work of Dance/NYC, she is also a part of its Dance Workforce Resilience Initiative Task Force. Her task is curating the Transformation Track. In doing so, she has "developed a list including artist works, podcasts, virtual conversations, essays, articles, letters, prompts, and classes to ponder the depth and work of what transformation means."
Castro has written an essay for the digital guide, and will participate on panels. "I hope that people will delve into the guide and take their time," she said. "There is a lot there and to read through it—never mind watch, visit, participate and absorb it all—is a commitment I hope people will take on. It was a pleasure and personally significant to put together in one guide some of the people, organizations, thought experiments, work, and movements that have been inspiring and challenging me, and that I am deeply longing for."
Added Castro, "I wanted to be clear-eyed about the need for change and to be real about what transformation entails. Transformation is to not know what we will become, that we will be unrecognizable. That is a challenge and one I hope people will engage. This moment in our history, this momentum, this gathering of forces both from within and without to change our field radically… does not come often. We must act."
She feels that while a combination of in-person and virtual sessions might be ideal, "For us to move forward requires making spaces where the biggest audience can be reached. That is currently a virtual platform. Few of us could make time in the past to travel to a location and be present for an entire day. This forum gives more flexibility for attendance at a time when we need to be engaged as a community to reinvent and transform our field."
Gregory King, a dance professor at Kent State University in Ohio and director of KSU's dance ensemble, will moderate a discussion about The Studio to Stage Pipeline: A Story of Racism, Tendus, and Black Death.
King, a choreographer, performer, and dance writer originally from the D.C. area whose broad national experience ranges from the Lower East Side's Dixon Place to Broadway's The Lion King, observes, "Most of us started dancing in our basements to the radio, in our living rooms, or at a school event. But somehow, when movers from the diaspora start our 'formal' dance training, we are expected to distance ourselves from our social and cultural ways of moving, of knowing, in order to be considered 'serious' in this new way of dancing."
Constantly drawn "to this idea of old and twisted roots," whose "weeds continue to sprout no matter how much we try to kill them," King says he's "not completely hopeless, but my skepticism keeps me in check. There are barriers in place that make it hard to really achieve equity. I think we need to call out, uproot, break down those barriers. I hope those who participate in this session will be empowered to call out organizations and institutions that uphold these barriers. Dismantle is an easy word to say, but who's really getting on board? I hope Black art makers give themselves permission to own their frustration, hurt, anger, and pain, and know that their rage itself is protest and activism."
When he first heard the title of the discussion he'll helm, he thought it was a bit dramatic. However, he says, "We are dying at the hand of trigger-happy cops, but we are also dying when we are invisibilized by our teachers, whitewashed by storytellers, overlooked by artistic directors, and omitted from history by storytellers. Let's hold the spaces we occupy accountable in an attempt to make the studio to stage pipeline more equitable and just."
The newly appointed director of the MFA program in dance at Hunter College, Maura Nguyen Donohue, born in Vietnam and raised in New York City, is also Thematic Curator for the Education Track of the symposium. A member of the Studio to Stage Pipeline conversation on Friday afternoon, she says she's interested in "revolution." She would like to see the symposium "rip up the roots of systemic inequities in the way dance has been taught, viewed and evaluated. I'd like more dance programs to embrace the radical idea that anybody can dance and everybody should dance."
She realizes that running a virtual conference requires trade-offs. "As with most gatherings within the past year, the reach of participants and number of attendees can be increased. We can border-cross in ways we just can't when we are beholden to physical proximity as means for convening." On the other hand, notes Nguyen Donohue, "We have no genuine ways to run into one another in a hallway or sit together during a discussion."
But there have been powerful advantages to the lockdown. "I have found myself accessing so much information and in touch with collaborators across time zones," she says. "Within 10 months the dance world digitized things I'd been trying to access for 10 years. But—and I have tried to recreate it at Hunter College with Mozilla Hubs, gather.town and Spatial Chat—I still can't run into colleagues on my way to the private-ish loo in the adjunct office… and that was where the real, getting-thru-it conversations would happen in brief but meaningful meetings."
Let's give Nguyen Donohue, a mother, writer, teacher, and longtime performer/choreographer in addition to her new post at Hunter, the last few words:
"We're in a monumental moment. Anyone who is awake realizes that to 'go back to normal' means to maintain practices that have created incredible divides among us. Dance has the capacity to serve as a powerful vehicle for the return to a joyful humanity, but we all have work to do to get us there. I believe that Dance/NYC's 2021 Symposium has been curated and organized with a depth of thought towards a fully awake and delightful futurenow. I am grateful to be a part of the ongoing effort to stay connected to what was, what is, and what could be, all at once."
Rates, registration, and full details are available at www.dance.nyc.
Chelsea Community News is made possible with the help of our awesome advertisers, and the support of our readers. If you like what you see, please consider taking part in our GoFundMe campaign (click here). To make a direct donation, give feedback, or send a Letter to the Editor, email scott@chelseacommunitynews.com.