This Week's "This Week in Chelsea"
In Order of Appearance:
W. Chelsea park's new garden club / Hudson Guild seeks talent / Free tax prep / Sneak Peek: 3/31/2021, 10th Precinct Community Council meeting via Zoom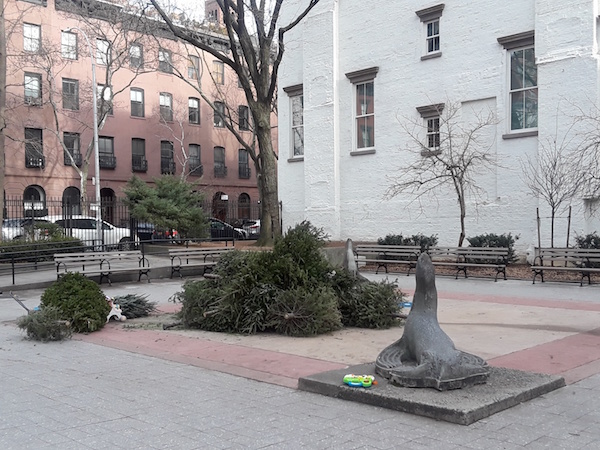 New Garden Club at CCM-Seal Park |  From a recent email comes this good news: "Several members of the newly formed Clement Clarke Moore-Seal Park Garden Club met Sunday, March 14, for a spring cleanup inside the park as well as the tree pits around the park. Many thanks to neighbors Phyliss Waisman, AJ Michel, Laura Solimene, Maria La Macchia and Allen Oster. The Garden Club is looking forward to improving the plantings inside the park and surrounding tree pits and working with NYC Parks and the W400 Block Association to make our beautiful Chelsea park oasis even more enjoyable for all. We welcome new members and if interested in joining, please contact Allen Oster at aoster@earthlink.net."
Hudson Guild Theatre Company Seeks Talent for New Online Showcase | Live performances are on hold until their theatre can safely reopen–but that hasn't stopped Hudson Guild from nurturing new talent. Having made its premiere last week, and set to broadcast monthly through June, Talent Jam! is a new virtual showcase presented on the Guild's YouTube channel. Each episode will feature 2-3 short performances. People of all ages and levels of experience are encouraged to submit MP4 files for consideration. All forms of expression are welcome, including music, dance, monologues, and stand-up comedy. Only one rule: That thing you do must be no longer than 5 minutes. Send your MP4 file to jfurlong@hudsonguild.org any time between now and May 1. Need technical help? Send an email to Jim Furlong (see address in previous sentence), with a description of your act and what sort of assistance you need. Or, call Furlong at 212-760-9837. For more information, visit www.hudsonguilod.org. To view Episode 1 of Talent Jam!, click here.
 The NYC Department of Consumer Affairs Announces NYC Free Tax Prep | If you earned $68,000 or less in 2020, you may be eligible to file your taxes for free. NYC Free Tax Prep offers trusted, professional service online and in-person to help you stay safe and avoid tax preparer fees. If you didn't receive one or both Pandemic stimulus checks, NYC Free Tax Prep can assist with claiming the equivalent amounts as a "Recovery Rebate Credit." Filers may also take advantage of a one-time look-back provision, allowing them to choose to use their 2019 or 2020 income for the Earned Income Tax Credit and the Child Tax Credit.  Click here for more information. The deadline to file 2020 tax returns has been extended past the usual April 15 date. The new deadline is May 17, 2021.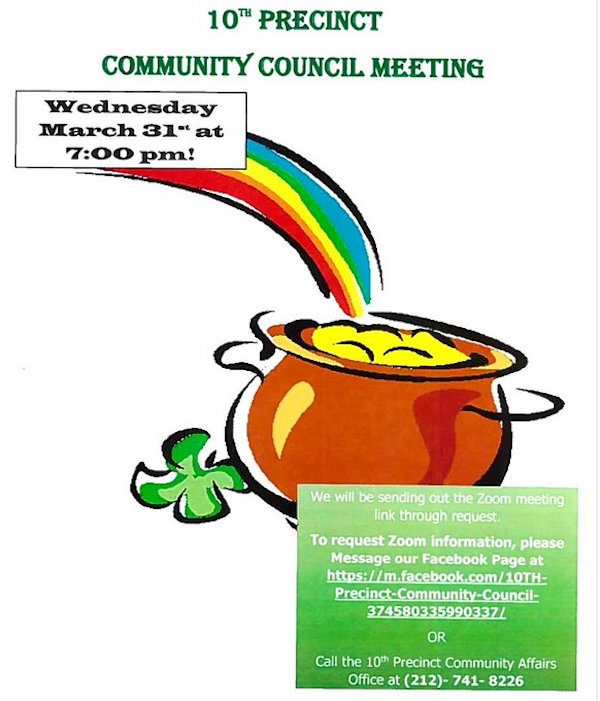 Wed., March 31, 7pm via Zoom: 10th Precinct Community Council | Larry O'Neill, president of this civilian-run, info-centric monthly gathering, continues once again convenes the meeting via Zoom—and says you can count on that forum for the foreseeable future. Resumption of meetings in the brick and mortar world (aka at the 10th Precinct) will happen, O'Neill told us, "as soon as we return to some type of normalcy. But that won't be happening, I believe, until as late as September. I'm following the science—and when the science says it's okay to open 100 percent, then we will."
Until then, O'Neill is the man with the finger on the screen and volume controls, acting as moderator when 10th Precinct Commanding Officer, Capt. Robert Gault, takes questions from those in attendance. It's your monthly opportunity to get facts, stats, perspectives, and suggestions from the guy who sits behind the desk at which the buck stops. That information flow works both ways: Community Council meetings are also a way for likeminded neighbors to commit to working with each other and the NYPD to correct quality of life problems and create conditions that deter opportunistic crimes such as the theft of packages from apartment building lobbies. To attend via Zoom, click here.
–Compiled by Scott Stiffler
Chelsea Community News is made possible with the help of our awesome advertisers, and the support of our readers. If you like what you see, please consider taking part in our GoFundMe campaign (click here).To make a direct donation, give feedback, or send a Letter to the Editor, email scott@chelseacommunitynews.com.