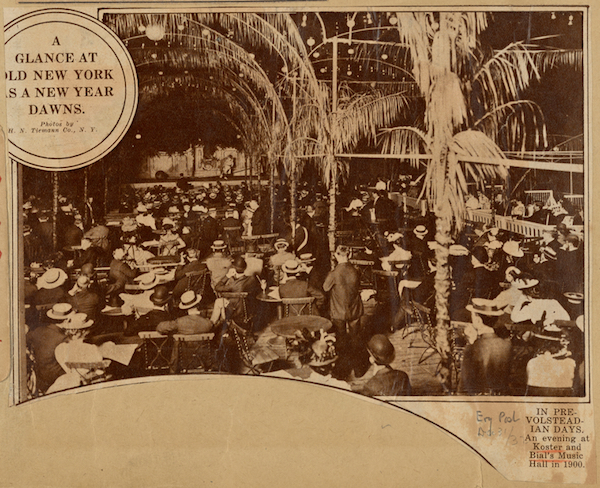 BY TRAV S.D. | Having done several posts on Koster and Bial's Music Hall during February's Black History Month and Women's History Month in March, we thought it might be useful and interesting to explore that venue, the entrepreneurs who founded it, and its role in American pop culture.
John Koster and Adam Bial were a pair of German American brewers who opened their first concert hall and saloon at the corner of 23rd Street and Sixth Avenue in Manhattan (near where the strip joint Billy's Topless used to be.) Koster and Bial's Concert Hall was launched in 1870. Koster was in charge of the booze, and Bial in charge of the performers. They did their jobs well—the place was both boozy and burlesquey. For this reason, they were often in trouble with the law, eventually getting closed down for "encouraging prostitution."
A February 1887 editorial in the Spirit of the Times illustrates the turning tide:  "We have repeatedly pointed out that this establishment was violating the excise and the theatrical license laws by giving entertainments in a saloon where liquors were sold, and we are glad that the authorities have at last interfered."
In 1893, they found themselves a beard (a van dyck, to be precise) in the form of Oscar Hammerstein (grandfather of the famous Broadway lyricist). That year, Hammerstein started building his Manhattan Opera House at 34th Street and Broadway, the present location of Macy's Department Store.
For various financial reasons, however, Hammerstein found himself needing a partner to bring the project to fruition, and that is how he found himself in the vaudeville business with Koster and Bial. Hammerstein helped underwrite their New Music Hall, which opened sans alcohol. The theatre boxes, which had traditionally been used as places for assignations with prostitutes in theatres and music halls, had glass doors, so one could see what was going on inside. And unaccompanied ladies were not admitted to the theatre.
Koster and Bial's became one of the prime showplaces of variety entertainment in the late 19th century. It is now today best known to historians (of cinema and otherwise) as the site of the first public exhibition of projected movies. Edison's Vitascope was demonstrated there in April 1896. (This was the famous showing, I believe, where audience members were terrified of crashing ocean waves).
This partnership was one of convenience. Koster and Bial benefited from Hammerstein's legitimacy; he benefited from their audiences. But it lasted only a year. Hammerstein was a bit of an eccentric and he could be difficult, almost childish on occasion. The break up occurred when Hammerstein very publicly booed an act Koster and Bial had booked against his wishes. This was considered beyond the pale, and the partners bought him out. Koster and Bial's remained a major venue for big-time variety through 1901. By then, Koster and Bial had both already passed away, as has had the great age of saloon variety. It was now the age of clean, straight, polite vaudeville.
But in their day, Koster and Bial helped legitimize several female acts who might have been derided earlier in the Victorian Era as wicked and objectionable. These included some we've written about such as Saharet, La Sylph, and Aida Overton Walker, but also the Spanish dancer La Carmencita, Parisian danseuse Loïe Fuller, naughty English music hall singers like Marie Lloyd, Bessie Bellwood, and Adah Reeve, and the Barrison Sisters, with their suggestive "pussy" kick line. Don't get too excited, the joke of their act was that when they pulled up their skirts there were kittens strapped to their knickers.
Anyway, as the 20th century got rolling, the edgy thrills moved uptown for a time, to places like Times Square and Harlem. The Tenderloin became part of what we now know as Chelsea, which today offers plenty of edgy thrills of its own
For more on vaudeville, please read Travalanche (travsd.wordpress.com).
Chelsea Community News is made possible with the help of our awesome advertisers, and the support of our readers. If you like what you see, please consider taking part in our GoFundMe campaign (click here). To make a direct donation, give feedback, or send a Letter to the Editor, email scott@chelseacommunitynews.com.