This Week's "This Week in Chelsea"
In Order of Appearance:
Safer Streets for Seniors / Full Board meeting of CB4 | New vaccine site in Chelsea / Chelsea Symphony outdoors / W. Chelsea park's new garden club / Hudson Guild seeks talent / Free tax prep with the NYC Dpt. of Consumer Affairs  /   At the 10th Precinct, recognition for going above and beyond
Wed., April 7, 7:30pm on Zoom: Safer Streets for Seniors in District 3 | Community activist and NYC Council District 3 candidate Marni Halasa has organized a Zoom call for seniors in the area in cooperation with Penn South resident and President of the Hudson Guild Advisory Council, Julia Martin, to discuss safer streets, as well as pedestrian and mobility issues for seniors. Among the topics: How seniors as a collective group can push for more pedestrian safety and enforcement of laws for bikes/scooters (since bike and scooter ridership has increased during COVID-19). For more information, email Marni at marnihalasa@gmail.com beforehand with your question or comment, or ask a question as the event unfolds live. For the link to the Zoom meeting, click here.
Wednesday, April 7, 6:30pm on Zoom: Manhattan Community Board 4  (MCB4) Full Board Meeting | CB4's thoroughness and rapid turnaround means the committee meetings at which letters voted on tonight were created and developed are available for the public to view, pre-full board meeting, via an every-growing collection on their YouTube channel.  If you find it difficult to fathom the delight one might take in following the process of compromise that allows a project to be scaled back or ramped up. For matters scheduled to be voted on by the full board all the way to compliments, complaints, and master plans you won't hear about anywhere else, the Public Dsssion fdkdsmps you won't hear about anywhere else, maverick thought reigns supreme, the Public Session  of each meeting gives all comers two minutes of ME time with the CB4 mic. To sign up, and to find much more, click here.
Wednesday, April 7: New Vaccine Site Opens in Chelsea | The Fulton Community Center (119 Ninth Ave.) offers COVID-19 vaccinations Tuesdays through Thursdays. As of April 7's opening day, NYCHA Elliott-Chelsea and Fulton residents will be prioritize, with access expanding to all New Yorkers age 16 and over, beginning on April 12. This site is made possible by a partnership between Hudson Guild, Google, and Daybreak Health. Access this and other vaccination venues by visiting VaccineFinder.nyc.gov or by calling 877-VAX-4NYC (877-829-4692).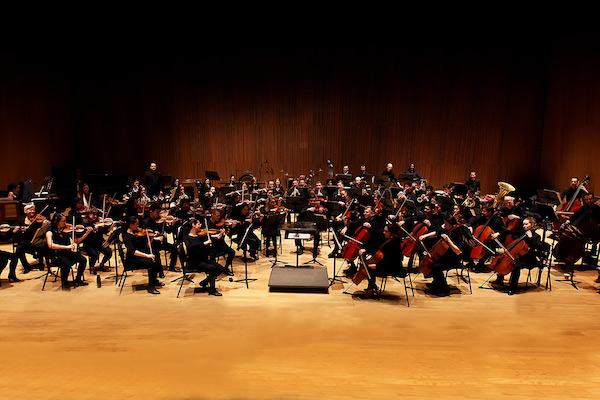 Sun., April 11, 1-2pm: The Chelsea Symphony Inside Out on W. 16th St. next to Chelsea Market | Pop-up reading rooms and open-air drawing studios are among the unexpected activities presented by Street Lab Programs for Public Space. Their monthly Inside Out series partners with a NYC cultural institution to take art and music from its familiar interior setting outside, and into the heart of urban bustle. The Chelsea Symphony is a current Inside Out participant, with performances having begun in March and set to continue April 11. The socially distanced series concludes with performances on the first Friday of May, June, and July. Masks required and provided if needed. For more information, click here.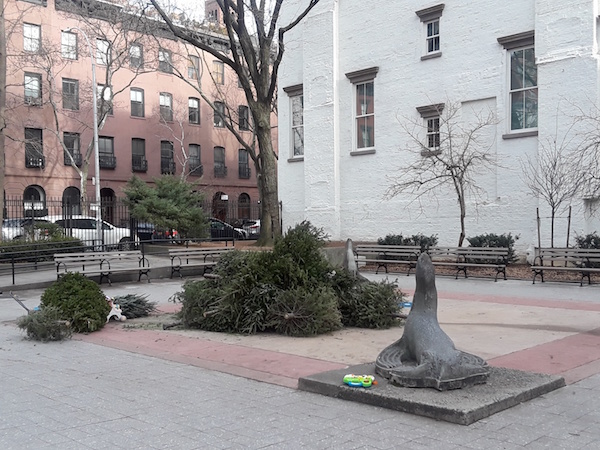 New Garden Club at CCM-Seal Park |  From a recent email comes this good news: "Several members of the newly formed Clement Clarke Moore-Seal Park Garden Club met Sunday, March 14, for a spring cleanup inside the park as well as the tree pits around the park. Many thanks to neighbors Phyliss Waisman, AJ Michel, Laura Solimene, Maria La Macchia and Allen Oster. The Garden Club is looking forward to improving the plantings inside the park and surrounding tree pits and working with NYC Parks and the W400 Block Association to make our beautiful Chelsea park oasis even more enjoyable for all. We welcome new members and if interested in joining, please contact Allen Oster at aoster@earthlink.net."
Hudson Guild Theatre Company Seeks Talent for New Online Showcase | Live performances are on hold until their theatre can safely reopen–but that hasn't stopped Hudson Guild from nurturing new talent. Having made its premiere last week, and set to broadcast monthly through June, Talent Jam! is a new virtual showcase presented on the Guild's YouTube channel. Each episode will feature 2-3 short performances. People of all ages and levels of experience are encouraged to submit MP4 files for consideration. All forms of expression are welcome, including music, dance, monologues, and stand-up comedy. Only one rule: That thing you do must be no longer than 5 minutes. Send your MP4 file to jfurlong@hudsonguild.org any time between now and May 1. Need technical help? Send an email to Jim Furlong (see address in previous sentence), with a description of your act and what sort of assistance you need. Or, call Furlong at 212-760-9837. For more information, visit www.hudsonguilod.org. To view Episode 1 of Talent Jam!, click here.
The NYC Department of Consumer Affairs Announces NYC Free Tax Prep | If you earned $68,000 or less in 2020, you may be eligible to file your taxes for free. NYC Free Tax Prep offers trusted, professional service online and in-person to help you stay safe and avoid tax preparer fees. If you didn't receive one or both Pandemic stimulus checks, NYC Free Tax Prep can assist with claiming the equivalent amounts as a "Recovery Rebate Credit." Filers may also take advantage of a one-time look-back provision, allowing them to choose to use their 2019 or 2020 income for the Earned Income Tax Credit and the Child Tax Credit.  Click here for more information. The deadline to file 2020 tax returns has been extended past the usual April 15 date. The new deadline is May 17, 2021.
At Chelsea's 10th Precinct, Recognition for Going Above and Beyond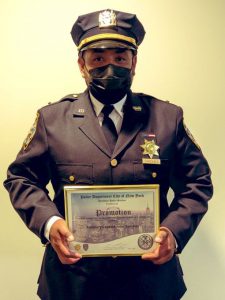 Juan Sanchez, who for the past 15 years has been an active, valued, and effective part of the 10th Precinct's all-volunteer Auxiliary Program, was recently promoted from Lieutenant to Auxiliary Captain. Congratulations! | Photo via 10th Pct.'s Twitter: @NYPD10Pct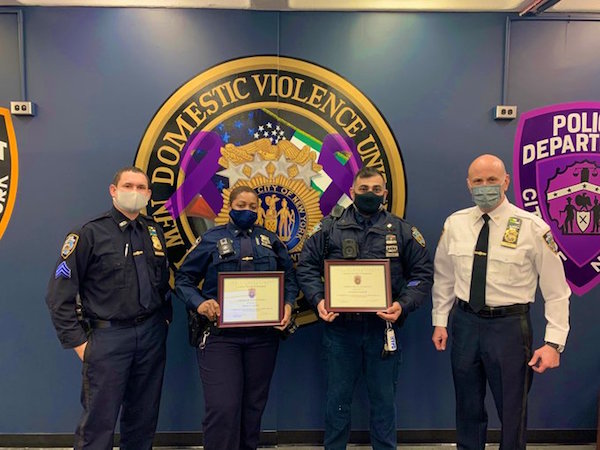 Police Officers Logan and Dastur (second and third from left, respectively) were recognized by the NYPD's Chief of Department, for going above and beyond to help an elderly victim of domestic violence. | Photo via 10th Pct.'s Twitter: @NYPD10Pct
–Compiled by Scott Stiffler
Chelsea Community News is made possible with the help of our awesome advertisers, and the support of our readers. If you like what you see, please consider taking part in our GoFundMe campaign (click here).To make a direct donation, give feedback, or send a Letter to the Editor, email scott@chelseacommunitynews.com.