The following is reprinted with permission from the author. It first appeared as an entry on highline28.com, the website of the High Line 28 Block Association ("For humans residing on 28th & 29th Streets between 10th & 11th Avenues"). To visit the website and learn more about this new block association, click here.
BY BRIAN DONOVAN | In the last few weeks, we've been mulling the idea of turning the lot on West 29th Street and 10th Avenue into a community garden or dog park. (Click on the hyperlinks in this sentence, to see recent posts about my initial call with the owner and the preliminary proposal we sent several weeks ago.)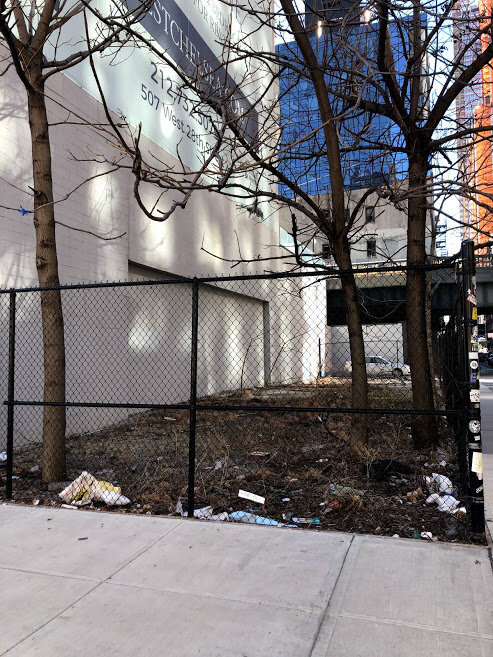 I recently talked to the owner again for about 15 minutes, and the short story here is that he is receptive to our idea (and quite personable). He said that:
–He does not foresee himself selling or developing the land for, at minimum, 2-3 years, and he is potentially open to us using the land until that point.
–He would need to see more details, however, before bringing the plan to his partners who also have some decision-making power over the land.
–In particular, he is interested in the approximate timeline over which we would turn the land into a public space and the potential tax exemptions he would get in us doing so.
My friends, I have tried and failed at enough things in my life to recognize an intermediate win when I see it, and this is it. So let's keep it going. Right now I'm interested in whether there are block residents (or anyone, anywhere) who can advise us on any of the following:
–The NYC Department of Parks & Recreation, and specifically the program called GreenThumb which helps neighborhoods develop community gardens.
–NYC tax exemptions and Section 420-b of the NYS Real Property Tax Law. I'm specifically interested in whether a private owner can get the 420-b exemption by retaining legal title to the property and leasing to a nonprofit.
–Forming a nonprofit organization.
–Gardening.
–Putting a very large sign on the fence around the lot saying something like, "What if we turned this into a community garden?"
–Executing on a long shot idea (second most important).
–Taking a walk around the block and either talking or not talking about any of the above (most important).
NOTE: Brian Donovan can be reached via email, at highline28ba@gmail.com. Have no helpful advice? No worries. Chelsea Community News suggests you request to be placed on the High Line 28 Block Association's email list, in order to receive regular updates on what life is like in far West Chelsea.
Chelsea Community News is made possible with the help of our awesome advertisers, and the support of our readers. If you like what you see, please consider taking part in our GoFundMe campaign (click here). To make a direct donation, give feedback, or send a Letter to the Editor, email scott@chelseacommunitynews.com.