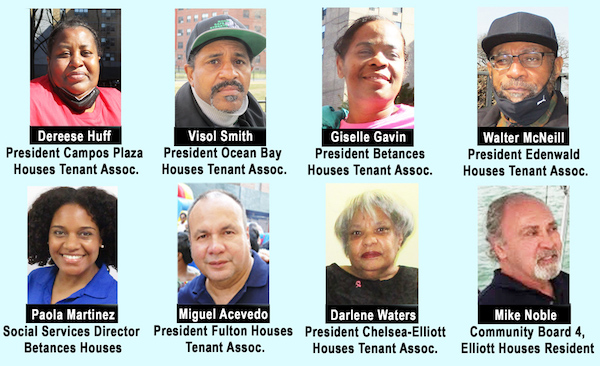 BY DONATHAN SALKALN | After decades of declining funds from the federal government and lost revenue from tenants who remain housed despite paying little or no rent, the City of New York began to pursue a public/private partnership at some of their NYCHA (New York City Housing Authority) properties. Plans to do the same at Chelsea's Fulton Houses and Elliott-Chelsea Houses were, and remain, a topic of much debate within, and outside of, the NYCHA community.
Much of the debate centers on a program called RAD (Rental Assistance Demonstration) that reclassifies NYCHA apartment units into permanent Section 8 units—a plan viewed favorably by many Democrats and Republicans. It not only rejuvenates both public housing and the spirits of its good residents, it also sends federal and resident money to the coffers of private developers and landlords, while adding many private sector jobs.
Chelsea's NYCHA properties are well into the process of privatization, with tenants recently receiving a 101-page Chelsea NYCHA Working Group Feb 2021 handbook, and a Request For Proposal (RPF) well on its way. Absent from the report was the demolition plan of razing Fulton House buildings to make way of two 80% market-rate and 20% affordable housing monstrosities. An outcry from tenants and community leaders has since snuffed that plan, as well the plan to replace the recently installed Fulton Houses water park on W. 17th Street with another 80% market-rate and 20% affordable housing tower. Successfully negotiated to be built at that site is now a 50% market-rate and 50% affordable housing representing very low, to low, to moderate to middle-income units.
Mike Noble, a member of the Chelsea NYCHA Working Group representing Manhattan Community Board 4 (CB4), recalled of how the city had first approached Chelsea with its plans of demolition already certified by City Planning. "People freaked out!" he recalled. "I never heard State Assembly Member Richard Gottfried speak as blustery about anybody or anything, as he did then… We turned it around and have since been conducting a conversion plan with continuous engagement with residents."
Nobel is helping write the RPF that will legally bind any future management company with set of managing requirements set by the residents and the working group. "The RFP will done mid-April for public review," he noted.
Noble has been a resident of Elliott Houses for 18 years, and has lived much of it under a drug den. "This woman upstairs harbors all the drug users and uses the place to all get high. One boyfriend goes and tries to kill the tenant association president and their daughter, he goes to prison. She's still here. Another night one of her friends comes in and commits suicide —jumps out the window," he said, describing bloodstains on his windowsill from when the man hit an air conditioner on the way to the ground. Noble tried to get NYCHA to clean his windowsill but had no luck.
"They tried to evict her a couple of times yet the Judge made her stay. Move this woman somewhere where she doesn't have access to this network of people who support her with rent by virtue of her drug use, Nobel, a lawyer, said.
Fulton Houses Facing Privatization (945 units) | She didn't recognize the large man who came in the Fulton Houses elevator. Had he been wearing prison orange, she would have run for her life. But he had served his time of 15 years for past sexual attacks on Chelsea women, and was into his second month of parole. As she got off the elevator, he grabbed her from behind and dragged her to the nearby stairwell and down the steps toward the 11th floor. Her screams were recognized by her mother, who stormed out of their apartment while shouting to neighbors for help and to call 911. One neighbor joined her into the stairwell and down the steps, where they saw her daughter flat on her back with the man on top. They bull rushed the man, with the neighbor grabbing him from behind while mother gave him a taste of her fists with the fury of a lioness protecting her cub. During the onslaught, she crushed one of her fingers against the concrete wall. The man was big and after a tumbler down two flights of stairs, he managed to break away. He left a backpack with his identification.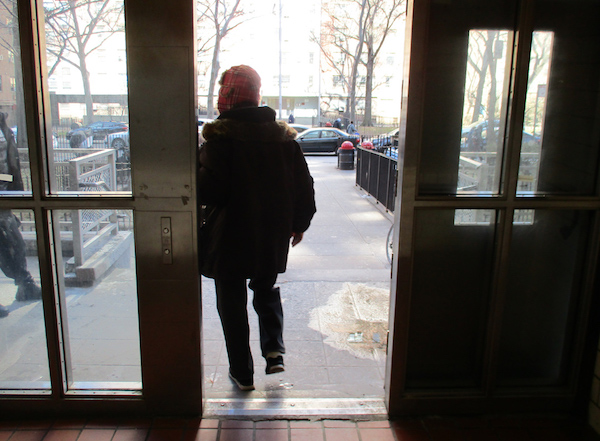 It's been a year since the March 2020 incident. The man is in jail awaiting trial. For both the mother and the daughter, the court appearance and testimony will require re-living a personal terror. But each survived the Grand Jury process and they are both strong individuals. The mother had requested of NYCHA, post-trauma help for both her daughter and herself, and also that NYCHA fix the lock on her building's front door. She said NYCHA has failed to address either request.
Exclaimed Mary McGee, a seven-year resident of Fulton Houses, "It's as if they want all of us to suffer so we have no choice but to accept the deal of privatization."
No one is more desperate for the conversion to privatize than Miguel Acevedo, President of the Fulton Houses Tenant Association. For 12 years he's been addressing emergency after emergency—from broken elevators to steam leaks, from no heat to no hot water, from blackouts to Hurricane Sandy.
Most recently a resident called 91l because of a water leak in his apartment. The fire Department responded and shut off the valves of two building's water, gas, and heat. Before gas could be restored, protocol called for a gas inspection, which led to the discovery of rusted pipes and asbestos in the kitchen walls. It'll be months before the asbestos is removed from everyone's apartment, and then additional months for Con Edison to safely replace all the gas pipes.
Said Acevedo, "This is why the conversion is so important. The private developer will replace all the pipes. They have to get rid of the high-pressure steam system and put in new boilers. All the kitchens and bathrooms get remodeled. All new lobbies, public spaces, the grass, the parks, everything becomes brand new."
One of the late phases of the conversion plan, which appeals to Acevedo, is the addition of ground floor affordable commercial space to the Fulton Houses campus.  "It would prioritized renting to mom-and-pop stores that were replaced along Ninth Avenue, and also medical services, such as a CityMD centers. We have a lot of elderly that have trouble traveling very far," he said.
Elliott-Chelsea Houses Facing Privatization (1,015 units) | A giant water jug sits near her apartment's door with stems of plastic flowers anchoring the inside of the jug with a beautiful bouquet of pedals above. The jug once collected coins. Now it holds 10 gallons of tap water. When there's no running water in her building, Darlene Waters, a resident of Elliott-Chelsea Houses for over 50 years, uses the water to refill the tank above her toilet so she will be able to flush it once or twice a day. She dares not use the water for cooking ever since they found dead birds in the water tanks up on her roof.
As the President of Elliott-Chelsea Houses Tenant Association, Waters said she has never seen it so bad. "A resident called me yesterday to complain that his bathroom sink fell off the wall," she said, while reminiscing of the days when things ran smoothly and when they had housing security. She complained of today's drug dealings and the shootings, the elevators not working, the sporadic lack of heat, the homeless residing in her stairwells and on the roof, residents throwing their garbage and food scraps out the window and onto the children's playgrounds, and the rats. "As soon as I get home I check the water for heat," noted Waters. If it gets hot, I take a bath, because you never know."
Below, we hear from tenant association presidents and residents from three newly privatized NYCHA campuses share their accounts of renovation while working with new ownership, and one tenant association president eager to privatize.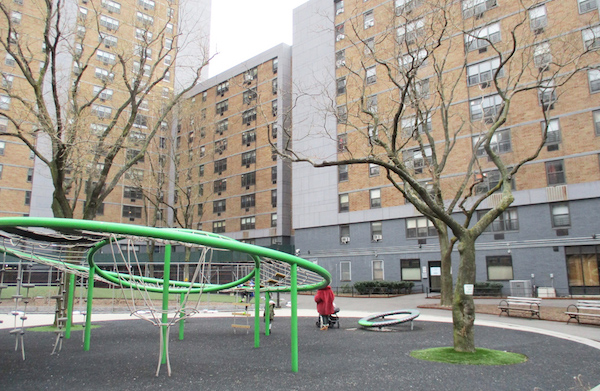 Campos Plaza Already Privatized (Lower East Side, Manhattan- 269 units) | "There is no way NYCHA is ever going to do what these private owners did in a million years," said Dereese Huff, President of Campos Plaza Tenant Association. She was referring to C&C Management that renovated two NYCHA towers on 12th Street and Avenue C with new roofs, boils, lobbies, hallways, and cameras and installing in all the apartments with new appliances, electrical fixtures, floors, kitchens, and bathrooms.
"Before Campos privatized, NYCHA told me only 45 percent of the people were paying rent. They said we were the worst in the whole city," Huff exclaimed. "Nobody lives for free!" C&C Management made deals with those delinquent by paying $20 or $50 or what they could afford extra each month until they were paid up. "If you didn't sign the deal you were out. We have social services that can give the residents financial help."
Other residents, noted Huff, "were renting out rooms to people that could be bombers or murderers." And there were also "some tenants hiding income—not paying their fair share," said Huff, referring to residents who paid 30 percent of a wife's income but not declaring a husband's, daughter's, or son's income. That's another reason why NYCHA is in deficit, noted Huff. "There are families in homeless shelters that can pay something and need these apartments."
Added Huff, "The front doors work now, and no one breaks them. If the private owners catch you doing something wrong, you get marks on your apartment even if it's your visitor. We also no longer have big dogs unless it's a service dog. No more pit bulls and rottweilers that scared the tenants in the elevators. Our park was filled with violence. Before the new owners, there was a murder here every year."
Resident Comments: All were positive. Norris loved it and didn't mind paying for his electricity. Another longtime resident, Maribell, said, "During renovation the tenants were given a choice of gutting the bathroom and not having a bathroom for a while, or having BathFitters come in for a day. They picked BathFitters. I lost my porcelain bathtub. They also took out my new kitchen cabinets and put in new ones that I'm not fond of. But I'm happy. All the drug dealers are gone."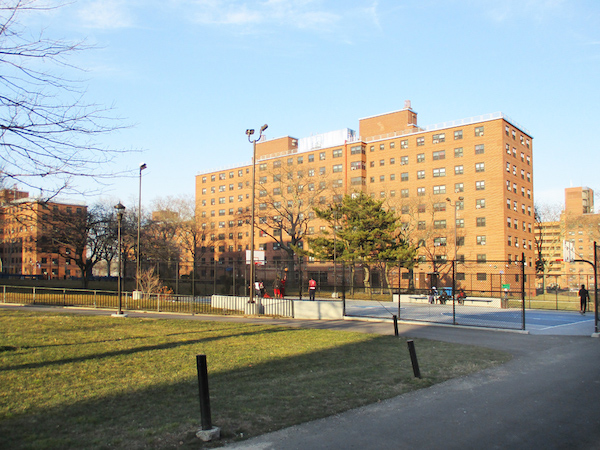 Ocean Bay Houses Already Privatized (1,395 units, Far Rockaway, Queens) | "During renovation the Ocean Bay Resident Council didn't have any problem with the private developer," said Visol Smith, President of the Ocean Bay Resident Tenant Association. "There was much communication. We have a lot of seniors and single parents and Wavecrest Management hired young people to move furniture so no one had to move out. They also moved people to vacant apartments. They listened to the needs of the tenants. We now have flood berms and flood walls that go up if the ocean goes up. We have our own generators. We have solar panels and new boilers on the roof. They redid both parks and basketball courts. We asked for, and got, a community garden. They maintain the grounds very well."
Declaring the revamped Houses as "our Taj Mahal," Smith recalled, "We had meetings with residents to make sure that they feel the same way. If the residents don't appreciate what's been done it's not going to matter. We used to have a big drug and crime problem. No longer. And the roaches? They were out of control. I was buying roach spray and bombs after bombs. Today they got exterminators coming twice a month. If you need them more, you call them up."
Resident Comments: Majority love it, although some parents of teenagers wanted to move out as soon as possible because of the shootings in the neighborhood. One mother named Kay complained, "The program is not good for working people. They turn on the heat in the morning and turn it off when I get home at five. I also pay more than 30% of my salary in rent." Others complained of the overhead Jets flying into and out of JFK International Airport ever since they changed the flight routes after the 2001 Belle Harbor jet crash (Good luck to Wavecrest Management in changing those flight patterns).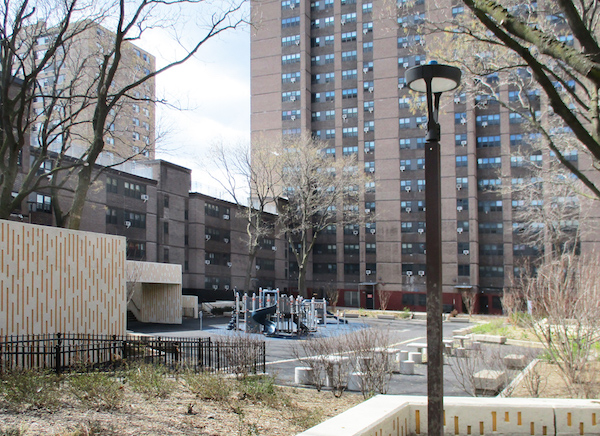 Betances Houses Already Privatized (1,088 units, Mott Haven, Bronx) | "The main thing is communication between the residents and the property management. Everything is transparent and management is excellent," said Giselle Gavin, President of the Betances Houses Tenant Association. "Elevators are now inspected regularly. Our playground and common areas used to be filled with non-residents doing drugs, syringes, and rats. Now we have lighting, cameras, no drugs, and no rats. 100% better than NYCHA!"
Like all the other privatized houses, if residents run into problems paying rent, there are social services available. Said Paola Martinez, Social and Community Services Director at Betances Houses (Catholic Charities), "Before they send people to legal, we work with both the management team (Wavecrest Management) and the residents. As long as we are working with the residents, the management team works with us."
Resident Comments: Angel, a resident since 1972, said, "This place was falling apart. Big changes—new windows, floors, doors. The lobby used to be brick walls. Now it's paneled. All the mailboxes are new. We now have a mail drop-box where we can send mail. Outside it used to be dark and unsafe—always looking over your shoulder. Now there are lights and cameras." Added longtime resident Felipe, "I like everything. Everything."

Edenwald Houses Pursuing Privatization (2039 units, Eastchester, Bronx)
Walter McNeill, President of the Edenwald Houses Tenant Association since 1993 and past Vice President of the North Bronx Council of Tenant Presidents, has seen it all—even the 2016 arrest of 87 people, mostly from Edenwald Houses, that became the largest gang and drug-related arrest in the New York City's history. McNeill has also seen the privatized and newly renovated Baychester Houses directly across Schieffelin Avenue. "That's what we want!" he said, with a grin.
All the developments, asserted McNeill, "have all the same problems. You've got the gangs, homeless, the squatters. People sleeping on the rooftops. Doors broken. Drug dealers. People coming out of shelters and not paying their rent. You've got people that lie about spouse abuse so that NYCHA will move the husband to a unit in another borough and then they're suddenly back together again and now have two apartments. People are playing NYCHA!"
McNeill was excited about one aspect of privatization that has a very bright side for those that might not like the new private ownership, or have fear of their children getting caught up in the violence of surrounding areas: "After privatization, if the resident pays their rent at 30 percent of their income for a year, they qualify for a Section 8 voucher where they can take that voucher and go anywhere in the United States."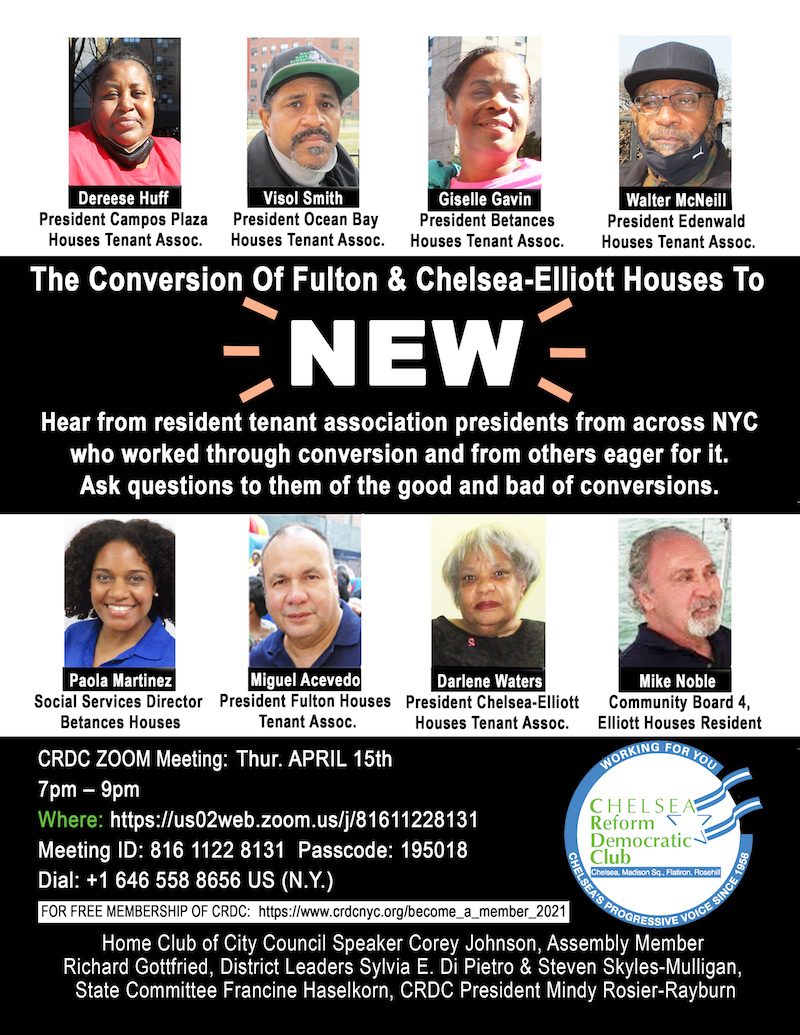 Chelsea Community News is made possible with the help of our awesome advertisers, and the support of our readers. If you like what you see, please consider taking part in our GoFundMe campaign (click here). To make a direct donation, give feedback, or send a Letter to the Editor, email scott@chelseacommunitynews.com.