Writing the Apocalypse is a weekly series featuring the poems, essays, and recollections of
Puma Perl, with subject matter influenced by her experiences
as a NYC resident during the COVID-19 pandemic.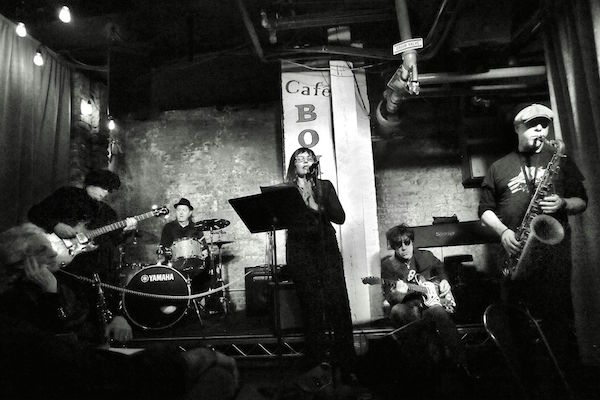 March 25, 2021 marked the one-year anniversary of this column, "Writing the Apocalypse." Since the meaning of time has become less specific to me over this period, I let it pass by unrecognized. I thank Editor Scott Stiffler for his encouragement and his support and also for his idea to add a photo essay element to it, as well as the time he took to make the project work. I doubt if all of these poems would have been written if not for this framework. It's helped me get through the worst of times and I can only hope it's helped a few others as well. In honor the one-year mark, I decided to publish a poem written on April 4, 2020, that I did not include at the time. Thanks again, Scott, ChelseaCommunityNews.com, and all of the readers of this column.
First World Behavior in the Apocalypse | BY PUMA PERL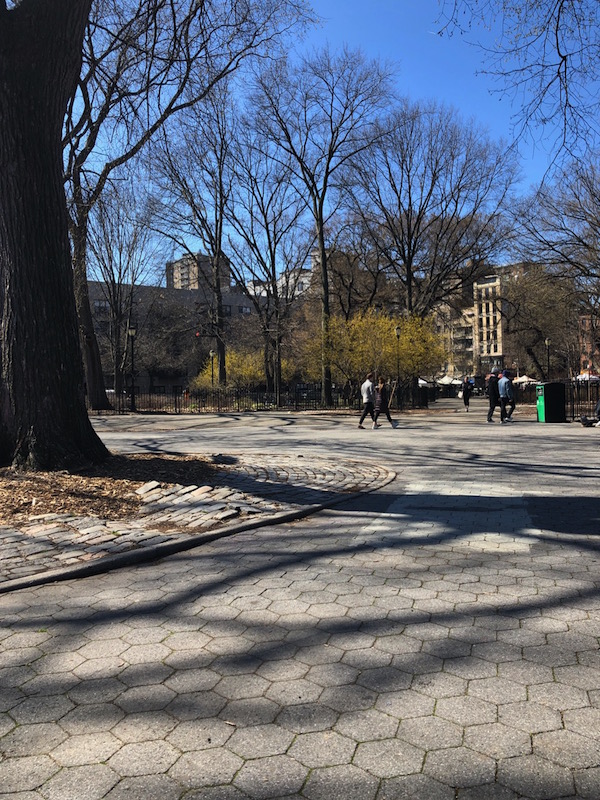 Sunday, March 15, 2020
The last weekend
before the city shut down,
the last day I left the house
just because the sun was shining
and I wanted to take the dog
on a field trip
to Tompkins Square Park
The last non-essential outing
I'd canceled the show
we'd scheduled that night,
hanging on to the original plan
until the previous morning,
hoping Puma Perl and Friends
could play together one last time
before Apocalyptic Darkness set in,
realizing later that it literally
could have been the last show
some of us would ever do
I stand in front of Top Nail Salon
Wendy, the owner, smiles
and waves at me and Diva
I wish I'd gotten that pedicure
and that waxing and that haircut
and that manicure and that Keratin
I'd stocked up on hair products,
red lipstick, body lotion
and eye makeup remover
I wish I'd replaced
the broken kitchen shades
and the washer in the sink
Throughout the day
people message me
Meet at Odessa's
Stop by Tom's Happy Hour
Have a drink, share a meal
Rebecca says let's get Cheryl
to come out to dinner
I decline and caution her
about the devil corn
in Cobb Salads
Lauren offers to come downtown
Rosie and Julie consider 2A
I appreciate their friendship
We'll all need it to get through
the coming year
but we don't know that yet
and, again, I decline
Diva and I go home
I feel sad and relieved
about canceling the show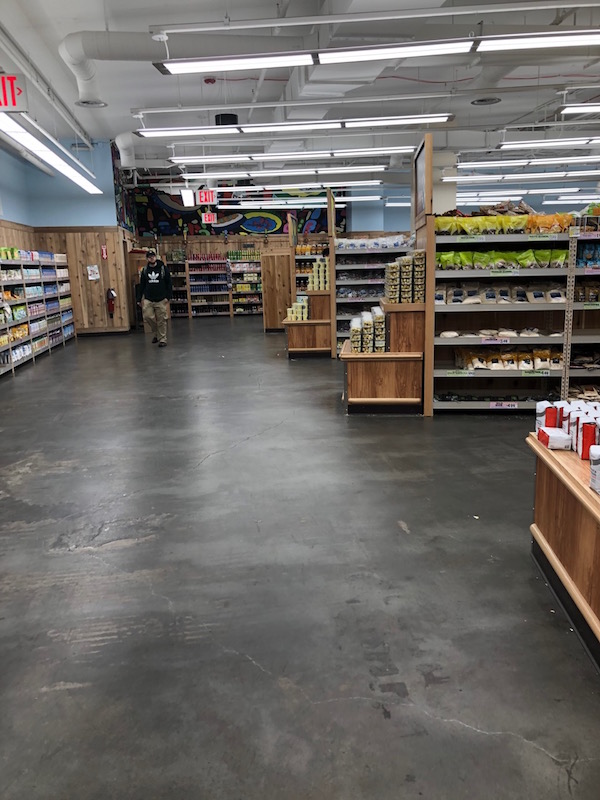 and already miss everyone
and wonder if I could cut
my bangs without fucking them up
The clubs will close on Tuesday,
restaurants and bars to follow
Liquor stores remain essential
Time trickles by
I obsessively check
my meager investment portfolio
as it barrels downhill
and one day the bell doesn't ring
and I worry
about interest rates
and if I'll remember
to start up the car
and when to renew AAA
and whether
I should have stayed married
forty years ago
Every day the world changes
Health care systems crumble
Hospitals swamped
NYC needs mask, gowns,
ventilators
People die
Central Park Field Hospitals
Daily press conferences
Daily babbling
The "president" brags
about how well he creates panic,
the first true compliment
he's every given himself
Cuomo tries straight talk,
hard for a politician
but he's giving it a shot
An apex is approaching
The city locks down
for another month
Some people don't listen
More people die
I stop looking
at my bank account
It doesn't matter anymore
Money will not save us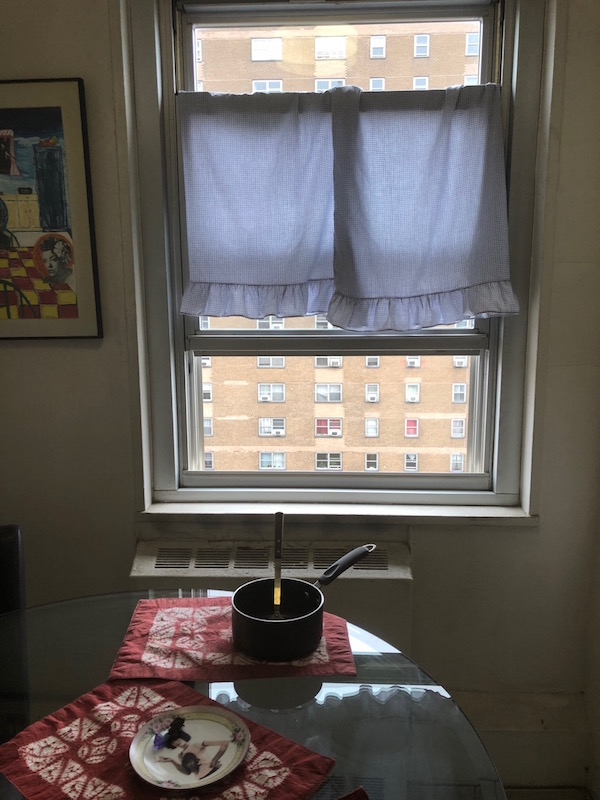 My hearing aid breaks
I attempt, but fail, to fix it
and keep trying in vain
until later that day
when my son wakes up sick
and a broken hearing aid
no longer matters
Words will not save us
I compensate
with headphones and earbuds
and the only one
I talk to in person is a dog
The broken shade
doesn't matter either
I fashion curtains
out of purple checked pillow cases
with ruffles on the bottom,
a Ghetto O'Hara design
The list of what doesn't matter
grows longer and longer
although I still experiment
with hair colors
My son gets better
His girlfriend gets sick
She struggles,
then starts to recover
I breathe a little easier
because they breathe easier,
and lose my breath again
We mourn friends and strangers
and the fear increases
When a four-year-old boy
runs up to pet the dog
his mother and I exchange
panicked looks
She shouts out his name
and they walk quickly away
When I walk the dog
I match my mask
to my scarf
and wear red lipstick
nobody will see
First world behavior
in the apocalypse
Setting the lighting
for Zoom meetings,
making the bed,
getting dressed
Low on clean clothes,
I refuse to pair a leopard bra
with emergency pink and black
flowered panties so I wash
and blow dry a black pair,
then I gather up my nerve
and cut my bangs
They don't look too bad
Also,
writing poems,
forgiving others
and myself
for past fallouts,
taking pictures,
Gloves, disinfectants,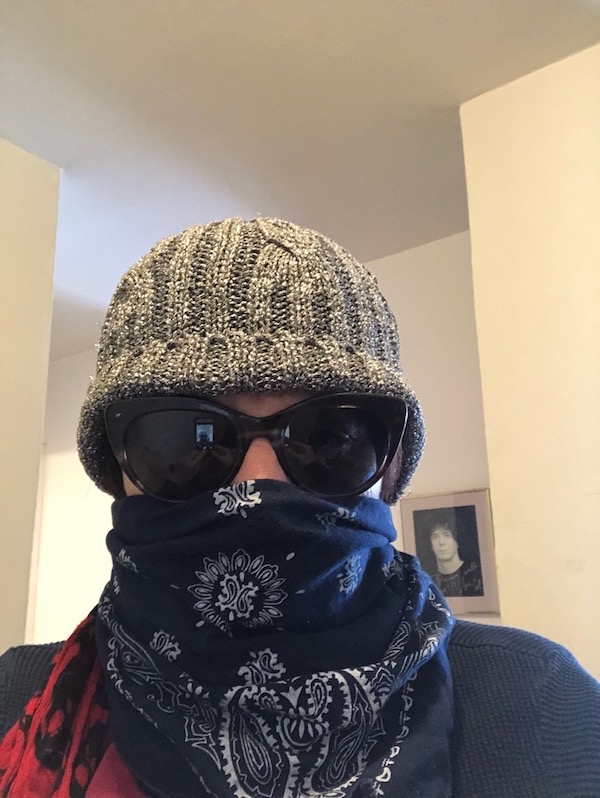 phone calls and texts,
remembering to breathe
and check in and be gentle
with others and ourselves
until the day we emerge,
tentatively, like leaving
a Saturday afternoon movie
eyes slowly adjusting to the light,
moving from fear to love
We've carried each other with love
and we've carried ourselves with intention,
with guitars and words and cameras
and red lipstick beneath the masks
First world behavior in the apocalypse.
© puma perl, 04/04/2020
Puma Perl is a poet and writer, with five solo collections in print. The most recent is Birthdays Before and After (Beyond Baroque Books, 2019.) She is the producer/creator of Puma's Pandemonium, which brings spoken word together with rock and roll, and she performs regularly with her band Puma Perl and Friends. She's received three New York Press Association awards in recognition of her journalism, and is the recipient of the 2016 Acker Award in the category of writing. Her most recent books can be found by clicking here.
Chelsea Community News is made possible with the help of our awesome advertisers, and the support of our readers. If you like what you see, please consider taking part in our GoFundMe campaign (click here). To make a direct donation, give feedback, or send a Letter to the Editor, email scott@chelseacommunitynews.com.