This Week's "This Week in Chelsea"
In Order of Appearance:
  CRDC presents a NYCHA Forum | Chelsea Green Park gets free WiFi | Earth Week conversation with NYS Senator Brad Hoylman and guests | New vaccine site in Chelsea | W. Chelsea park's new garden club | Hudson Guild seeks talent | Free tax prep with the NYC Dpt. of Consumer Affairs | Aged Out: Events from earlier in the week |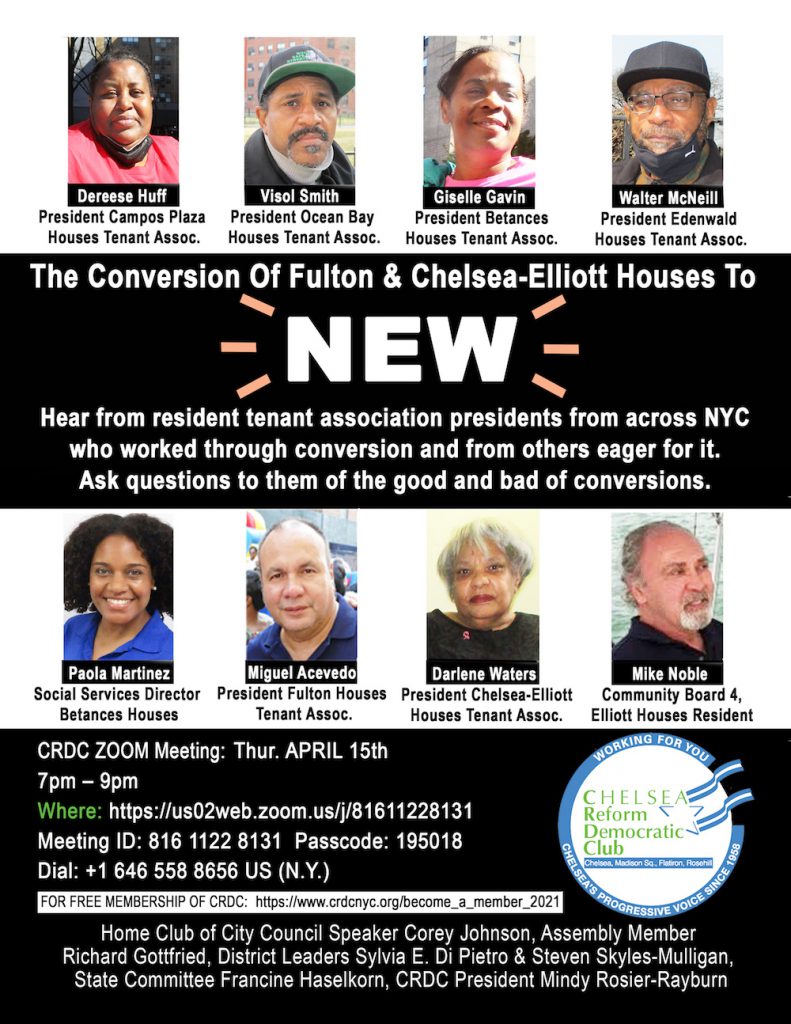 Thursday, April 15, 7-9pm: NYCHA Conversion Forum | Join the Chelsea Reform Democratic Club (CRDC) via Zoom, for a Question & Answer meeting about the realities of privatization from tenant association presidents who have gone through the conversion process. The panelists are Miguel Acevedo (President, Fulton Houses Tenant Assoc.), Giselle Gavin (President, Betances Houses Tenant Assoc.), Dereese Huff (President, Campos Plaza Houses Tenant Assoc.), Mike Noble (Manhattan Community Board 4 member, Elliott Houses resident), Paula Martinez (Social Services Director, Betances Houses), Walter McNeill (President, Edenwald Houses Tenant Assoc.), Visol Smith (President, Ocean Bay Houses Tenant Assoc.), and Darlene Waters (President, Chelsea-Elliott Houses Tenant Assoc.). To Attend Via Zoom, Click Here. Meeting ID: 816 1122 8131; Passcode: 195018; Dial-In: 1-646-558-8656. For more info on the CRDC, Click Here.
Free WiFi Comes to Chelsea Green Park | Access the whole wide world from the confines of a public green space that's "small in size, big on options," as its booster group likes to say. Now you can count free WiFi among the options, as noted in a recent email from Friends of Chelsea Green.
"We are grateful for a generous grant from Google, who has provided funding for this project," said the Friends, noting the WiFi network is provided without cost to all who are using the park. "Feel free to share the password with friends and neighbors," they said, urging parkgoers to join their email list for important info. "In order to keep the WiFi system running effectively, we may need to update the password occasionally," they warned. Currently, all you need to know is the following:
Network: Chelsea Green
Password: thank you
Put on hold because of the pandemic, the Google-funded WiFi was announced at the July 25, 2019 opening of Chelsea Green—a day of sweet rewards for years of work, noted Chelsea Community News, in a report you can access by going to the park, getting on the free WiFi, clicking here, and learning or revisiting the rich backstory that shows you what can happen when likeminded Chelsea residents, true to form, don't take "No" for an answer. Which begs the question: How did this park happen?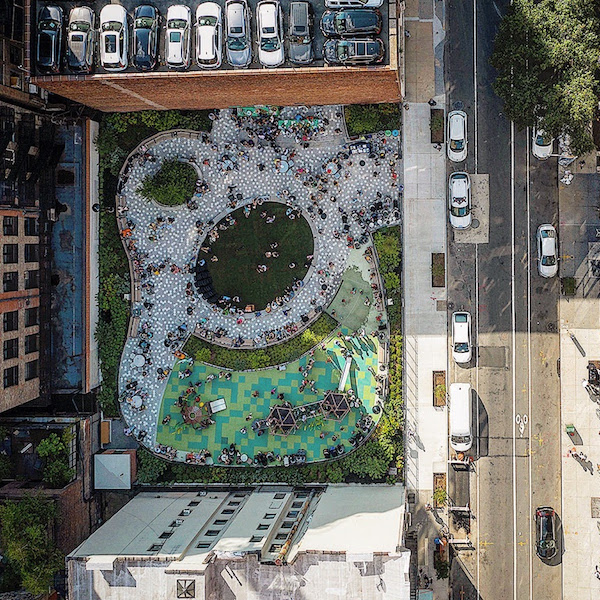 The short version: Friends of Chelsea Green came to that name late in the life of the park's origin story. For years, they were known as Friends of W. 20th St. Park, advocates for a much-needed micropark between Sixth and Seventh Aves. The year was 2010, when early adopter (and de facto park papa) Matt Weiss saw possibilities every time he passed the abandoned NYC Dept. of Sanitation site at 120 W. 20th St. Stalwart supporter Sally Greenspan soon followed suit and, along with other likeminded "Friends," saw their park project received $200,000 as the first-ever winner of District 3's Participatory Budgeting process.  The NYC Parks also stepped up with funding, and construction began (after it went through a collaborative design process in which the Parks Dept. held scoping meetings, incorporating a wide range of community feedback and input on the flow, feel, and resources needed inside the park). Upon its July 25. 2019 opening, the park had been dubbed, by popular opinion, "Chelsea Green"–hence the Friends of a park on W. 20th St. became Friends of Chelsea Green.
As for the current state of affairs, these words of "caution" (rhymes with "fun," which it facilitates, when properly applied:
IMPORTANT REMINDER: NO PETS | Neighbors, please remember that when dogs come into the park, they create problems for our visitors. We love our park, we love our dogs too, but please be respectful of each other and the rules, and take your dogs to a nearby dog park/run for their playtime.
We wish that Chelsea Green had space for dogs, but during development and the design stage by The NYC Parks Department, it was agreed that there simply was not enough room to include a dog run. The proximity of the playground and the oval to the rest of the park area, requires the city enforcement of the no pet rule, even for dogs on leashes. Thank you for your understanding and cooperation.
STAY SAFE | We ask that all park goers take extra precautions to stay healthy and safe. Please wear face coverings and maintain at least 6 feet of distance between yourself and others when outside and avoid congregating in groups.
SPRING FLOWERS ARE ON THE WAY | As the days grow longer, warmer and sunnier, we look forward to seeing you in the park. Spring flowers are starting to emerge. Please make sure your children stay in front of the railings; they are there to protect the emerging plant life.
Sunday, April 25, 6pm: Earth Week Conversation | This Zoom-held event invites you to join New York State Senator and Manhattan Borough President candidate Brad Hoylman, who will take your questions and talk about environmental issues impacting Manhattan, as well as his legislative track record. (Climate change and a ban on "forever chemicals" are among the things addressed by the Senator and his colleagues, leaving Hoylman to proudly declare himself an "eco-champion.") Among the guests: Zero waste activist Debby Lee Cohen, former United Nations official Franz Baumann, and City Council District 3 candidate Erik Bottcher.  To register for the Sunday, April 25, 6pm event, click here. See the below flyer for further details.
New Vaccine Site in Chelsea | The Fulton Community Center (119 Ninth Ave.) offers COVID-19 vaccinations Tuesdays through Thursdays. As of April 7's opening day, NYCHA Elliott-Chelsea and Fulton residents were prioritized. As of April 12, access expanded to New Yorkers age 16 and over. This site is made possible by a partnership between Hudson Guild, Google, and Daybreak Health. Access this and other vaccination venues by visiting VaccineFinder.nyc.gov or by calling 877-VAX-4NYC (877-829-4692).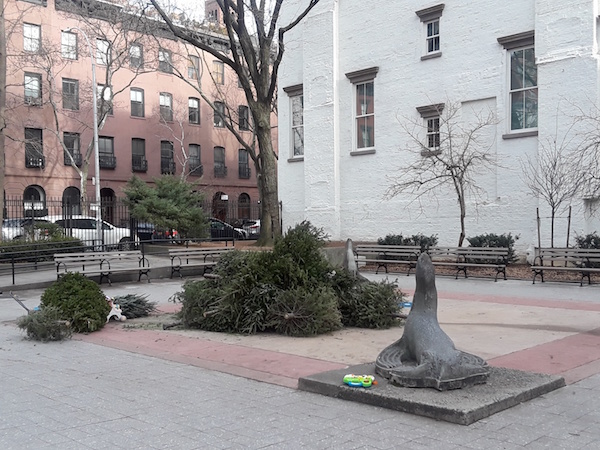 New Garden Club at CCM-Seal Park |  From a recent email comes this good news: "Several members of the newly formed Clement Clarke Moore-Seal Park Garden Club met Sunday, March 14, for a spring cleanup inside the park as well as the tree pits around the park. Many thanks to neighbors Phyliss Waisman, AJ Michel, Laura Solimene, Maria La Macchia and Allen Oster. The Garden Club is looking forward to improving the plantings inside the park and surrounding tree pits and working with NYC Parks and the W400 Block Association to make our beautiful Chelsea park oasis even more enjoyable for all. We welcome new members and if interested in joining, please contact Allen Oster at aoster@earthlink.net."
Hudson Guild Theatre Company Seeks Talent for New Online Showcase | Live performances are on hold until their theatre can safely reopen–but that hasn't stopped Hudson Guild from nurturing new talent. Having made its premiere last week, and set to broadcast monthly through June, Talent Jam! is a new virtual showcase presented on the Guild's YouTube channel. Each episode will feature 2-3 short performances. People of all ages and levels of experience are encouraged to submit MP4 files for consideration. All forms of expression are welcome, including music, dance, monologues, and stand-up comedy. Only one rule: That thing you do must be no longer than 5 minutes. Send your MP4 file to jfurlong@hudsonguild.org any time between now and May 1. Need technical help? Send an email to Jim Furlong (see address in previous sentence), with a description of your act and what sort of assistance you need. Or, call Furlong at 212-760-9837. For more information, visit www.hudsonguilod.org. To view Episode 1 of Talent Jam!, click here.
The NYC Department of Consumer Affairs Announces NYC Free Tax Prep | If you earned $68,000 or less in 2020, you may be eligible to file your taxes for free. NYC Free Tax Prep offers trusted, professional service online and in-person to help you stay safe and avoid tax preparer fees. If you didn't receive one or both Pandemic stimulus checks, NYC Free Tax Prep can assist with claiming the equivalent amounts as a "Recovery Rebate Credit." Filers may also take advantage of a one-time look-back provision, allowing them to choose to use their 2019 or 2020 income for the Earned Income Tax Credit and the Child Tax Credit.  Click here for more information. The deadline to file 2020 tax returns has been extended past the usual April 15 date. The new deadline is May 17, 2021.
Tuesday, April 13, 6:30pm, Manhattan Community Board 4 Business License & Permits Committee | Any beer, wine, or on-premise liquor license applications and sidewalk cafe applications must come before the Business License & Permits Committee (BLP). The Board's position must be considered in the final determination of these applications. The Committee regularly meets on the second Tuesday of each month, beginning at 6:30pm, and is conducting its business via Zoom until further notice. Not able to make it as the meeting unfolds? Visit CB4's well-curated YouTube channel, where this and many other  CB4 committee and full board meetings live forever in Internet amber.
One applicant we're rooting for is a prime, some would say, top, example of how bars and nightlife establishments set to return from pandemic-era hibernation can't bear to go back to business as usual. Located at 554 W. 28th St. (near 11th Ave.), the Eagle NYC was, and no doubt will be, one of NYC's best LGBTQ+ gathering places–welcoming to everyone, but unmistakably catering to the leather, Levi, and fetish communities. Tastes vary, and that's why the Eagle is seeking to expand its menu of offerings–literally–with the addition of the Eagle Open Kitchen. Patrons of a certain age will get the callback reference. As noted on their website, "The Eagle bar originally was a longshoreman's pub called the Eagle Open Kitchen at 142 11th Avenue at 21st Street from 1931 to 1970. In 1969 the stonewall riots in Greenwich Village produced a newfound pride in being gay and the closet doors were slowly opening. In 1970, the Eagle Open Kitchen was acquired by Jack Modica who turned the pub into a leather/Levi bar. With a few coats of black paint and an old beat up motorcycle for decoration, an institution was born."
Not your cup of tea? No matter. We'd like to see this applicant fly by on the basis of a solid design and security plan and the cashing in of credit earned by years of being a good neighbor to a part of town that had more parking lots than residential towers. As that equation changed, the Eagle has remained. Even in the best of times, that was no small feat—and it will take more than just the return of old customers to ensure this iconic (yes, iconic; it's known the world over) bar remains as is, even as it expands in order to serve existing clientele and, hopefully, a steady supply of open-minded newbies who might come for a burger and fries on the first floor, then wander up to the roof deck for an after-dinner drink and discover a new way of looking at things that's every bit as expansive as the view. No pressure  though, okay? Let's permit them to expand the business first. Once the Open Kitchen is up and running, the hearts and minds thing will take care of itself.
–Compiled by Scott Stiffler
Chelsea Community News is made possible with the help of our awesome advertisers, and the support of our readers. If you like what you see, please consider taking part in our GoFundMe campaign (click here).To make a direct donation, give feedback, or send a Letter to the Editor, email scott@chelseacommunitynews.com.