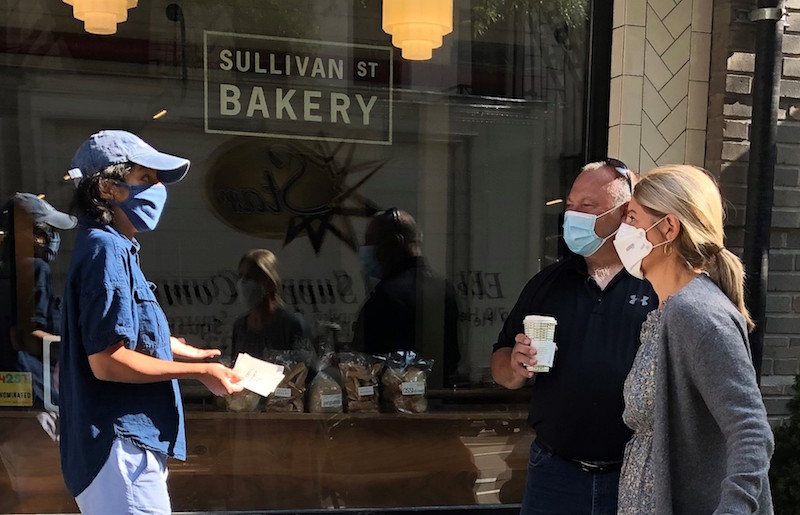 Presented by Leslie for NYC | While there are many incredible bakeries in our District, you will often find New York City Council District 3 candidate Leslie Bogosian Murphy popping by Sullivan Street Bakery for a morning coffee or afternoon treat, especially to say hello to husband-and-wife team Jim Lahey and Maya Joseph.
"The sense of community they bring to Hell's Kitchen and Chelsea is incomparable (almost as unmatched as their amazing bomboloni) thanks to their steadfast support of many local groups and organizations," says Leslie.  "These are the neighborhood gems that we must commit to support, so that treasured small businesses continue thriving as we navigate our new normal."
Maya Joseph of Sullivan Street Bakery affirms that they are feeling the love. "We are so grateful for our neighbors who have braved a whole year of our limited menu, evolving hours and inclement conditions of all kinds to come and buy our bread and pizza. Thank you for giving us someone to bake for!"
Sullivan Street Bakery is a mainstay in the district, and their Chelsea location has just brought back their fabulous mini pizzas during evening hours. Stop by and show your loyalty to this legendary local business!
Born and Bread in NYC
Since 1994, Sullivan Street Bakery has crafted New York City's finest bread.
NEW YORK CITY LOCATIONS (Masks required. Please follow directions onsite for limited entry.)
Hell's Kitchen @ 533 W. 47th St. / Monday-Sunday, 8am-4pm / 212-265-5580
Chelsea @ 236 Ninth Ave. / Sunday-Monday, 9am-4pm and Tuesday-Saturday, 9am-8pm / 212-929-5900
East Village @ 437 E. Ninth St. / Monday-Sunday, 11am – 6pm / 917-388-2391 / This pop-up location currently has no closing date scheduled.
West Village @ 249 Bleecker St. / Monday-Sunday, 11am-6pm / 646-590-2790 / This pop-up location closes at the end of April.
SoHo @ 103 Sullivan St. / Monday-Sunday, 11am-6pm / 917-388-2900 / This pop-up location currently has no closing date scheduled.
Click here to purchase an eGift card.
Chelsea Community News is made possible with the help of our awesome advertisers, and the support of our readers. If you like what you see, please consider taking part in our GoFundMe campaign (click here).To make a direct donation, give feedback, or send a Letter to the Editor, email scott@chelseacommunitynews.com.