If you weren't glued to a viewing device of some type last Thursday, April 22, from 7pm to 8:40pm, you missed what Election Cycle Media of a more innocent age once referred to as "a real humdinger." Well, brush off that old chestnut, and apply it to the online event co-presented by Citizens Committee for NYC and Chelsea Community News. With a title whose name left little doubt as to the evening's theme, Post-Pandemic NYC: Now and Then looked at the contemporary efforts and "if elected" plans of those who would succeed New York City Council's term-limited District 3 representative (Corey Johnson, who, like his predecessor Christine Quinn, would spend the last phase of a multi-term time in the job as Council Speaker; no pressure, candidates).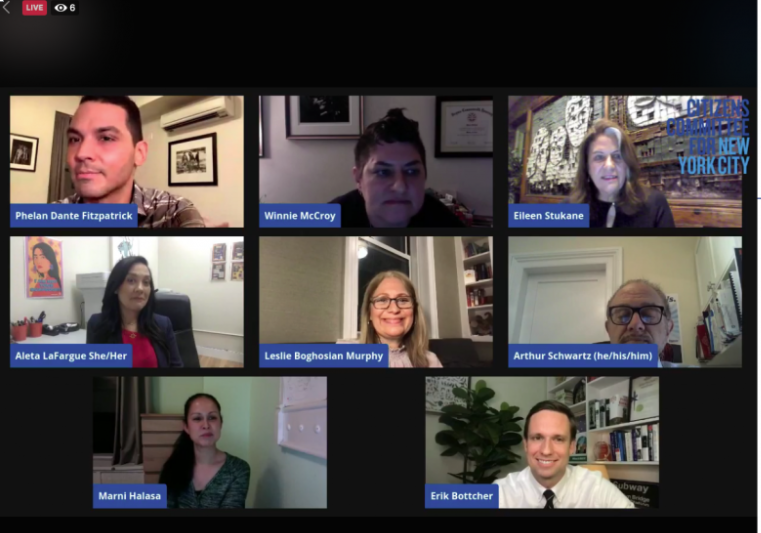 Taking place two years to the day when the Chelsea Community News website launched, the event was described by co-moderator Eileen Stukane as, "Not a debate or forum or town hall, but a back and forth between moderator and candidate meant to give voters new insights into their leadership style, vision for the future, and ability to work with others to achieve effective and lasting change." Stukane shared moderator duties with Winnie McCroy. The duo, responsible for composing every question (including two lighting rounds of "Yes/No" inquiries), are no strangers to District 3: Both have been covering Chelsea, the Village, and Hell's Kitchen for  over 10 years, specializing in long-form and investigative journalism. They scored high points from viewers who reached out to us after the event, as did the participants. Never-before-heard or greatly expanded policy positions were a noticeable part of the evening, the result of its forward-looking theme, which asked each candidate to imagine they won not one, but two, terms as District 3's Councilmember. With that kind of time, we asked, what would they do to guide NYC out of its COVID-19 state, and into a Post-Pandemic era of renewal and growth?
If that sounds like something worth hearing, the event has been archived via the two below links. Click on either one, and you'll be able to view, at no cost, April 22's Post-Pandemic NYC: Now and Then.
On Facebook
https://www.facebook.com/313465326017/posts/10159579434216018/?d=n
—OR—
On YouTube:
https://www.youtube.com/watch?v=Qw9H-Qr1wT0

Chelsea Community News is made possible with the help of our awesome advertisers, and the support of our readers. If you like what you see, please consider taking part in our GoFundMe campaign (click here). To make a direct donation, give feedback, or send a Letter to the Editor, email scott@chelseacommunitynews.com.