BY SCOTT STIFFLER | In this age of making adjustments for the lack of public gatherings because of COVID-19, anything is possible. Who, pre-pandemic, would have thought Manhattan Community Board 4 would have a YouTube channel, teeming with archival video of its many committee and full board meetings? And who could imagine so many of us slow to embrace new tech would even know what Zoom is, let alone possess the skills to join, raise their hand to ask a question, and take screenshots of the Chat session concurrent to the main event? Well, we've lived to see all of that and, as it turns out, it's not as unlikely as it seemed before social distancing required new ways of thinking, behaving, and communicating.
Which brings us to the matter of Monday, May 24, 6pm-8pm, when the Council of Chelsea Block Associations (CCBA) and the London Terrace Tenants Association (LTTA) will present a Zoom-held Candidates Forum.
NOTE: This article's original publication served to preview the May 24 event. To view the Forum in full, click here.  
In attendance at the May 24 Forum will be every person who tossed their hat (or cap, or beret, or welding mask) into the ring for the Manhattan Borough President race. They are, as alphabetical order tells us:
Lindsey Boylan (lindseyfornewyork.com) / Elizabeth Caputo (elizabethcaputo.com) / Brad Hoylman (bradhoylman.com) / Ben Kallos (kallos.nyc) / Mark Levine (votemarklevine.com) / and Kimberly Watkins | (runwithkim.com).
Somebody came to mind as the wearer of that welding helmet? Get your mind back in the game, dear reader! There's a lot at stake in this election cycle. The person who becomes our next Manhattan Borough President (MBP) will occupy the seat to be vacated by tenacious, term-limited Gale Brewer, whose shadow and shoes set the bar quite high for her predecessor, who in part will define their legacy by the extent to which they are an effective advocate for our borough, as we soon (we hope) enter the post-pandemic era.
CCBA president Bill Borock handles the introductions, and then hands the proceedings to LTTA president Inge Ivchenko, who serves as the evening's moderator. Ivchenko will field questions created by the co-presenters, meant to address the issues of concern expressed by various block associations, tenant associations, and area residents. The MBP might be charged with championing the entire island of Manhattan, but on this occasion they better bring their Chelsea "A" Game.
To attend this Candidates Forum, see the below info.
To Watch the Forum, Click on this link close to 6pm on Monday, May 24:
https://us02web.zoom.us/j/89640000390?pwd=cXk5Nm1HNGRKdmovZ2l5Yy84MzJtQT09
Meeting ID: 896 4000 0390
Passcode: 651536
One tap mobile: +16465588656 *651536# US (New York)
And not for nothing, Primary Day is June 22—and before you vote, Chelsea Community News and the CCBA/LTTA both urge you to get to know the ins and outs of Rank Choice Voting. For all of the essential info, click here.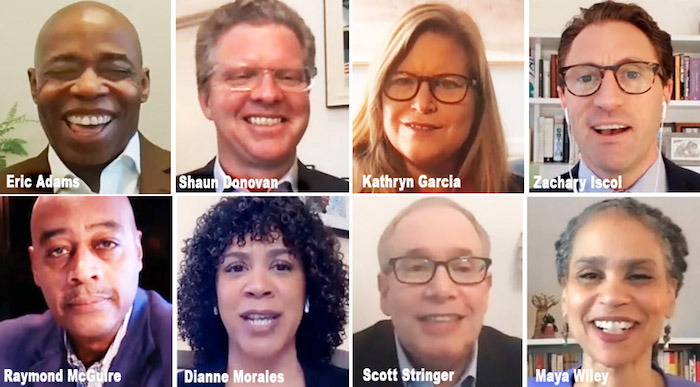 May 24's join presentation by CCBA and LTTA is just the latest in the new and notable trend of Online Forums, due in no small part to the COVID-19 shelter in place protocols. More than ever before–and in many cases, never before–Community organizations and political groups are combining forces or going solo, to put a hyperlocal spin on the Election: 2021 races. Cases in point: The Dec. 17, 2020 Zoom-held forum sponsored by the Chelsea Reform Democratic Club (CRDC) and the Hell's Kitchen Democrats (HK Dems), in which the Manhattan Borough President candidates faced off. To view it, click here.
Also of note, gatherings of NYC Council District 3 candidates. Click here to view the March 30 LTTA/CCBA-sponsored event, and click here to access the April 22 Chelsea Community News-presented version in which the Council District 3 hopefuls participated in a post-pandemic, recovery-themed discussion. The Chelsea Reform Democratic Club has been bringing together Election: 2021 candidates since December 17 of last year, when the Manhattan Borough President hopefuls met in an evening co-sponsored by the Hell's Kitchen Democrats. To view, click here–and for another CRDC and HKDems co-presentation, click here for the January 24, 2o21 Mayoral Forum.
Also of note,  The Center for Community Media at the Craig Newmark Graduate School of Journalism at CUNY is hosting Election: 20121-themed debates through June 22, when primaries will be held. Part of CCM's signature Newsmakers Series, they note, "These on-the-record conversations of public officials, civic leaders, advocates and academics with journalists from the city's very diverse community media aims to increase coverage in this media sector of the city government, as well as foster better communication and promote civic engagement.
And from an organization that "provides support to community leaders on the front lines of change in their own neighborhoods," pandemic recovery programming is one of the prime concerns of the micro-funding organization Citizens Committee for New York (aka CitizensNYC). which Chelsea Community News proudly partnered with for our April 22 Council District 3 gathering. CitizensNYC hosts a monthly Rethink & Rebuild panel discussions the third Thursday of every month, which is open to the public. This Thursday, May 20 at noon, the panel will discuss The Impact of Storytelling & Philanthropy on Grassroots Efforts. For more info and to register, see its listing on Citizens' Take Action page.
Chelsea Community News is made possible with the help of our awesome advertisers, and the support of our readers. If you like what you see, please consider taking part in our GoFundMe campaign (click here). To make a direct donation, give feedback, or send a Letter to the Editor, email scott@chelseacommunitynews.com.