BY SCOTT STIFFLER | In the Election 2021 candidate's quest for a vote of confidence from organized labor, no asset tracks quite like a stellar track record. Aspiring New York City Councilmember Arthur Schwartz has spent decades as the courtroom advocate of choice for labor, tenants, the disabled, and movement organizations. His presence, and victories, have not gone unnoticed or unrewarded during first-time political candidate Schwartz's campaign to succeed Speaker Corey Johnson, whose District 3 area of coverage includes Chelsea. Schwarz has garnered endorsements form the NY Metro Area Postal Union and the Transport Workers Union.
On May 17, the 17,000-member Committee of Interns and Residents (CIR), the largest house staff union in the United States, added their name to that the list of vocal supporters, calling Schwartz "no newcomer to the fight for quality healthcare for all," and noting he was "active in the fight to save St. Vincent's Hospital and took the state to court back in 2011 on behalf of NYCHA tenants. . .  Arthur also stood in front of Beth Israel in March 2020 as the pandemic shut down the city, and demanded that Beth Israel open its hundreds of unused beds to COVID patients. As a result, 400 beds were opened and remain open."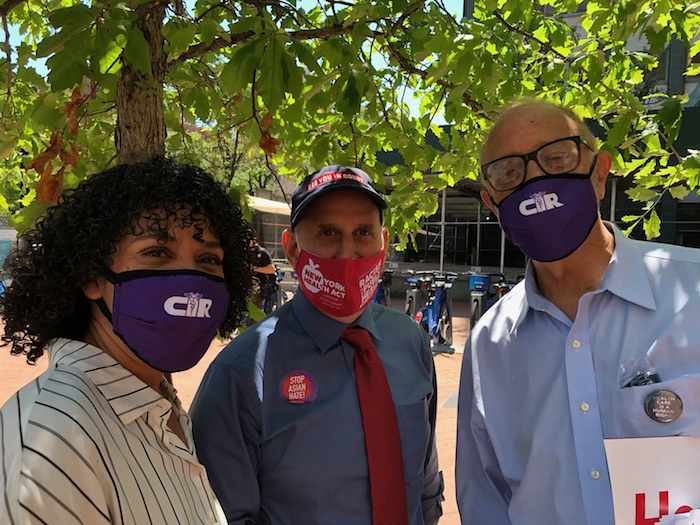 The day after that endorsement, Schwartz joined CIR, the Nurses Union, Assembly Members Richard Gottfried, and Harvey Epstein, State Senator Gustavo Rivera, and Mayoral Candidate Dianne Morales at a rally at Bellevue Hospital pushing passage of the NY Health Act in the State Legislature. That law, noted Schwartz, "would bring Universal Health Care to NY State."
"Arthur has been a supporter of Medicare for All and the NY Health Act from the beginning," said the CIR. "He has helped organize support – and votes – for those key legislative initiatives. Our union strongly supports Arthur as a candidate who will further the cause of working intern and resident physicians, build the fight for universal quality health care, and the effort to stop hospital consolidations, closures, and downsizing."
Schwartz called the CIS endorsement "gratifying" and one of "special importance" because it reflects "my work as an advocate. They [CIS] will be front and center in my campaign, just like that from Black Lives Matter of Greater New York, Kids PAC, and the disability rights group, the 504 Democratic Club."
For more information, visit the candidate's website by clicking here. For all of Chelsea Community News' editorial coverage of the Council District 3 race, click here.
Chelsea Community News is made possible with the help of our awesome advertisers, and the support of our readers. If you like what you see, please consider taking part in our GoFundMe campaign (click here). To make a direct donation, give feedback, or send a Letter to the Editor, email scott@chelseacommunitynews.com.