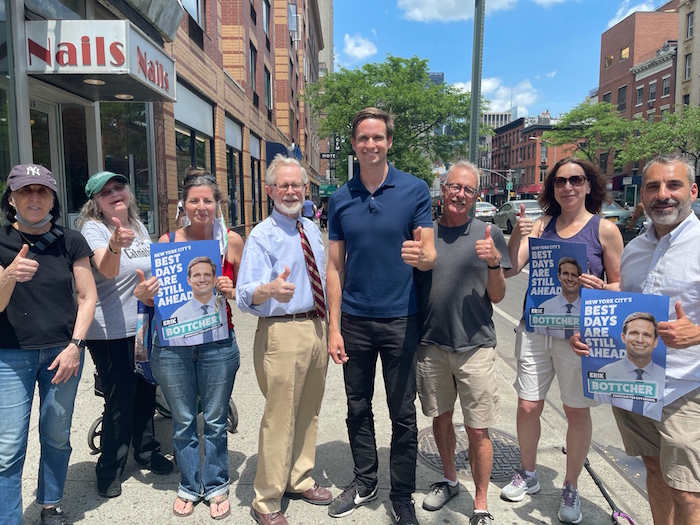 BY SCOTT STIFFLER |The Election 2021 candidate whose weekly Community Cleanup events inspire locals to blanket neglected parts of their neighborhood with brush and broom work just expanded the sweeping scope of his support.
In a May 25 press release first seen by Chelsea Community News, New York State Assembly Member Richard Gottfried said it was "hard to imagine a better candidate more prepared and ready to be our City Council Member than Erik Bottcher."
Bottcher, who stepped down as NYC Council Speaker Corey Johnson's Chief of Staff to focus exclusively on the quest to succeed term-limited Johnson as the Council District 3 rep, was praised by Gottfried not just for recent conduct, but also for having done "a terrific job working in the district for the last 11 years."
As noted in the "About" section of his campaign website, Bottcher's public service career began in 2009, when he became the NYC Council's HIV/AIDS Community Liaison. Two years later, a freshly minted Governor Cuomo brought Bottcher on board as his LGBTQ Community Liaison, tasking him with shoring up grassroots support for the Marriage Equality Act (an effort that succeeded). In 2015, as New York City Council Member Corey Johnson's Chief of Staff, Bottcher began to put his own stamp on District 3 bread and butter (and occasionally hot potato) issues such as affordable housing, and the need for more green space.
As a result, noted Gottfried, Bottcher "knows the community, he has served the community, and people in the community know Erik."
Citing their common ground on matters including LGBTQ rights and accessible, affordable healthcare, Bottcher called 75th Assembly Member Gottfried "a pillar of progressive politics in New York State" who has "paved the way on so many progressive issues that are important to me and that are important to our community… I'm incredibly honored by his endorsement."
Today's vocal support by Assembly Member Gottfried is counted as Bottcher's 53rd official endorsement by an organization or individual. Those ranks include US Congressman Jerry Nadler, former Senator Thomas K. Duane, City Council Speaker Corey Johnson, and US Congressman Ritchie Torres. Bottcher has also been endorsed by every Democratic club within Council District 3's area of coverage—which, not for nothing, includes Hell's Kitchen, the Village, and… Chelsea.
NOTE: For our coverage of every candidate in the Council District 3 race, click here.
Chelsea Community News is made possible with the help of our awesome advertisers, and the support of our readers. If you like what you see, please consider taking part in our GoFundMe campaign (click here). To make a direct donation, give feedback, or send a Letter to the Editor, email scott@chelseacommunitynews.com.