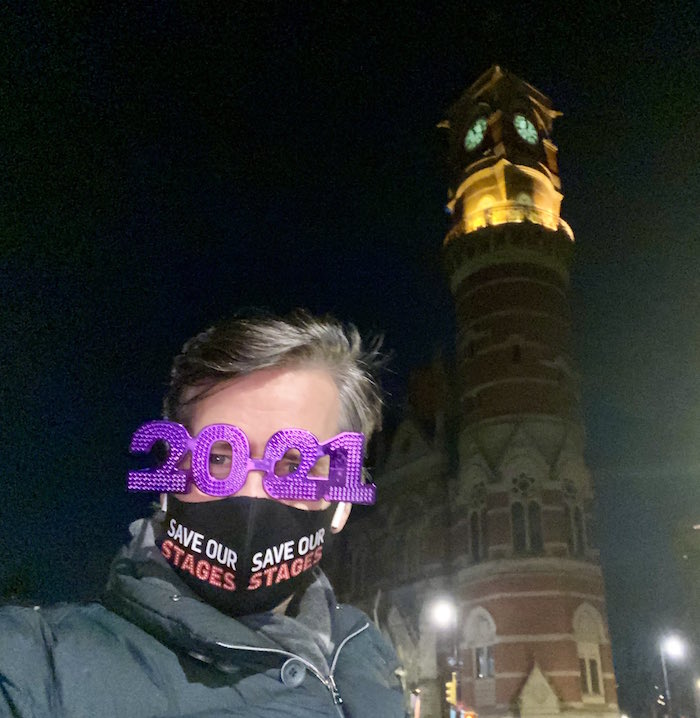 Just prior to June's calendar-recognized celebration of the LGBTQ+ community in real and virtual spaces, Chelsea Community News spoke with New York State Senator Brad Hoylman–until late, the lone out, gay male voice in Albany–about important human rights victories won, and challenges still one his legislative plate. Note: Hoylman is currently running as a candidate for Manhattan Borough President (MBP). For our coverage of that race, including an MBP-specific Q&A with Hoylman and other candidates in the race, click here.
Scott Stiffler, for Chelsea Community News (CCNews): What's the status of legislative efforts regarding the Gender Recognition Act (which repeals certain provisions of the vehicle and traffic law relating to driver's licenses)?
New York State Senator Brad Hoylman: I think a lot about how policymakers like myself can address the needs of transgender New Yorkers, who too often have been left out of the civil rights conversation. As Republican legislatures across the country launch assaults on the rights our transgender siblings, New York needs to do more. The Gender Recognition Act, along with legislation I've introduced to require school districts to establish policies meeting the needs of transgender kids, and legislation requiring utility companies to allow customers to use their preferred names and pronouns, will counter the waves of hate sweeping across the nation. I'm very hopeful for passage this session.
CCNews: You've called for universal access to PrEP and PEP, both breakthroughs in AIDS/HIV prevention. What is the status of your legislative efforts? 
Sen. Hoylman: As we begin to see the light at the end of the tunnel of this godforsaken pandemic, we can't forget that this isn't the first rodeo for people with AIDS/HIV. 700,000 Americans have died from AIDS since the epidemic began and 15,500 Americans with HIV infection died in 2018. PrEP and PEP are the key components of a cost-effective strategy that can block HIV transmission and save lives, but we must make widespread uptake of these drugs a priority. This is especially true for communities of color—namely young men and TGNC [transgender/gender nonconforming] people who sleep with men—who continue to account for a disproportionate amount of new HIV/AIDS diagnoses. I'm hopeful that passage of the package of bills I've introduced with Assembly Members O'Donnell, Gottfried and Barrett will help make universal access of PrEP and PEP a reality in New York. What's the expression? An ounce of prevention is worth a pound of cure? That couldn't be more applicable to PrEP and PEP.
CCNews: In public debate and private discussions, how do you get your colleagues to see these as human rights and responsible public health matters instead of viewing them through the prism of stigmatized sexual behavior? Were there similar challenges with the Walking While Trans Ban repeal?
Sen. Hoylman: I'm lucky to belong to a Senate Democratic Conference full of members who have empathy, and that starts at the top with Senate Majority Leader Andrea Stewart-Cousins. You don't have to be gay to understand the struggles LGBTQ+ New Yorkers experience. Most of my colleagues instinctually "get it" when I talk about legislation I introduce to help the LGBTQ+ community—and now I have a terrific gay colleague in Senator Jabari Brisport. With others, it can take some education. I certainly can make an impact in changing their minds, but I find advocates from the community who have the courage to share their personal stories are the key to winning over legislators. The Walking While Trans Ban repeal never would have passed if not for the dogged efforts of women like TS Candii, Bianey Garcia, Kiara St. James, Norma Ureiro, and so many others.
Additionally, it is nice to no longer be the only LGBTQ member of the New York State Senate. While I wore that title with pride for years, I couldn't be happier to have Senator Jabari Brisport join me in Albany and double the size of the Senate LGBTQ Caucus this year.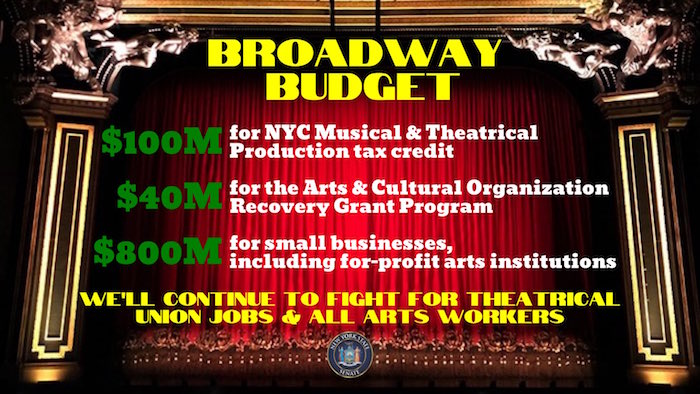 CCNews: Knowing what we know about the rate at which New Yorkers are receiving the vaccine, and plans for the return of public gatherings (theater/music venues, cabarets, bars/clubs), please discuss the following within the context of the near-term and long-term: The Broadway bailout; Restoring and retaining NYC subway service 24/7; and Saving Our Storefronts. 
Sen. Hoylman:
NEAR-TERM | I can't wait for the return of Broadway and of all safe public gatherings. I was just at a press conference yesterday with Senator Schumer in Times Square with Broadway workers on his federal Save Our Stages effort and the anticipation was palpable. My 10-year old, for one, is eagerly awaiting the musical Six (the soundtrack is on repeat in my apartment). My husband and I want to get tickets to Company. I think the song Being Alive is going to be more meaningful now than ever.
In Albany, I was able to double the NYC Musical and Theatrical tax credit to $100 million. That's a shot in the arm for the industry but we have to make sure everyone shares in the economic recovery of the arts, not just producers, and not just Broadway, but every one performance venue across Manhattan. At the local level, with support from an amazing grassroots organization called Save Our Storefronts, my colleagues and I were able to make sure the state budget included $800 million in Small Business Recovery Grants, along with $200 million in small business tax credits to  help restaurants and venues stay open. The challenge is going to be to get the money into the hands of these struggling businesses, including nonprofits.
I've been pushing a return for 24/7 subway service—including my legislation requiring it—so I'm glad to see the MTA has heeded our call. Now people can get home from work, namely all of those essential workers who saved us during the pandemic.
There's a sense of optimism out there—higher vaccination rates, relaxing of mask mandates, beautiful spring weather. I feel it on the campaign trail! But we can't let up on our efforts. We're not out of this pandemic yet and the aftershock will be felt for many months, if not years.
LONG-TERM | There's much the State government can do in the long term as well. I've introduced legislation to create a voluntary COVID-19 Health Registry that's modeled after the World Trade Center Health Registry. Many New Yorkers are still struggling with symptoms of "long" COVID. We need to follow their long-term health outcomes to develop strategies to help them cope with this syndrome. Any recovery is incomplete if people still suffer from long-haul COVID.
Additionally, we need to make it possible for entrepreneurially minded New Yorkers to launch their dreams. Small businesses power our city, and help our neighborhoods retain the charm we love so much. We cannot let our city become one big Amazon fulfillment center. Part of that is making commercial rents affordable, which is why I've introduced legislation which would tax vacant commercial spaces. This would disincentize the landlords who warehouse open properties to artificially jack prices up.
CCNews: Judging from the tweets that followed our last Q&A, the public also clearly hungers for further comment on your choice of Dorothy Zbornak as your favorite Golden Girl. Final question: In the parallel universe where you pursue showbiz instead, you're up for the last slot in an Uta Hagen acting class whose ranks include Rue McClanahan, with whom you are paired for your audition scene. (Sidebar: This question is based to some extent on reality! Click here.) Oddly enough, "Golden Girls" scripts already exist. Cast as Dorothy, what scene do the two of you play?
Sen. Hoylman: That's a tough one! But I remember the one where Dorothy and Blanche both buy the same terrible, salmon-colored dress and fight over who gets to wear it. While it may not have been a salmon-colored dress, believe me when I say that has happened to my husband and me on occasion. (He usually wins.)
CCNews: And he'll have the last word here, too. Thank you for your time, Sen. Hoylman.
Chelsea Community News is made possible with the help of our awesome advertisers, and the support of our readers. If you like what you see, please consider taking part in our GoFundMe campaign (click here). To make a direct donation, give feedback, or send a Letter to the Editor, email scott@chelseacommunitynews.com.