Writing the Apocalypse is a weekly series featuring the poems, essays, and recollections of
Puma Perl, with subject matter influenced by her experiences
as a NYC resident during the COVID-19 pandemic.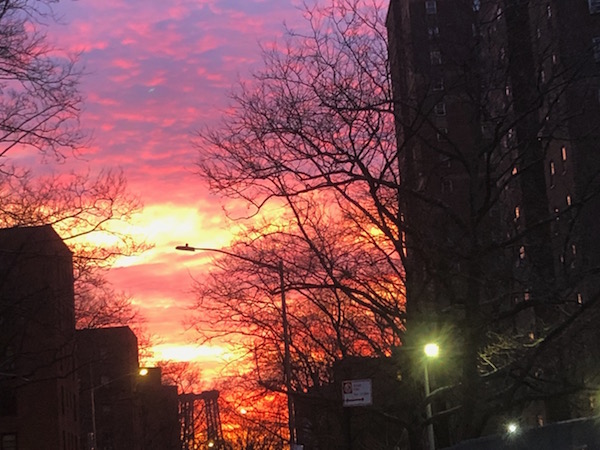 Mornings, Muted | TEXT & PHOTOS BY PUMA PERL
The dazzling sunrises have not returned to my window.
I surrender my watch and hang new shades
and heavy purple curtains. I still wake up in 6AM brightness.
Shining silvers and blues; to find pinks and yellows
I leave my apartment, earlier and earlier each time.
Celebrations and funerals simultaneously fill the streets.
Dancing on St. Mark's Place, permits pulled in the park,
some friends break their ankles, others socialize frenetically,
my cousins plan destination weddings, a beloved genius dies in Mexico,
another shining soul left his bones behind in Jamaica, my sister
has two free nights at a Marriott, where should we go?
What should we do?
There is too much going on and nothing going on.
It's one year since the murder of George Floyd.
Helicopters drown out the guy on the motor bike
who's been circling the neighborhood for weeks.
Guiliani and Bloomberg lead the mayoral race,
only the bodies and names have changed.
All is calm in the White House if we ignore world chaos.
New York City survives, like roaches and bad ideas,
like the Village Vanguard and the Cyclone,
as we leave our corners and step into the ring.
© puma perl, 05/26/2021
Puma Perl is a poet and writer, with five solo collections in print. The most recent is Birthdays Before and After (Beyond Baroque Books, 2019.) She is the producer/creator of Puma's Pandemonium, which brings spoken word together with rock and roll, and she performs regularly with her band Puma Perl and Friends. She's received three New York Press Association awards in recognition of her journalism, and is the recipient of the 2016 Acker Award in the category of writing. Her most recent books can be found by clicking here.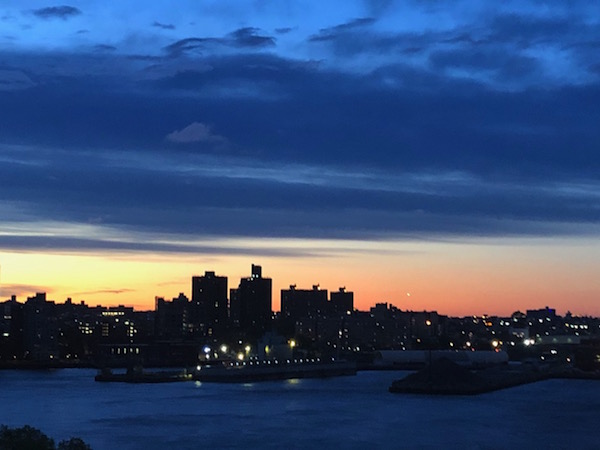 Chelsea Community News is made possible with the help of our awesome advertisers, and the support of our readers. If you like what you see, please consider taking part in our GoFundMe campaign (click here). To make a direct donation, give feedback, or send a Letter to the Editor, email scott@chelseacommunitynews.com.