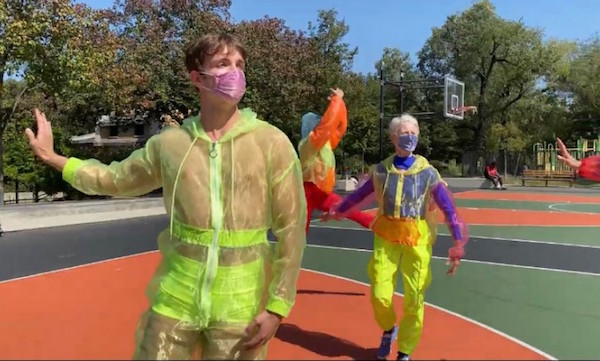 BY ELIZABETH ZIMMER | Katy Pyle, whose pronouns are they/them/their and who identifies as a genderqueer lesbian dancer and choreographer, started studying ballet at the age of three. Teachers at the North Carolina School of the Arts later said they "would have had a great career if [they] had been born a boy."
Pyle graduated summa cum laude in 2002 from Hollins University, becoming a drag king and studying multiple experimental and post-modern forms. Moving to New York, Pyle has performed with the city's most interesting dance and theater artists, and has choreographed several full-length pieces.
Their ensemble, Ballez, has dedicated itself to "inserting the herstory and lineage of lesbian, queer, and transgender people into the ballet canon through the creation of large-scale story ballets, open classes, and public engagement" since 2011. Pyle currently teaches Ballet Practices at Eugene Lang College at the New School, online on Zoom, and outdoors in Brower Park, and performs in the work of Swedish choreographer Stina Nyberg.
The new work from Ballez, Giselle of Loneliness, is presented online by Chelsea's Joyce Theater. Audiences are encouraged to tune into the premiere, and make their opinions count. As for how, the press material notes, "The live premiere opens as an audition for the role of Giselle, where audience members will have the opportunity to participate in selecting the dancer to play the lead role."
Premiering on June 10, at 8pm (Eastern) and then available On Demand through June 23. For tickets ($25 per household), click here. For the Ballez website, click here.
Elizabeth Zimmer, for Chelsea Community News: Describe the process of building this ballet in pandemic conditions.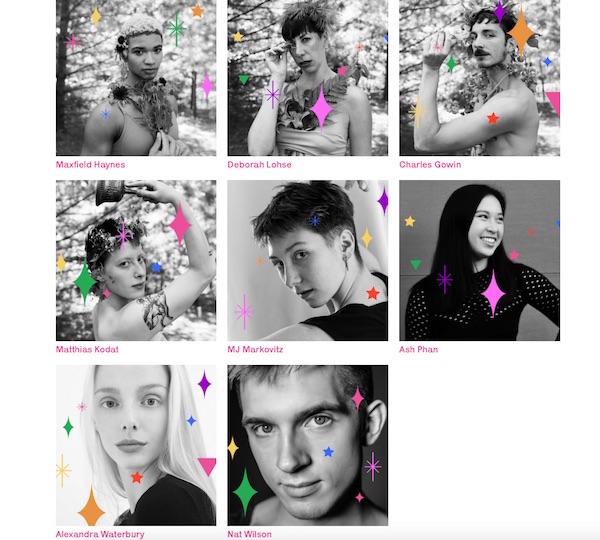 KATY PYLE: I came up with the title and began preliminary research in 2017. This year was very difficult in so many ways, but the alignment of this project with this moment, and the format in which we are now producing this show—as a livestream from an empty theater—is weirdly, eerily, right. I feel like it was always meant to be presented in this time, in this way. So much of what I'm exploring with the dancers is their own histories, difficulties, and resilience in relationship to ballet. This year of isolation and separation from our typical lives in dance brought those issues to the fore in new ways, and I was able to get deeper with the dancers. Because of COVID restrictions, we had many rehearsals one on one, which allowed me to process the themes and choreography with each dancer in a more intimate and in-depth way. Then we started dancing and rehearsing together outdoors, which was actually pretty inspiring. I felt really held by my local park, Brower Park in Crown Heights, and curious and excited by the interactions we've had with neighbors who became our de facto audiences. The feeling that we are part of a community became stronger, and I hope to bring that forth into the finale of the show.
Zimmer: Explain how you adapted your sources, the 1842 ballet "Giselle" and the 1928 lesbian novel "The Well of Loneliness."
Pyle: I did a lot of research in the early years of the project, when I was planning a more literal story-ballet based on a mashup of Giselle and The Well of Loneliness. I re-read The Well, and watched many versions of Giselle. Once I started working in the studio, I became more and more fixated on the Mad Scene. I always knew the Mad Scene was the most important part of this project for me, and that eventually became the only thing I wanted to work on… a Mad Scene that contained all the key aspects of the ballet Giselle, and the culture it represents, that personally drove me crazy. I latched onto the plotline that Giselle is made the "Queen of the Wine Festival" in the ballet. For me as a young, female-assigned person studying ballet, playing the role of Giselle was the pinnacle of success; it meant that one had achieved ballet's ideal of delicate femininity.  These thoughts led me to abandon trying to make a larger narrative structure. I settled on the format I now have for the show — all the dancers auditioning to be Giselle—in June 2019, on a very inspiring trip to Greece where I saw [former Cunningham dancer] Meg Harper in Robert Wilson's Oedipus, and soon thereafter had a vision of my own project's inevitable destiny!
Zimmer: Who are your dancers? Where did you find them? 
Pyle: They're all people with complex and critical relationships to ballet. The soloists are, like me, gender non-conforming and/or trans and/or non-binary dancers with significant ballet training. Charles Gowin worked with me on Sleeping Beauty & the Beast (La Mama 2016) and then I met Matthias Kodat (an experimental poet formerly of Ballet Chicago) and MJ Markovitz (a fantastic young dancer who trained at the Ailey School) on Instagram in 2018/2019. I met Maxfield Haynes (Complexions, Trockadero) when I did a lecture at Tisch in 2018, and I met Ash Phan (an amazing dancer from the Pacific Northwest) in 2019 and Nat Wilson (Zvi Dance and Kibbutz Dance Company, trained at Gelsey Kirkland) in 2020 when they came to Pro Ballez class. Alexandra Waterbury I reached out to directly after reading about her story in the New York Times and watching a video of her talking about her experiences with SAB and the culture of NYCB. Deborah Lohse is the host of the show. I have worked with her since 2015; we met at Ballez class long ago and quickly became friends and collaborators. The judges in the show are Janet Panetta and Meg Harper. Panetta is my long-term teacher, and Harper has been a really important creative friend and advisor to me these past several years.
Zimmer: What has been the best part of assembling this project?
Pyle: Working with each of the dancers and uncovering our shared difficulties, in order to heal them and find ways forward to dance in fuller and more authentic, heartfelt ways. That is always what I long for, and I think in this project we have made radical strides.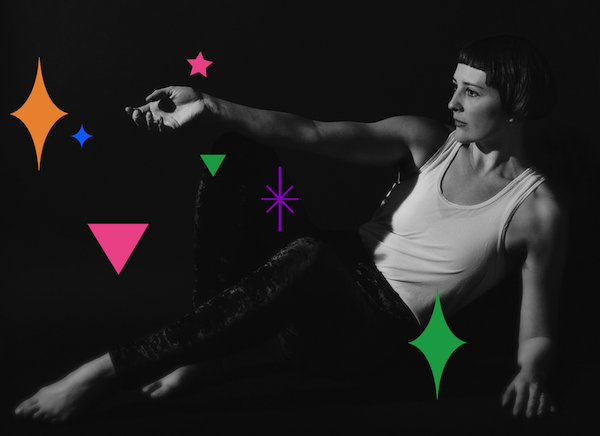 Zimmer: What else? 
Pyle: Audiences will be asked to participate live during the livestream, so showing up for the actual time really matters! This is a LIVE performance; no part of it will be pre-recorded or edited! And even though we won't be in the same space, we will be sharing time. I see my shows as community enacted rituals, and I hope audiences will participate fully in their roles (which include an interactive survey) in order for the transformative power of this project to be realized.
More Information, from the Joyce Theater | Ballez reinvents the classical ballet canon with storytelling that champions the expression of queer, lesbian, transgender, and gender-nonconforming identities within ballet. Giselle of Loneliness, inspired by the tragic, romantic story-ballet Giselle, dives into themes of despair and madness. This reimagining reveals the experience of dancers betrayed by ballet itself, and asks, "What parts of ourselves do we have to give up in order to belong in ballet, and how do audiences participate in this demand?"
Content Warning: This performance explores the theme of suicide, which some viewers may find distressing.
If you are experiencing thoughts of suicide, you can call or chat with National Suicide Prevention Lifeline. (1-800-273-8255)
The Trevor Project is the leading national organization providing crisis intervention and suicide prevention services to LGBTQ youth under the age of 25. For more information and resources, visit TheTrevorProject.Org.
Chelsea Community News is made possible with the help of our awesome advertisers, and the support of our readers. If you like what you see, please consider taking part in our GoFundMe campaign (click here). To make a direct donation, give feedback, or send a Letter to the Editor, email scott@chelseacommunitynews.com.