Writing the Apocalypse is a weekly series featuring the poems, essays, and recollections of
Puma Perl, with subject matter influenced by her experiences
as a NYC resident during the COVID-19 pandemic and what, at present, appears to be the post-pandemic period.

Love Me Red Lipstick| TEXT & PHOTOS BY PUMA PERL
Crusin' and playin' the radio
With no particular place to go – Chuck Berry
Every morning I sit on the edge of the bed,
committing myself to the next moment.
Once my feet hit the floor, I can't turn back
Almost against my will, I spin into motion.
Chuck Berry's riding along in his automobile
and me, I check my email, do the Times mini puzzle,
pour coffee into the MOMA 2001 cup, fill the blue bucket,
wash the floors, talk to the plants, shower and dress;
routines that keep me safe around open windows.
My friends who sheltered at home
without bras and zippers, walking their dogs
in slippers and pajama pants, are my heroes,
warding off despair without makeup.
My pandemic supplies included four bottles
of black eyeliner, three shades of hair dye,
and lipsticks named Love Me Red and Hot Cherry.
I didn't care if they stained my masks.
It was less about vanity than survival instincts,
doing whatever I could to face the mirror,
even with no particular place to go
and nobody riding shotgun beside the wheel.
© puma perl, 06/09/2021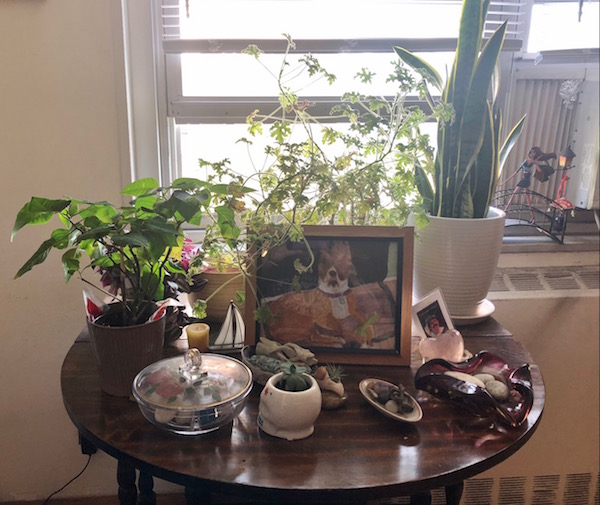 Puma Perl is a poet and writer, with five solo collections in print. The most recent is Birthdays Before and After (Beyond Baroque Books, 2019.) She is the producer/creator of Puma's Pandemonium, which brings spoken word together with rock and roll, and she performs regularly with her band Puma Perl and Friends. She's received three New York Press Association awards in recognition of her journalism, and is the recipient of the 2016 Acker Award in the category of writing. Her most recent books can be found by clicking here.
Chelsea Community News is made possible with the help of our awesome advertisers, and the support of our readers. If you like what you see, please consider taking part in our GoFundMe campaign (click here). To make a direct donation, give feedback, or send a Letter to the Editor, email scott@chelseacommunitynews.com.