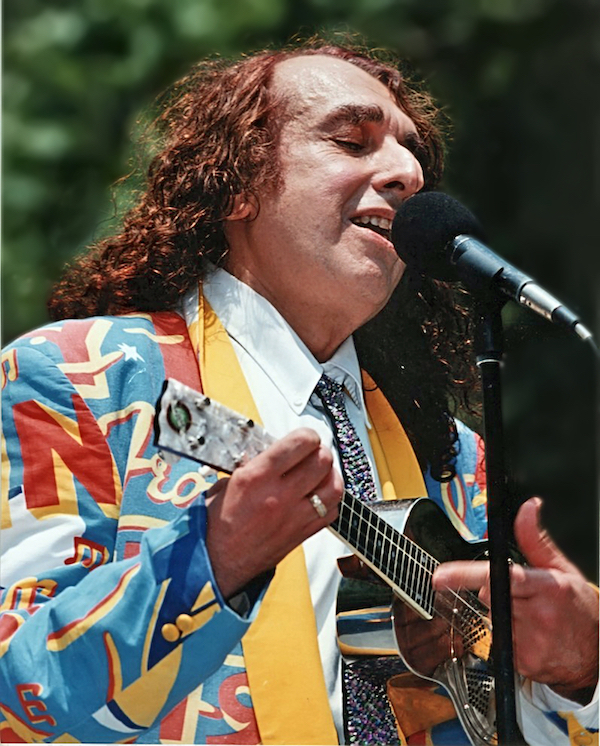 BY TRAV S.D. | In honor of Pride Month, we featured a classic performer for each of the five calendar weeks of June, sequentially matched with L, G, B, T, and Q. Check back with us next year, as our series picks up with "+" I, A, and beyond. Following up on previous posts ("L" Alla Nazimova, "G" George Kelly, "G" Paul Swan, and "T" Terri Rogers), today we conclude our series with our "Q"—that Holy Saint of the neo-vaudeville movement, Herbert Khoury, aka Tiny Tim (1932-1996).
In an age when "freaks" were cherished, Tiny Tim was a freak's freak—literally. Early in his career he performed at Hubert's Museum in Times Square as "Larry, the Human Canary." He came out of the Greenwich Village folk scene of the late '50s, early '60s, when people were exploring all sorts of exotic old sounds—not just folk, but also the blues, hot jazz, and even Tin Pan Alley. He went on major network television programs like Rowan and Martin's Laugh-In, The Smothers Brothers, and The Tonight Show with Johnny Carson, singing old hits of the '20s and early '30s originally made popular by Bing Crosby, Russ Columbo, Rudy Vallee, and Cliff Edwards, and people loved it. Most importantly, he sang them in a high, womanly falsetto, emanating from the proverbial face only a mother could love.
"God told me to sing in the sissy voice", he wrote in his journal, one of the many relevant facts we learned from Johan von Sydow's splendid recent biographical documentary, Tiny Tim: King for a Day. The film also tells us of Tiny Tim's bisexual nature and his possible affection for some who were below the strictly legal age. (For the record, his first wife, Miss Vicki, whom he married on The Tonight Show, was 17.) But we think of him as Q (queer or questioning) more for the bravery of his IMAGE. He dared to be publicly ambiguous in a time when there was real danger in doing so. It wasn't only a question of his sexuality, but of his personality. He was a "girlish" man who married girls, admired boys, and made love to both; wore fashions associated with men, and sang in a manner associated with women.
Would Boy George have been possible without him? Sure, but it might have been harder.
After the '70s, most mainstream show business kind of considered Tiny Tim a silly relic. But he actually kept working straight up until he died, and was even having something of a resurgence, appearing on the Howard Stern Show (and his movie Private Parts), Roseanne, Late Night with Conan O'Brien, etc. One wishes he'd lived long enough to experience the respect that he deserved and undoubtedly would have been his if he'd been around today.
Chelsea Community News is made possible with the help of our awesome advertisers, and the support of our readers. If you like what you see, please consider taking part in our GoFundMe campaign (click here). To make a direct donation, give feedback, or send a Letter to the Editor, email scott@chelseacommunitynews.com.