BY SCOTT STIFFLER | Seemingly airborne when seen from a distance, the 23-strong Pride Puppets contingant was greeted with cheers and applause as it snaked its way down Seventh Ave. and into the heart of Chelsea. That sort of thing happens when you're 10 feet tall and wear a sash bearing names like Harvey Milk, Marsha P. Johnson, Edith Windsor, and Billy Porter.
In lockstep with the upwards of 50,000 LGBTQIA2S+ individuals who participated in June 27's Queer Liberation March (QLM), not a single Pride Puppet was seen sporting the logo of a refreshing cola, or passing out swag bags bearing the name of a competitively priced phone carrier. The only thing they endorsed—besides strength in numbers—is the demand to recognize queer and trans people as societal equals.
Pride Puppets project founder Christopher Williams says the towering, consciousness raising papier-mâché and cloth creations are "very much inspired by Bread and Puppet Theater," the 1963, Lower East Side-founded group whose work both supported and informed the anti-war and urban political movements.
"Like Bread and Puppet," said Williams, the Pride Puppets—whose ranks include Sylvia Rivera, Stormé DeLarverie, and Bayard Rustin—"are about exploring history, and educating people. This is the kind of energy that fits so well with the Queer Liberation March, which is about responding to the here and now, really hearing the community."
Williams noted that hearing, and listening, goes for participants as well as the organizers. Last year, only Pride Puppets of color were dispatched to the QLM, whose full title was the "Queer Liberation March for Black Lives & Against Police Brutality."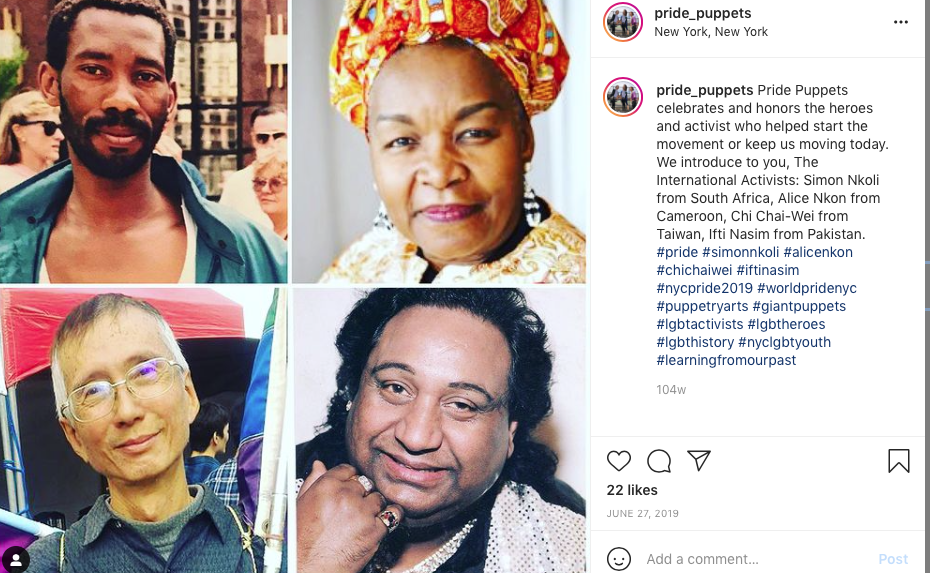 Active listening, it turns out, is in the Pride Puppets' very bones (wire arm rods, if you want to be a stickler about it). The roster of 25 puppets came to be in 2019, when Williams—an artist with a masters in art education, whose thesis work included puppetry—received a Creative Learning Grant awarded by the New York City Department of Cultural Affairs in partnership with the NYC Council, administered by the Lower Manhattan Cultural Council, and supported in part by Teatro SEA — Society of the Educational Arts. (That's a mouthful, but as Chelsea Community News can attest, when you get a grant, everyone with a hand on the purse strings merits a mention…. Hey, thanks again West Side Community Fund and Citizens Committee for NYC.)
Williams used the grant not just to realize his vision for a contingant of puppets paying tribute to LGBT activists past and present, but to fill his cast with names chosen by LGBT youth, who would also help build the 10-foot tall puppets during a series of workshops.
The teens and young adults were, noted Williams, "from the Ali Forney Center. We researched people from the history of the LGBT movement, and they selected the people they felt were most important to teach to the public and raise awareness of the legacy they made, or are continuing to make, in our community. 'Who is worthy,' we asked, 'of having a puppet created to represent their struggles and achievements?' "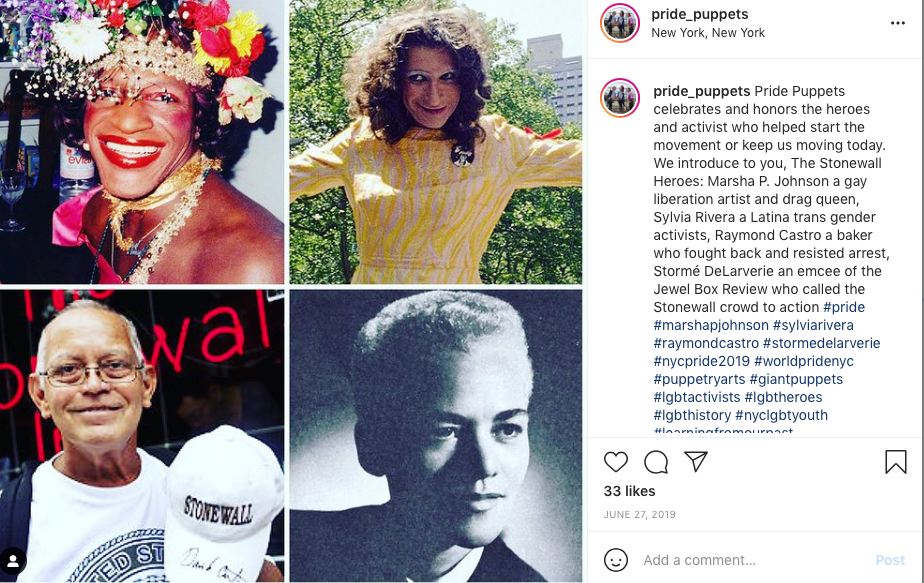 As such, the collection of 25 includes categories such as The Stonewall Heroes, The Artist Heroes, The International Activists, and The Actor & Performer Heroes. The Statue of Liberty stands alone in her own category, as a challenge to the LGBTQ community to "take Lady Liberty's spirit and carry on the movement for the next 50 years."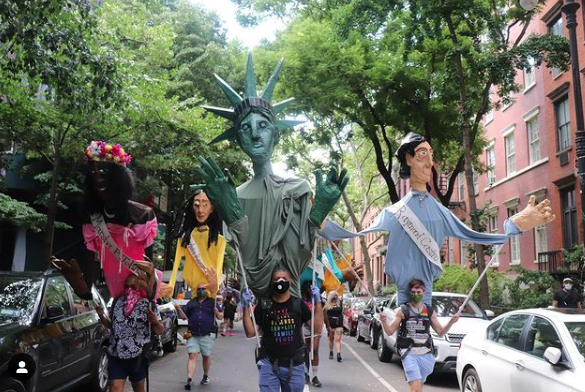 One choice in particular piqued this reporter's curiosity, to the extent that he easily abandoned his viewing spot at W. 22nd St. and Seventh Ave. and joined the march in order to quiz the puppeteer paired with Ellen DeGeneres. (The absence of metal barricades along the route is no accident: QLM organizers encourage spectators to become participants at any point along the way.)
Casey (age 24; pronouns, he/him/his) later told us via email he had the "pleasure of puppeteering Ellen DeGeneres today. Though she has been unpopular as of late and I received mixed reviews from onlookers, I don't believe it is my place to speak as to whether she deserves what has been put against her. Everyone is entitled to their own experience and we live in a world where our actions have consequences—to an extent. Regardless of what people think of her, it's undeniable that she played a big role in early queer representation in media."
Born in the very year that DeGeneres' sitcom character came out, Casey grew up with an awareness of that forward-moving moment in pop culture. (As the scene unfolds, Ellen's character stands opposite a love interest, with an airport lounge announcement mic between them. Leaning in to declare, "I'm gay," the mic, of course, is hot, and the lifelong secret is shared by everyone in earshot.)
"Yeah, it was quite a big moment in my own coming out," recalled Casey. "I felt exactly the same way, just not being able to physically say the words to myself, 'I'm gay,' and then suddenly being able to."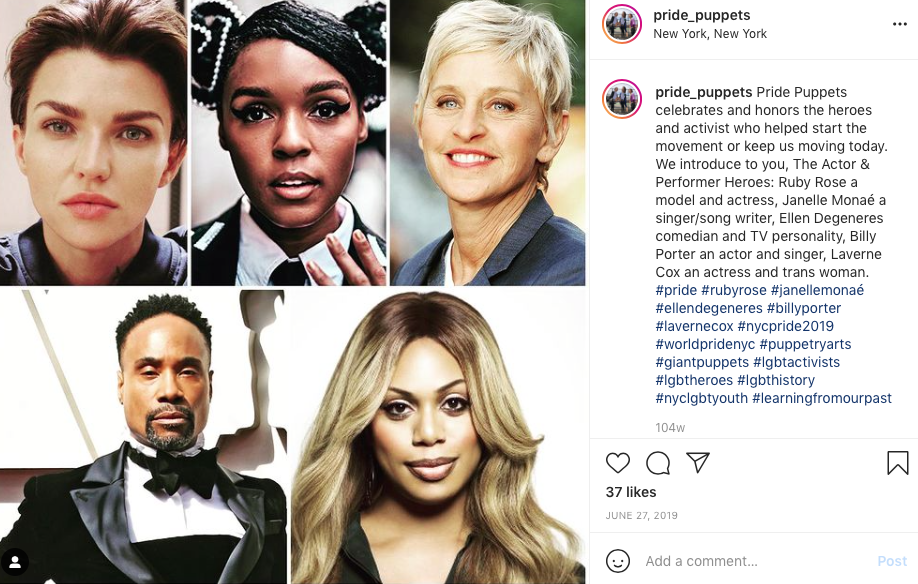 It wasn't Casey's last coming out experience. "This was my first Queer Liberation March," he noted, "and my first time with the Pride Puppets. The positive energy was palpable, and the sheer diversity in the crowd was incredible, people of every size/race/gender identity/sexual orientation/age, all celebrating the same thing. It makes you hopeful for a better future, while making it loud and clear that we still have a long way to go before we can truly claim liberty and justice for all."
As for the origin story of the DeGeneres puppet, Williams recalls the Cancel Culture Sword of Damocles was hanging over Ellen as far back as 2019's Pride Puppets admissions process. "A trans youth from the Ali Forney Center thought Ellen was funny, and an approachable person for people to see in the LGBT community. At that time, Ellen had Kevin Hart on her show, and we had conversations about whether she was worthy. It was important for us to hear everybody's perspective, but this person was dedicated, and kept coming to the workshops. So…"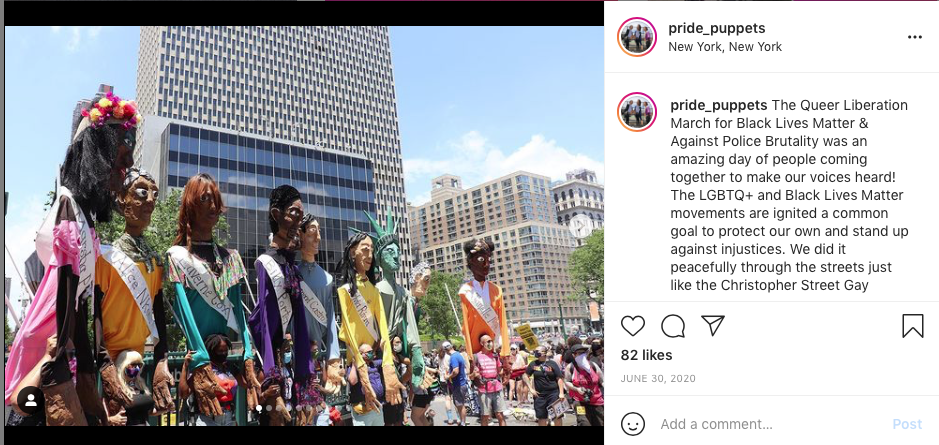 As for the Pride Puppets themselves, they cast a wide net. Having made their debut in Heritage of Pride's 2019 Pride March (the year of Stonewall 50 and the first time NY State hosted World Pride), the Puppets chose the Queer Liberation March in 2020. Also in 2019, noted Williams, "We went to Jersey City for their August Pride event, and last year, Teatro SEA helped sponsor us for workshops, and some of their summer festivals—and we'll be a part of their International Puppet Fringe Festival NYC [August 11-15]."
One gig remains elusive, however: A permanent home. "I am looking to have them on display somewhere, in order to get more people to see them, and learn about these fantastic individuals, who are part of the movement," said Williams, who noted that the ideal display situation would be a room with "at least 10-12 foot ceilings, anywhere from 10-15 ft. X 15-20 or 25 ft. If it is a small lobby or gallery space area, the place could host groupings of the puppets and we could have a rotating show."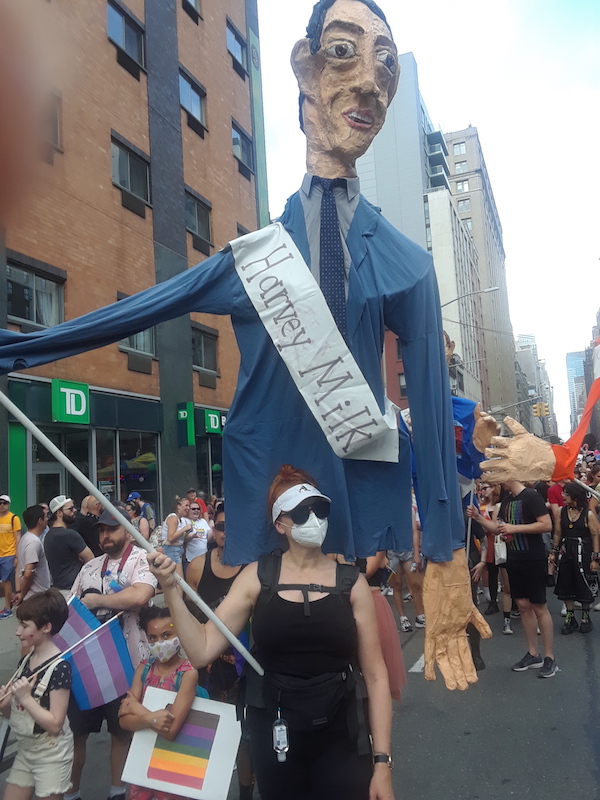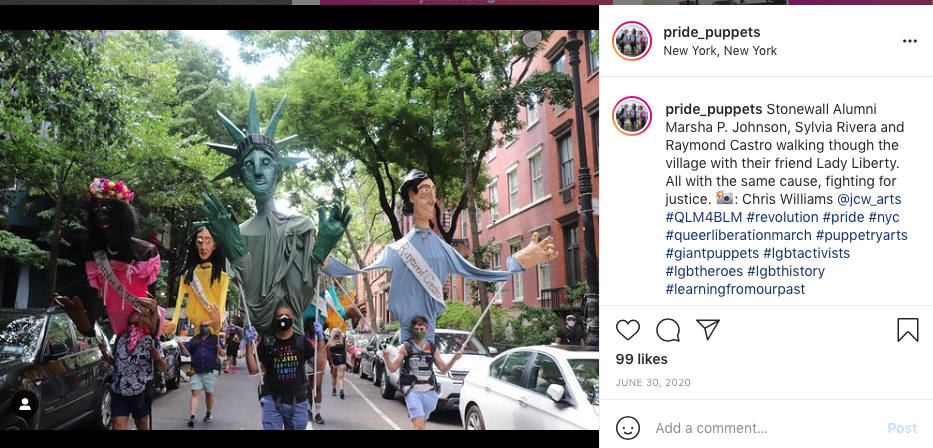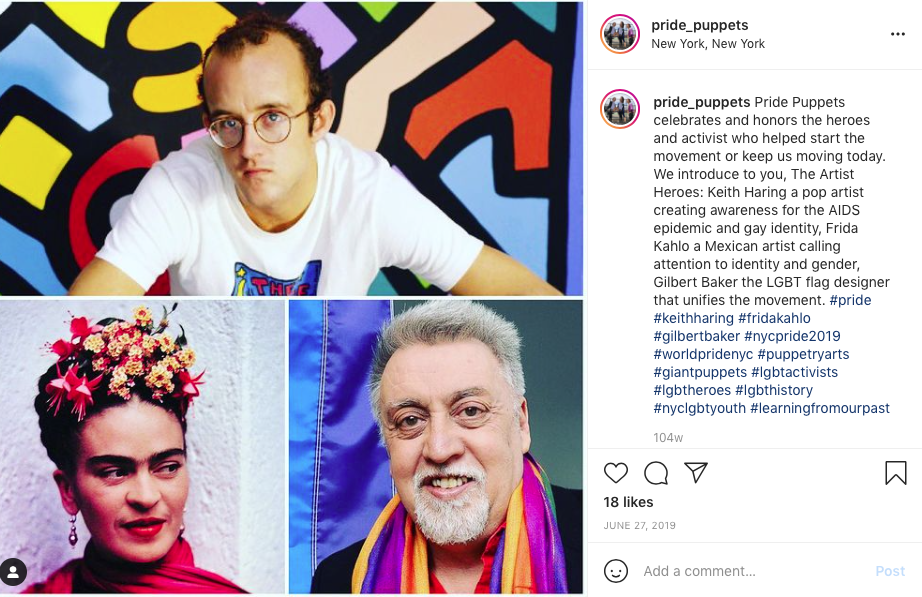 Chelsea Community News is made possible with the help of our awesome advertisers, and the support of our readers. If you like what you see, please consider taking part in our GoFundMe campaign (click here). To make a direct donation, give feedback, or send a Letter to the Editor, email scott@chelseacommunitynews.com.