TRIBECA FILM FESTIVAL 2021: PUMA PERL'S REVIEWS OF POSER AND VENUS AS A BOY  | Serendipitously, I viewed Poser and Venus as a Boy on consecutive days, enhancing the experience of looking at two sides of the same coin. Both films examine underground scenes and include local artists, musicians, and actual venues. However, one spotlights a young woman desperate to be part of the scene at any cost, and the other a young man whose primary devotion and drive is to his art.
Poser takes us to Columbus Ohio's gritty, dimly lit warehouse and basement shows where Lennon (newcomer Sylvie Mix) hangs around the fringes, occasionally asking insiders to guest on her "podcast," which is never aired but is used as a way in. She is cute in a vacant, affectless way, an Indie blank slate with ambitions but no discernible talent or true feel for the music. Eventually, Bobbi Kitten, lead singer of the local band Damn the Witch Siren who basically plays herself, kindly takes her under her wing.
It's at this point that some reviewers have referenced Single White Female, albeit from a punk standpoint. Lennon brings to my mind a younger, quieter more calculating "Wren" from Susan Seidelman's 1982 film, Smithereens. In that film, the central character pasted Xeroxed copies of her face all over East Village streets, on subways, and handed them out as fliers. (Her dead-end job in a copy shop facilitated her access to Xerox machines; Lennon has an equally dead-end job as part of a cleaning staff.) Lennon, on the other hand, has the tools to Google "How to Make a Podcast," which brings her within stalking distance of the musicians and artists. With both characters, there is an emptiness beyond their projected images and both are driven by the desire to be close to where the music scene was happening.
The directors, Ori Segev and Noah Dixon, as well as the features and background players, are all young people from Columbus, and the inclusion of the performances brings a semi-documentary feel to the film. It is the duo's first feature debut as well, and while the script could be a drop stronger, together they bring that DIY vibe we've experienced in the punk scene over 40 years ago (yikes.)
"Poser" had its world premiere at the Tribeca Film Festival on Thurs., June 9. Runtime: 87 minutes. Directed and edited by Ori Segev, Noah Dixon. Screenplay by Noah Dixon. Cinematography by Logan Floyd. had its world premiere at the Tribeca Film Festival on Thurs., June 9. Runtime: 87 minutes. To see its Tribeca Film Festival page, click here. To see its page on the loose films website, click here.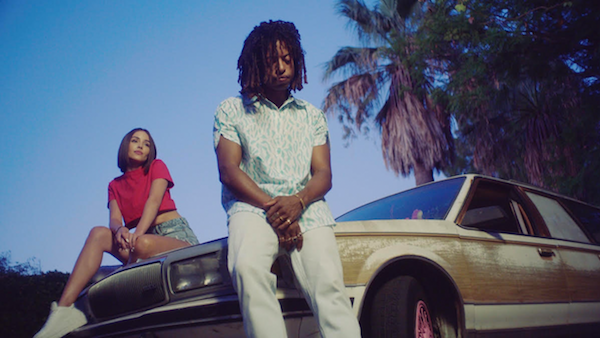 Venus as a Boy was written and directed by its star, multi-talented actor/musician Ty Hodges. Hodges began his career as a dancer and the film is further enhanced by his physicality and fluidity of movement. The title was taken from the Bjork song which, he says, inspired the film. Bjork's lyrics describe a boy who saw beauty in everything; Hodges has stated in interviews that he created a story about "the journey to self-love, which we rarely see in men on film."
The setting is Venice, California, and the film is flooded with colors and light, in contrast to Poser's Midwest, working class darkness. While the surreal aspects of Poser take place on the railroad tracks, Venus brings hallucinatory visions to the desert. Hodges' character is a struggling artist committed to his work and his independence. Negotiating the trade-offs involved in showing his artwork is draining his spirit; his inclusion in gallery shows is tied to the whims of the mercurial owner (Bai Ling) who he is sleeping with. Continually, buyers and gallery owners demand that he represent "the black experience" rather than his personal vision.
After he is treated condescendingly at an opening, he removes his painting and impulsively gives it to a random girl (Olivia Culpo) named Ruby, who asks him for a cigarette. She turns out to be a New York City fashionista and "influencer" (Olivia Culpo) and, briefly, they create a romantic and emotional connection and she convinces him to come back to New York City with her, where she is a well-known personality.
Once in New York, he finds himself in the same situation, which is worsened by the fact that Ruby, coming from a privileged place, has little understanding of his experience as a Black man. The film explores the way in which "influencers" have a new control about artistic navigation and the unevenness of the playing fields. Despite the disintegration of trust and understanding, there is a resonance to their early shared experience. Like Posers, actual venues and artists (including British singer-songwriter Estelle) contribute insight into Hunter's world.
I've often heard friends lament about the music and art scenes being dead or about nothing new happening and I've always chosen to believe that everywhere there are kids in basements, garages or little clubs that we don't know about it because we are not supposed to; something is happening in Columbus, Ohio as well as in Brooklyn, New York, and Venice, California. Where it goes really doesn't matter as long as art lives. There will always be posers and there will always be artists, and there will always be something new, whether it is seen and heard by millions or by a dozen kids in somebody's garage. Both films present a freshness and, dare I say, some hope for the future.
Runtime: 104 minutes. Written and directed by Ty Hodges. To visit the film's page on the Tribeca Film Festival website, click here.  
.
Chelsea Community News is made possible with the help of our awesome advertisers, and the support of our readers. If you like what you see, please consider taking part in our GoFundMe campaign (click here). To make a direct donation, give feedback, or send a Letter to the Editor, email scott@chelseacommunitynews.com.