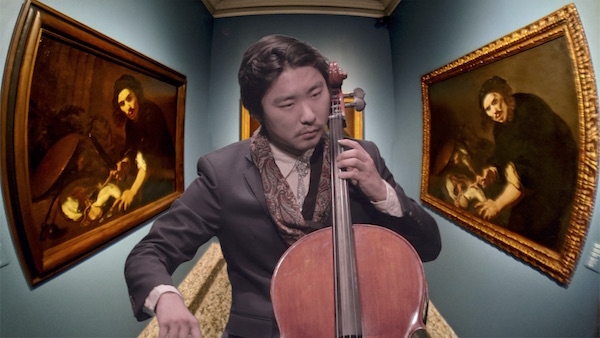 Mondays at 7pm, July 12 to Aug. 9, LaMaMa Presents, Online, Chang In a Void Moon: Episodes 62-66
John Jesurun's epic series, now in year 40, continues via Downtown's essential experimental theatre club, La MaMa. Each of the five episodes is approximately 20 minutes in length, available via streaming and on-demand through Aug. 31, and the first one—Episode 62—is free. All others are $5-$25, depending on what you choose to pay. Order via www.lamama.org/Chang2021.
And what, exactly, are you getting for that? This is a job for verbatim quotation from the press materials: "The drama/comedy/mystery of Chang in a Void Moon revolves around the exploits of Chang, a businessman with diplomatic immunity in 52 countries worldwide, and his schemes to defraud the Peters clan, a wealthy family steeped in severe dysfunction. The shenanigans include an expanding cast of 40+ characters united in their single-minded determination to kill Chang. Episode 62 begins during the early days of the pandemic when Svetlana finds herself in Rome and seeks refuge with the Infanta in the abandoned Pantheon. They find that Chang is already there. Many months later Chang's ex-wife Lolita invites her to a disastrous lunch on the side of a volcano."
Written, directed, and designed by John Jesurun, Chang In a Void Moon is the first serialized play ever produced in NY, having begun at the Pyramid Club in 1982. Numerous entities have presented episodes ever since, with
La MaMa doing the honors in 1995, 1997, 2003 and 2004. This new batch of entries in the series is the first time streaming has figured into the mix. Downtown veterans pepper the cast, which includes Jean Brassard, Claire Buckingham,  Antonio Cerezo, Valerie Charles, Sanghi Choi, Oscar Colon, Helena Fifer, Benjamin Forster Kyle Griffiths, John Hagan, Asta Hansen, Donna Herman, Samuel Im, Anna Kohler, Alenka Kraigher, Annie Labois,  Greg Mehrten, Nicky Paraiso, Black-Eyed Susan, and Ching Valdes-Aran.
Order via www.lamama.org/Chang2021.
ABOUT LA MAMA | La MaMa is dedicated to the artist and all aspects of the theatre. La MaMa's "Breaking It Open" 59th Season explores how new work is created, performed and viewed using new technology and forms.  La MaMa's vision of nurturing new artists and new work remains as strong today as it was when Ellen Stewart first opened the doors in 1961 and has presented more than 5,000 productions by 150,000 artists of all nations, cultures, races and identities. Cultural pluralism and ethnic diversity are inherent in the work created on our stages. Here, artists find a supportive environment for artistic exploration, and audiences are part of the development of an artist's work over time.
A recipient of the 2018 Regional Theater Tony Award, and more than 30 Obie Awards and dozens of Drama Desk, Bessie, and Villager Awards, La MaMa has been a creative home for thousands of artists, many of whom have made lasting contributions to the arts, including Blue Man Group, Ping Chong, André De Shields, Adrienne Kennedy, Harvey Fierstein, Diane Lane, Warren Leight, Michael Mayer, Tadeusz Kantor,  Bette Midler, Meredith Monk, Peter Brook, David and Amy Sedaris, Julie Taymor, Kazuo Ohno, Marc Shaiman, and Scott Wittman.
JOHN JESURUN is a playwright/director/media artist. Since 1982: text, direction, design for over 30 pieces including: the 61 episode Chang in a Void Moon, Everything that Rises Must Converge, Snow and the media trilogy: Deep Sleep/White Water/Black Maria. Fellowships  include NEA, MacArthur, Rockefeller, Rome Prize, Guggenheim, Asian Cultural Council, Foundation for Contemporary Arts. Published by TCG, PAJ, NoPassport Press. Shatterhand Massacree and other Media Texts was published by Performing Arts Journal. Past projects include FAUST~HOW I ROSE/ BAM, PHILOKTETES/Soho Rep."Philoktetes"/Kyoto Performing Arts Center with Hideo Kanze, STOPPED BRIDGE OF DREAMS/La Mama, Jeff Buckley video "Last Goodbye," Harry Partch's opera "Delusion of the Fury"/Japan Society. Teaching: Justus Liebig University/Giessen, Goethe University, Frankfurt, DASARTS Amsterdam, NYU, Tokyo University, Kyoto University of Art+ Design, Bard College, Carnegie Mellon. His webserial SHADOWLAND can be seen on Vimeo. Website: johnjesurun.googlepages.com.
Chelsea Community News is made possible with the help of our awesome advertisers, and the support of our readers. If you like what you see, please consider taking part in our GoFundMe campaign (click here). To make a direct donation, give feedback, or send a Letter to the Editor, email scott@chelseacommunitynews.com.