National Night Out is, as their website notes, "an annual community-building campaign that promotes police-community partnerships and neighborhood camaraderie to make our neighborhoods safer, more caring places to live… Neighborhoods host events with safety demonstrations, seminars, youth activities, and more." Locally, the 13th Precinct (whose area of coverage includes slivers of easternmost Chelsea) observed National Night Out from 5-8pm on Tuesday, August 3. The author of the below account is Treasurer and Acting Correspondence Secretary of the 13th Precinct Community Council, which co-presented the event alongside the precinct's Office of Community Affairs. For info on the 13th Precinct as well as its Community Council and Build the Block programs, click here. On Twitter: @NYPD13Pct
BY PATRICIA SALLIN (13th Precinct Community Council Treasurer & Correspondence Secretary) | For the first time, National Night Out (NNO) was held in Augustus St. Gaudens Playground (Second Ave. btw. E. 19th & 20th Sts.). Many of the participating companies, churches, and community organizations that we know from previous years were there again to set up their tables, greeting people with promotional literature and giveaways.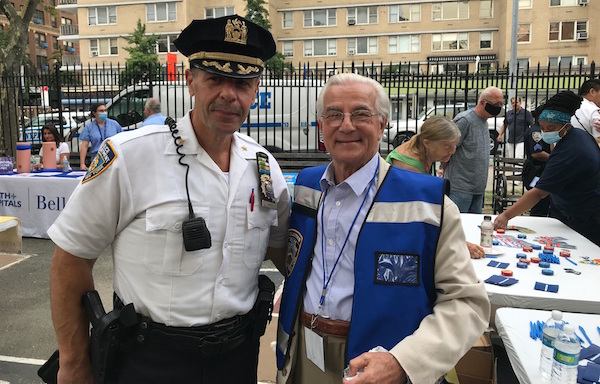 The participants included: Baruch College Dept. of Public Safety, Bellevue Trauma & Injury, NYC H+H (Health + Hospitals)/Bellevue, Church of the Epiphany, Community Board 6, Consolidated Edison, Cub Scout Pack 422, M&T Bank, Manhattan DA Office, Manhattan CERT Division 3, Ponce Bank, Remnant Church, Peter Cooper Village-Stuyvesant Town Public Safety, Stuyvesant Town-Peter Cooper Village Tenants Association, Trek Bicycle Stuyvesant Town, Valley Bank, the 13th Precinct Domestic Violence Section, and the 13th Precinct Auxiliary Police.
Bellevue invited the NYC H+H (COVID-19 vaccine mobile unit. Parked on E. 20th St. from 12:30pm until 9 (an hour after NNO ended), they did booming business, thanks to the City's announcement that starting Aug. 2, those who got the vaccine would be eligible for a $100 gift card. Entertainment was provided by DJMagic, KidzCastles bounce house, and the talented caricaturists and balloon twisters. Remnant Church provided hamburgers, and helped at the grill., and ice cream was provided by two ice cream truck vendors familiar to those in the neighborhood. We want to thank the following donors for their generous support: Alexandria Real Estate, Andrew Schulman, Flatiron/23rd Street Partnership, Gramercy Park Block Association, and Ponce Bank.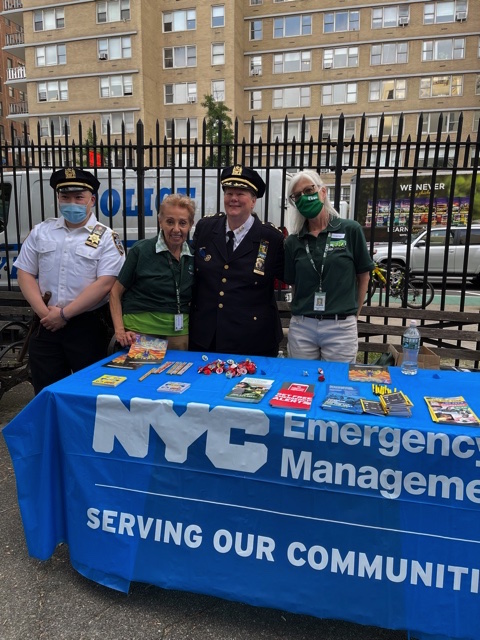 The NYPD Civilian Commendation Award was given to Alissa of Duane Reade, for all she does in the service of her community. Capt. Keung, Executive Officer of the 13th Precinct, presented the award. We were honored to have Chief Theresa Tobin and Chief Comodo attend our NNO event and take photos with many participants.
Chelsea Community News is made possible with the help of our awesome advertisers, and the support of our readers. If you like what you see, please consider taking part in our GoFundMe campaign (click here). To make a direct donation, give feedback, or send a Letter to the Editor, email scott@chelseacommunitynews.com.