BY MICHAEL MUSTO | With more entertainment venues than ever, you'd think there'd be record-breaking amounts of originality for our viewing pleasure, but instead, we're facing an avalanche of cultural recycling. To fill all those channels, services, and theaters, producers have resorted to exorbitant volumes of pre-sold, surefire topics in order to get a rise out of people who want to view the constant equivalent of comfort food.
The chick-bonding hormonal romp Sex and the City is coming back (minus the most fun character, Samantha) and Sarah Jessica Parker is also managing to make time for another retread, the Hocus Pocus sequel. Coming in October, The Many Saints of Newark is a movie prequel to The Sopranos, starring James Gandolfini's son Michael as Tony Soprano, which makes sense, though it doesn't guarantee that it'll be good. We've already had return visits by Saved By The Bell, One Day At A Time (I gritted my teeth all through the first one and certainly didn't need a rehash), Gossip Girl, and Fantasy Island, and The Nanny is threatening to come back as both a TV show and a stage musical. What's more, they are planning a Facts of Life revisit and there not only is the Friends Experience, a pricey, immersive NYC exhibit for fans of that sitcom, but there was that Friends reunion on the tube, one of the whitest shows ever broadcast.
Last year, there was a one-time black Golden Girls reimagining online, which I guess could be seen as a companion piece to the Steel Magnolias of color that hit TV in 2012. A West Side Story revival opened on Broadway last year (and it included large-screen videos, so it almost felt like a movie), and now we have the actual movie remake of the same property, coming this December. (Rita Moreno, who won an Oscar for playing Anita in the 1961 film, this time is a character named Valentina.)
They're planning another film of Guys and Dolls and anyone who tries to stop it will be told to "Sit Down, You're Rockin' The Boat." And of course, Marvel comic movies turn cartwheels to recycle the same characters over and over, to the tune of billions. And guess what? To make their pit even more bottomless, Marvel is now rehashing the same characters, but with different plot elements. What If…? is an animated anthology series "reimagining noteworthy events in the Marvel Cinematic Universe and creating a multiverse of infinite possibilities." They're feeding off themselves by rewriting their own stories, and in limitless ways!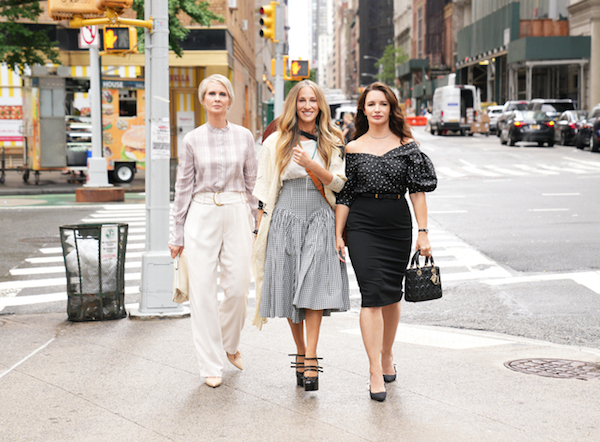 As that happens—and happens and happens—Fast and Furious keeps coming out with new entries, prompting me to wonder if eight might have been enough. (And where is the Eight is Enough reboot, by the way, lol?)
The simple truth is that producers want familiar entities that will sell. They crave sequels, prequels, revamps—anything that will stir the heartstrings and purse strings of patrons who want to relive allegedly better days. And those patrons almost always fulfill their roles in this charade by stepping up to the box office with their tongues out. This year, we had Cruella—about how the vicious dog murderer got that way. Two years ago, Joker was about how he got that way, and I guarantee you there will be a prequel, where the horrific acts that were discussed from Joker's childhood are acted out to make things clearer (and ka-ching-ier).
This year's enjoyable Disney/Pixar animated film Luca is basically Pinocchio meets The Little Mermaid (though it added a strong buddy element that almost brought it into Call Me By Your Name territory). Which reminds me that Disney is dutifully remaking all their animated hits into live action movies (Cinderella, Beauty and the Beast, Mulan) or CGI epics (The Lion King). And whichever ones haven't been Broadway musicals yet will assuredly become Broadway musicals—and then those shows can be made into live-action movies or CGI epics. And so on and so on, until The Lion King On Ice is on a double bill with Snow White And The 1,001 Little People.
And with the success of 2018's Bohemian Rhapsody, we've seen the pop vaults plumbed for biopics about Elton John, Helen Reddy, Aretha Franklin (plus a TV series about her), Celine Dion, and Madonna, while Broadway has brought us tributes to Cher, Donna Summer, the Temptations, Tina Turner, and Michael Jackson, in the wake of jukebox shows celebrating the Four Seasons, Carol King and anyone on Motown. The story generally goes like so: Talented misfit meets resistance and setbacks, but makes it big, while facing all new resistance and setbacks. And they sing all their songs!
Broadway is also big on self-recycling, as witnessed by Hamilton, which got Tonys, is now going for Emmys (with the TV version of the show) and will ultimately shoot for Oscars, with a feature film version. Fortunately, the groundbreaking show is a brilliant take on history, so it can withstand all the re-doing.
But we're also facing endless recycling of Princess Diana, Lucy and Desi, the Clintons and Monica, and every other notable from killers to designers. Anyone who made a splash, whether good or bad, gets their moment again, because the biz is desperately looking for content that might get someone to tune in and go either "Ahhh" or "Blech."
Celebrities are even recycling their own private lives! Having gone back to Marc Anthony at one point, J. Lo has now weirdly reteamed with Ben Affleck. Did they both use up everyone on earth and now have to do repeats? As for everyone else engaging in re-dos to make some safe cash, please stop! Can't we let the original projects shine without constantly raiding them for one more go-'round? Let's leave cultural recycling out in the recycling bin and move forward with our lives. And no, this article will not have a sequel.
Michael Musto is a columnist, pop cultural and political pundit, NYC nightlife chronicler, author, and the go-to gossip responsible for the long-running (1984-2013) Village Voice column, "La Dolce Musto." His work regularly appears on this website as well as Queerty.com and thedailybeast.com, and he is writing for the new Village Voice, a quarterly which made its debut in April. Follow Musto on Twitter, via @mikeymusto.
Chelsea Community News is made possible with the help of our awesome advertisers, and the support of our readers. If you like what you see, please consider taking part in our GoFundMe campaign (click here). To make a direct donation, give feedback, or send a Letter to the Editor, email scott@chelseacommunitynews.com.