Friday, September 10, 10am-2pm: E-Waste Recycling on West 14th Street between 8th & 9th Aves. | This opportunity to part ways with cables and computers and keyboards consigned to collect dust in the back of your inadequate closet is brought to you by the Lower East Side Ecology Center and Chelsea's own NYC Council Speaker Corey Johnson–with promotional support by  the Meatpacking Business Improvement District (BID), whose email alerts and web content brought the event to our attention. There's one support team addition missing, though, and that's you. Pitching in by cleaning up your own work or office space isn't just environmentally sound, it's in compliance with the law. (Since 2015, taking these rich sources of recyclable material out with the rest of the trash has been a punishable offense.) Click here for info on the BID, and click here for the event's page on the Lower East Side Ecology Center's website. Also see the flyer directly below.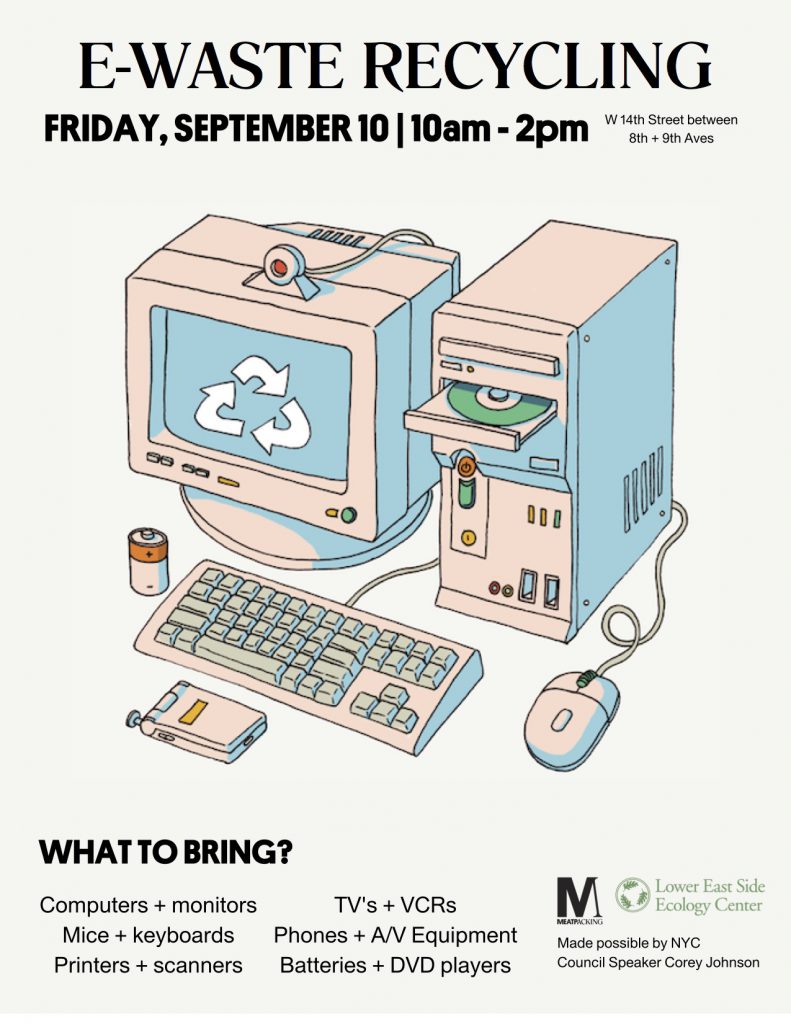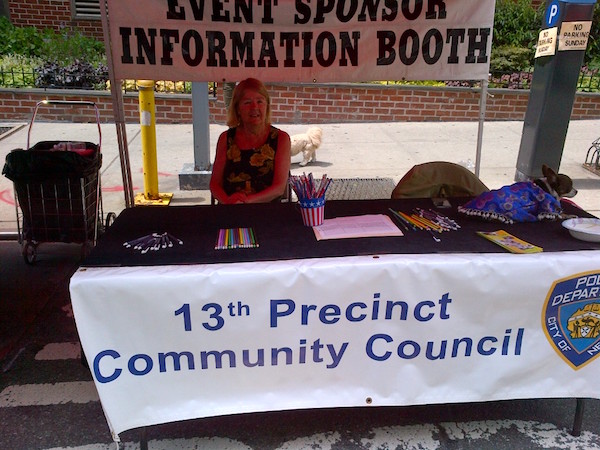 Sunday, September 12, 11am-6pm, the 13th Precinct Community Council at the Sixth Ave. Street Fair | Stroll along Sixth Avenue this Sunday, from West 14th to 23rd Streets, and you'll hit a sweet spot on the block between 19th and 20th. That's where you'll find members of the 13th Precinct Community Council, who will be on hand to let you know how to get involved in their civilian-led organization that works with the NYPD to foster better community relations. The Council meets on the third Tuesday of the month, at 6:30pm. For more info, click here.
Thursday, September 9 at 5:30pm: The 13th Precinct Sector B Build the Block Meeting | The NYPD's 13th Precinct is mostly an East Side affair–but there are a few small slivers of this website's namesake neighborhood whose lucky number is "13." Case in point, the above map: Point your peepers toward the letter "B" and you'll see the Sector whose area of concern is the topic of Thursday afternoon's Build the Block meeting. An initiative created to cultivate a comfort and familiarity among the NYPD and those who live and work within the confines of a specific sector, Build the Block plucks two people from the ranks of a precinct's police officers and tasks them with the betterment of their assigned sector. To do so, those officers (now dubbed "NCOs" or Neighborhood Coordination Officers) are given unstructured time with which to meet new people and solidify existing relationships with residents, merchants, and, yes, those who always seem to be coming and going without any discernible reason to be on the scene. In Chelsea, that often translates into unhoused or transient individuals who may be experiencing substance use or mental health issues. The NCOs gain an awareness of such situations, while doing what City policy allows them to. Lately, that has translated into alerting service organizations contracted by the city to take over, rather than directly engage. It's a complex conundrum that's behind much of what one wonders when the NYPD are perceived to be standing around instead of getting involved.
Although not the forum at which to debate policy, Build the Block meetings are an opportunity for the public to find out the "why" behind the quality of life problems that drive many to attend. See for yourself, when you attend September 9's Build the Block meeting. NCOs Knapp and Nelson are your hosts. To register for the meeting, click here. To learn more about the 13th Precinct, click here.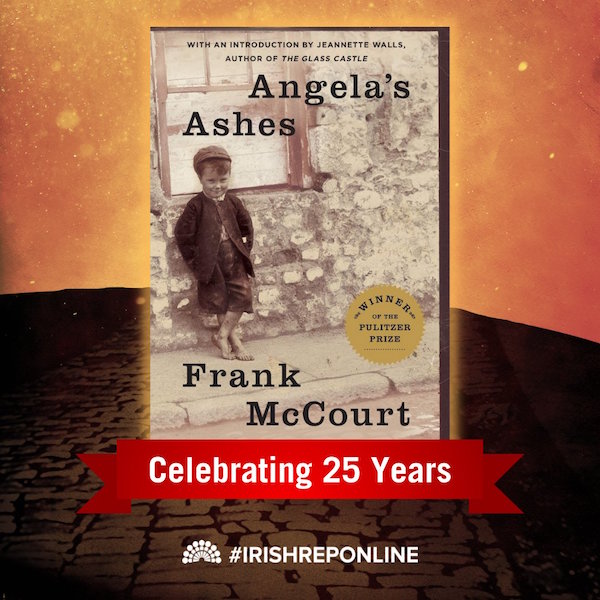 September 9-22: The Irish Repertory Theatre presents Angela's Ashes | Frank McCourt's international bestseller turns 25 and gets a production befitting that milestone, when the Irish Rep's Theatre At Home digital platform presents Pay Moylan's production coming to us after a trip across the Atlantic. Book your tickets by clicking here. It's been far too long since we've sat in the seats at this West22nd Street. Chelsea jewel—but from the very earliest days since COVID-19 put the kibosh on live performance, the Irish Rep has been one of the leading, and most watchable, voices in the great migration from brick and mortar to the digital realm. We back up that claim by encouraging you to visit the Irish Rep's website, access their archives, and find out what's current and upcoming. Visit that site by clicking here.
Through October 5, Hudson Guild Gallery Presents Denise Corley: Vigilance–Shields and Totems | Corley grew up in Detroit and received her BFA in Painting from Wayne State University. Currently living in Brooklyn, her work has been featured in many spaces including the Sideshow Gallery, PS 1, and BACA Downtown Gallery. Much of her recent work uses wire, molded paper, and packing materials to create striking, elegant three-dimensional effects. See the below flyer for viewing hours, and click here for the exhibit's page on the Hudson Guild website.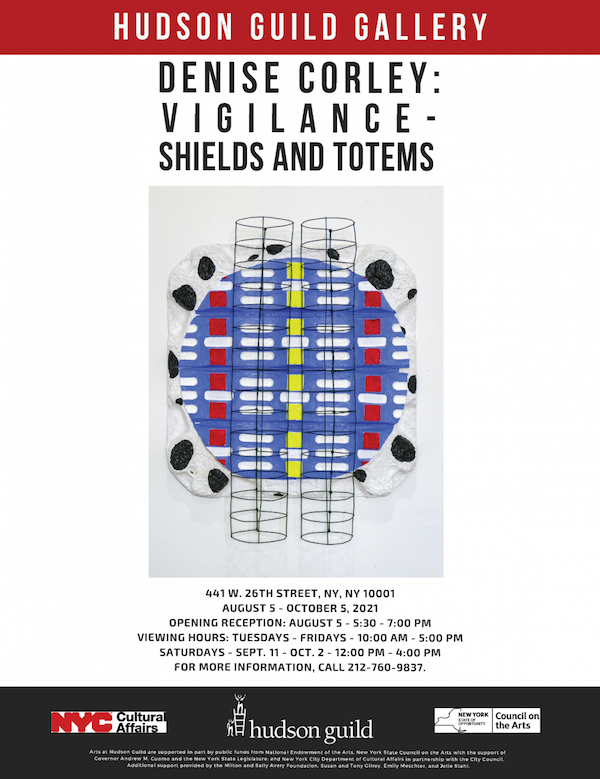 Chelsea Community News is made possible with the help of our awesome advertisers, and the support of our readers. If you like what you see, please consider taking part in our GoFundMe campaign (click here). To make a direct donation, give feedback, or send a Letter to the Editor, email scott@chelseacommunitynews.com.