BY ELIZABETH ZIMMER | With great anticipation and some trepidation, we look forward to live dance performances, in Chelsea and beyond. Events are planned, rehearsals are happening, publicity flies through the air—and so does the coronavirus, so whether these shows will actually happen is anybody's guess. In a spirit of optimism, we offer this preview of what's on deck close to home, on local and Chelsea-adjacent stages, in the next several weeks. Be sure to check with venues before you leave home, have your vaccination card at the ready, get dressed up for a change, and help bring our city back to life.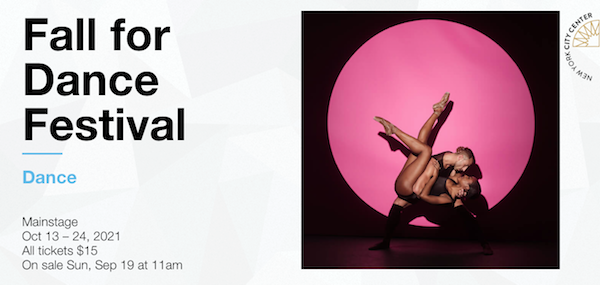 Sunday, September 19, 11am: Fall for Dance Festival (Oct. 13-24) Ticket Sales Begin | This season's Fall for Dance Festival, still the cheapest way to see eclectic choreography in a posh midtown theater, runs Oct. 13-24, with five programs each playing twice. It will display only three pieces nightly, so the shows can run comfortably without intermission, and to relieve congestion backstage. Program 1 includes choreography by Elizabeth Streb, Kyle Abraham (a New York premiere) and Bob Fosse and Gwen Verdon. On the second bill are dances by Stephen Petronio, Stanton Welch, and Ephrat Asherie. The third program consists of work by Juliano Nunes, Micaela Taylor, and Step Afrika!'s Conrad Kelly II. Program 4 brings a world premiere by Lar Lubovitch, a jukin' solo by Lil Buck, and a New York premiere by Matthew Neenan. The final bill includes work by Alexei Ratmansky, Justin Peck, and a world premiere by tap star Ayodele Casel. Tickets, which cost less than a seat at your neighborhood movie palace, go on sale September 19, and are likely to be snapped up within hours. (Friends of City Center got access on September 8.) At New York City Center (131 W. 55th St.). For tickets ($15), click here to visit NYCityCenter.org.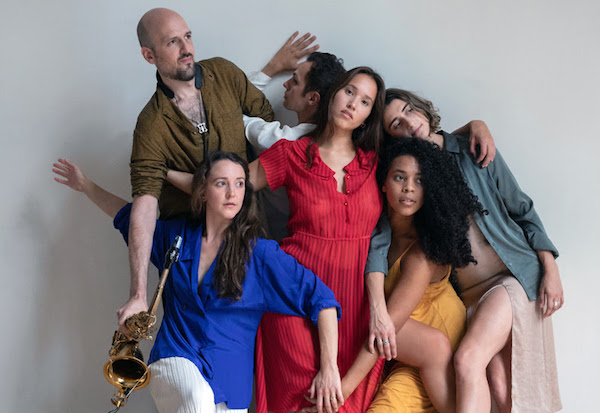 On West 23rd Street, the Cell, a townhouse festooned with lights, opens three of its levels for What Keeps You Going?, a participatory performance blending dance, live music, storytelling, structural and mental disruptions, and video design. Directed and conceived by Gwendolyn Gussman of the experimental dance theater company HOLDTIGHT, it explores "the liminal space between past, present, and future and what it would mean to exist in all three at once." You'll have to walk up and down stairs, be vaccinated, and wear masks, but there will be seats. Sept. 15-Oct. 2, 7:30pm at the cell theatre (338 W. 23rd St. btw. Eighth & Ninth Aves.). For tickets ($50-$75), click here to the visit the cell's website.
Half a block east and a few blocks downtown at the Joyce, they've just replaced all the seats, and after a long stretch of hosting filmed and livestreamed shows, the theater re-opens for real this month. First up is Ragamala Dance Company, offering its latest work rooted in the South Indian dance form Bharatanatyam, the evening-length Fires of Varanasi: Dance of the Eternal Pilgrim. Directed by Ranee Ramaswamy and Aparna Ramaswamy, this 11-member troupe conjures a metaphorical crossing place evoking the Hindu birth-death-rebirth continuum, and honoring immigrant experiences of life and death in the diaspora. Sept. 22-26: Wed. at 7:30pm, Thurs.-Sat. at 8pm, Sun. at 2pm at the Joyce Theater (175 Eighth Ave. at W. 19th St.). For tickets ($454545-$4343), call 212-242-0800 or click here to visit joyce.org. The Joyce is requiring audiences to be fully vaccinated and to wear masks at performances. Click here for full health and safety protocols.
If you're not ready to commit to live performance, you still have options: You could duck down to Film Forum, where the seating is exceedingly COVID-alert, and see In Balanchine's Classroom, a new documentary that explores the process by which George Balanchine built a unique ballet troupe in a country—this one—with no tradition of ballet training. Told by dancers he trained including Jacques d'Amboise, Merrill Ashley, Gloria Govrin, Suki Schorer, Edward Villella, and Heather Watts, and composed of priceless archival footage, new interviews and much historical material, it's an enlightening experience for balletomanes of all ages. Opens Sept. 17 at Film Forum (209 W. Houston St.). Call 212-727-8110, and, for tickets ($9-$15) and info, click here to visit filmforum.org.
Or if you're not quite ready to leave your house, note that British choreographer Matthew Bourne's award-winning, dazzling 2016 dance version of the iconic 1948 film The Red Shoes will air on PBS, Channel 13 locally. Friday, Sept. 17 at 9pm. For more info, visit PBS.org/gperf.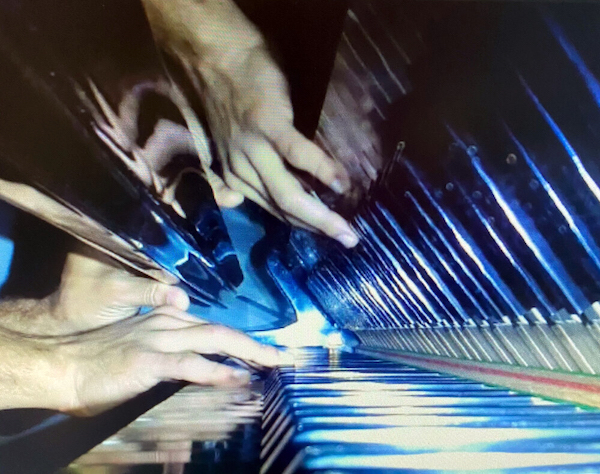 Or you could "Zoom" in to Return the Moon, a poetic online work by Third Rail Projects that invites viewers to collectively construct a shared experience composed of rituals and retellings of a very old story. Combining text, movement, hand-made visual elements, and music, as well as contributions from 60 spectators per performance, it creates a rumination on remembrance and recurrence. Audience members receive, by post a few days later, a lovely package of souvenirs of their shared experience—I attended a preview, and I just got mine! The little kit includes transcripts of parts of the show's text, instructions for how to make it through dark nights, and a die-cut version of the white "shadowbox" village used in the presentation, along with directions on how to assemble it. Through September 30, performance dates vary. Tickets: General admission at $42, Pay-it-Forward at $67, subsidized at $15. The Pay-it-Forward tickets support subsidized tickets. To order, and for more info, click here to visit thirdrailprojects.com.
Chelsea Community News is made possible with the help of our awesome advertisers, and the support of our readers. If you like what you see, please consider taking part in our GoFundMe campaign (click here). To make a direct donation, give feedback, or send a Letter to the Editor, email scott@chelseacommunitynews.com.