Call to Action from Holy Apostles Soup Kitchen | "September is Hunger Action Month," noted Chelsea's Holy Apostles Soup Kitchen, in an recent message, "and as you read this email, 1.6 million New Yorkers are wondering where their next meal will come from. We see the faces behind the statistics every single day. With the help of countless volunteers, partners, and donors, we're providing tens of thousands of meals each week to everyone, from unhoused New Yorkers sleeping on the streets to parents trying to find a way to put food on the table while facing growing bills." To learn more about the Soup Kitchen, click here. To support their work via this Hunger Action Month effort, click here. Holy Apostles Soup Kitchen is located 296 Ninth Ave.
Through September 22: The Irish Repertory Theatre presents Angela's Ashes | Frank McCourt's international bestseller turns 25 and gets a production befitting that milestone, when the Irish Rep's Theatre At Home digital platform presents Pay Moylan's production coming to us after a trip across the Atlantic. Book your tickets by clicking here. It's been far too long since we've sat in the seats at this West22nd Street. Chelsea jewel—but from the very earliest days since COVID-19 put the kibosh on live performance, the Irish Rep has been one of the leading, and most watchable, voices in the great migration from brick and mortar to the digital realm. We back up that claim by encouraging you to visit the Irish Rep's website, access their archives, and find out what's current and upcoming. Visit that site by clicking here.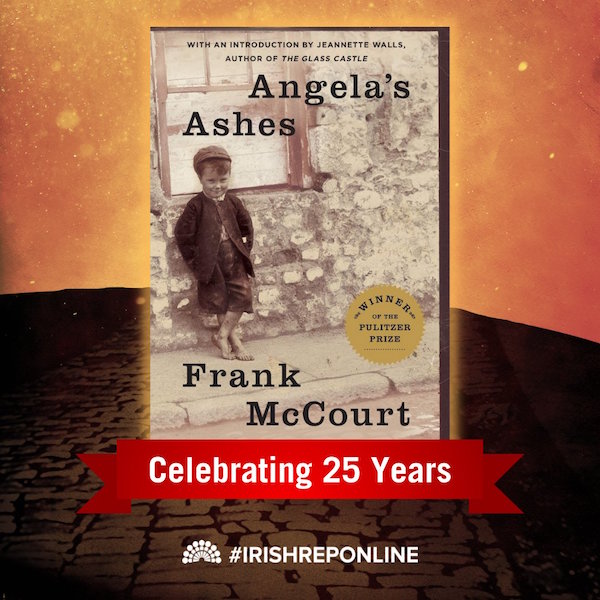 Through October 5, Hudson Guild Gallery Presents Denise Corley: Vigilance–Shields and Totems | Corley grew up in Detroit and received her BFA in Painting from Wayne State University. Currently living in Brooklyn, her work has been featured in many spaces including the Sideshow Gallery, PS 1, and BACA Downtown Gallery. Much of her recent work uses wire, molded paper, and packing materials to create striking, elegant three-dimensional effects. See the below flyer for viewing hours, and click here for the exhibit's page on the Hudson Guild website.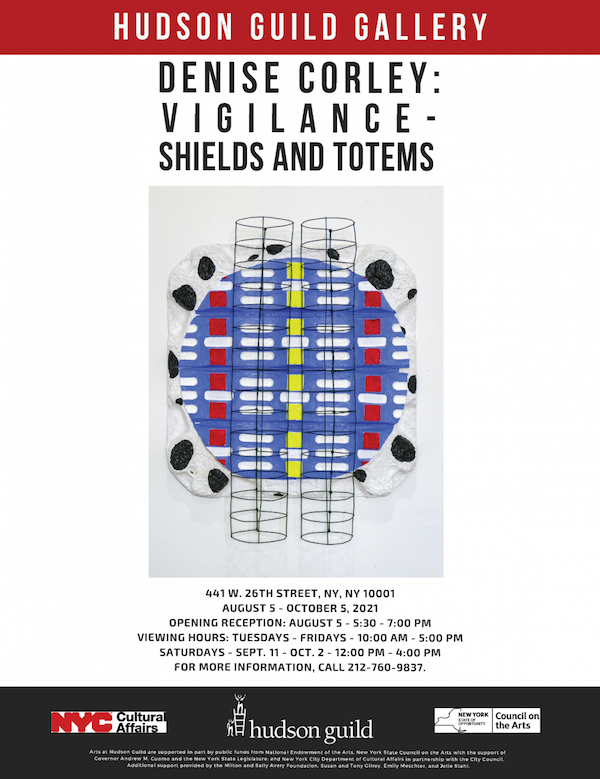 Wednesday, September 15, 10am via Zoom: Understanding The Scam—Know the Tricks, Know Your Rights! | This free event, presented by the NYPD Crime Prevention Division (CPD) and the Police Impersonation Investigation Unit (PIIU), is surprisingly necessary, given the success rate of rip-off artists who use their smooth-talking (and sometimes just plain threatening) ways to convince phone call and email recipients to part ways with large amounts of cash, on the premise that they are a government agency calling to help settle your personal debt (just one of the many lies we supposedly skeptical, sophisticated Manhattan residents fall for each year). This early morning discussion will send you out into the day—and every other day after that—with the ability to spot the scam before you become its next victim. For more information, see the below flyer. To attend via Zoom, click here. The meeting ID is 582 516 4100 and the Passcode is 4UTtmz.
Chelsea Community News is made possible with the help of our awesome advertisers, and the support of our readers. If you like what you see, please consider taking part in our GoFundMe campaign (click here). To make a direct donation, give feedback, or send a Letter to the Editor, email scott@chelseacommunitynews.com.