Thursday, September 30, 6:30pm via Zoom: The Manhattan Community Board 4 (CB4) Clinton/Hell's Kitchen Land Use Committee Meeting | Although every item on the agenda is akin to catnip for policy wonks of all stripes, it's Agenda Item I that promises to be the big draw of the night. That Item will see the New York City Department of Housing Preservation and Development (HPD) give a presentation on 806 Ninth Avenue–an MTA site that, years ago, was promised by the city to be the future location of moderate income and middle-income housing. At present, the proposal calls for iterations of low-income housing only. Affordable housing, always a prime concern of CB4 is poised to become more relevant than every, as we near a time when eviction proceedings will be permitted and, inevitably, some will become displaced because of pandemic-era debt. To register for the Zoom meeting, click here. To attend by telephone: 646-518-9805. Webinar ID: 961 7200 0913. In addition, all public meetings are streamed live and recorded on MCB4's YouTube Channel. To access that channel, click here.
Thursday, September 30, 1-4pm and Select Dates Through October 25: FREE Flu Shots from Lenox Health Greenwich Village | It's a easy win if you want to make the argument that this event is not in Chelsea. Yes, technically, it does take place outside our generally agreed upon border of 14th St.–but only by one street over. And did we mention it's free? Funded by Lenox Health Greenwich Village and co-hosted by a number of local electeds and stakeholders (including Community Board 4 and NYS Assemblymember Richard Gottfried), there are eight vaccination opportunities from Sept. 27 to Oct. 25. So-called "debate" about the COVID vaccination notwithstanding (newsflash folk, it works), the flu shot's life-saving effectiveness was vetted and codified a long, long time ago. So do it for yourself, and others, and in a manner that won't cost you so much as one thin dime. See the below flyer for details. Note: Masks are required, and no appointments needed at the event's 200 W. 13th St. (fifth floor) location. For those over 65, they have the higher-dose antigen version recommended for seniors.
Call to Action from Holy Apostles Soup Kitchen | "September is Hunger Action Month," noted Chelsea's Holy Apostles Soup Kitchen, in an recent message, "and as you read this email, 1.6 million New Yorkers are wondering where their next meal will come from. We see the faces behind the statistics every single day. With the help of countless volunteers, partners, and donors, we're providing tens of thousands of meals each week to everyone, from unhoused New Yorkers sleeping on the streets to parents trying to find a way to put food on the table while facing growing bills." To learn more about the Soup Kitchen, click here. To support their work via this Hunger Action Month effort, click here. Holy Apostles Soup Kitchen is located 296 Ninth Ave.
Through October 5, Hudson Guild Gallery Presents Denise Corley: Vigilance–Shields and Totems | Corley grew up in Detroit and received her BFA in Painting from Wayne State University. Currently living in Brooklyn, her work has been featured in many spaces including the Sideshow Gallery, PS 1, and BACA Downtown Gallery. Much of her recent work uses wire, molded paper, and packing materials to create striking, elegant three-dimensional effects. See the below flyer for viewing hours, and click here for the exhibit's page on the Hudson Guild website.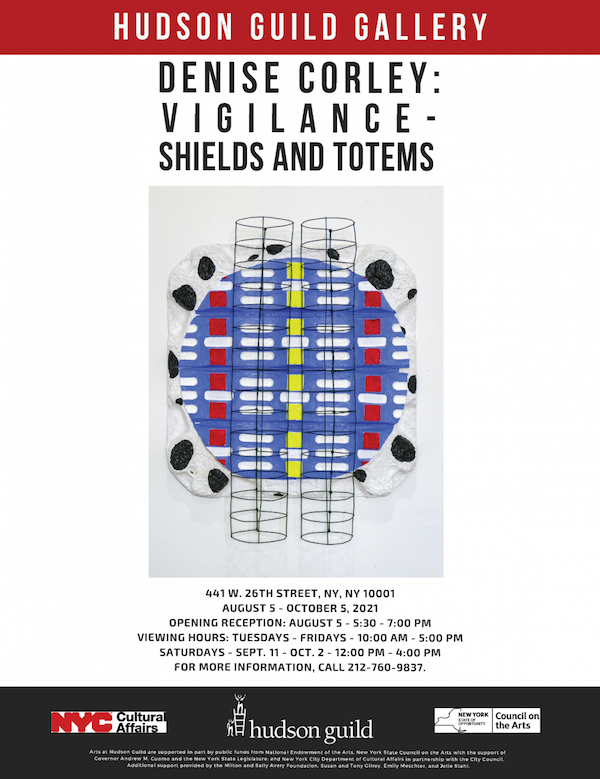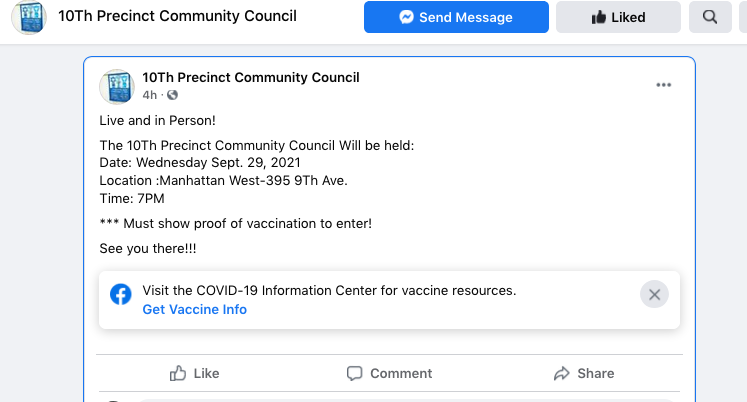 Wednesday, September 29, 7pm, Not Online: The 10th Precinct Community Council resumes their Monthly Meetings | As sure a sign of fall as leaves on the ground and a chill in the air, the public-run Community Council of Chelsea's 10th Precinct returns from its annual summer hiatus, and is conducted as a brick and mortar gathering for the first time in nearly 18 months. This time around, no Zoom access. Will there be both in-person and online access in the future? Good question. Ask it for yourself, when the anything-goes Q&A session (fielded by Council president Larry O'Neill and 10th Precinct Commanding Officer, Captain Robert Gault). Prior to that, expect the latest crime stats. You must show proof of vaccination to attend. At 7pm, Wed., Sept. 29, at One Manhattan West (395 Ninth Ave., near W. 33rd St.). Community Council meetings take place at 7pm on the last Wednesday of the month, at locations TBA close to the date. For more info on the 10th Precinct, click here.
Tuesday, September 28, 5-7pm: Empire Station Coalition's Webinar on What a New Penn Station Could Be | Meant to build on the momentum of their two previous public forums (to watch them, click here), this webinar is from the Empire Station Coalition–and lest you think they're a bunch of knee-jerk NIMBY (Not in My Back Yard), antidevelopment zealots, check out the below logo to see the scope of their membership:


This Sept. 28 webinar, the Coalition says, "will talk about the need for an appropriate above-ground, world class train station at Penn Station and why Madison Square Garden should move for the fifth time in its history and be replaced with a building on a par with Grand Central Terminal, Union Station in Washington D.C. or the Original Penn Station." Former city planning leader Alexandros Washburn's recent call to "scrap Cuomo's plan" and to "rebuild Penn Station" will be discussed. Speakers include Lynn Ellsworth, Richard Cameron, Sam Turvey. Moderated by Kirsten Theodos. Then, on Monday, October 4, a rescheduling of the meeting originally announced for September 20 will look at "the anti-urban madness of the proposed Empire Station Complex." Speakers will include Lynn Ellsworth, George Calderaro, Brad Vogel, John Massengale, John Mudd. Moderated by Kirsten Theodos. To register for these (and future) seminars, click here.
Chelsea Community News is made possible with the help of our awesome advertisers, and the support of our readers. If you like what you see, please consider taking part in our GoFundMe campaign (click here). To make a direct donation, give feedback, or send a Letter to the Editor, email scott@chelseacommunitynews.com.