IN THIS WEEK'S "THIS WEEK IN CHELSEA" in Order of Appearance:
Sunday Suppers Returns to Holy Apostles Soup Kitchen / FJK Dance presents RESET  / Empire Station Coalition's Webinar on What a New Penn Station Could Be /  The Fresh Food for Seniors Program  / Manhattan Community Board 4's Full Board Meeting / Flu Shots from Lenox Health Greenwich Village / 
October 10, 1-3pm, The Return of Sunday Supper | "We hope to see you for a free meal, fellowship, and fine conversation," say the seemingly tireless lot at Holy Apostles Soup Kitchen. They're bringing back the popular Sunday Supper series as a monthly event. From 1-3pm on Sunday, Oct. 10, Nov. 14, Dec. 5 at Holy Apostles Soup Kitchen (296 Ninth Ave. at W. 28th St.). There is no RSVP required, and a vegetarian option is available. In accordance with NYC regulations for indoor dining, proof of vaccination is required for entry. Anyone who can't provide proof or isn't vaccinated will be given a meal but will not be able to enter the Soup Kitchen for the event. For more info, click here.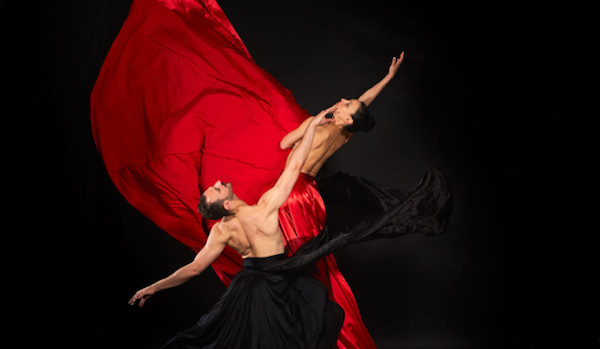 Thursday-Saturday, October 7-9, 7:30pm at New York Live Arts: FJK Dance presents RESET | FJK's artistic director, Fadi J. Khoury, brings his vows and visions for the future to vivid life, in this full evening program meant to recall (through repertory work) the company's first seven years in NYC, while offering world premiere material that moves their fusion of contemporary dance and visual art into the post-pandemic world. This full evening program, titled RESET, is dedicated to the late Genevieve Young (1930-2020), an FJK Dance founding board member whose "commitment to creating positive change continues to inspire our professional artistry and engagement with the world-at-large," notes Khoury, an out Iraqi man. Performed by the company's 10 dancers representing eight nationalities, the RESET program includes the repertory piece Bolero (music by Ravel) and the world premiere of Mirage (human stories from the Middle East set to Schubert's piano trio in E-flat). Thurs.-Sat., Oct. 7-9, 7:30pm at New York Live Arts (219 W. 19th St. btw. 7th & 8th Aves.). For tickets (general admission, $45; students, $20), click here. For more info about FJK Dance, click here to visit their website. All audience members will be required to show proof of vaccination before entry. Accepted forms are Excelsior Pass or valid vaccine card.


Monday, October 4, 6:30-8pm: Empire Station Coalition's Webinar on What a New Penn Station Could Be | Meant to build on the momentum of their three previous online presentations (to watch them, click here), this webinar is from the Empire Station Coalition–whose broad membership of citywide and hyperlocal advocacy groups is neither NIMBY (Not in My Back Yard) nor pro-development. Operating from the premise that this particular area in question is long-overdue for improvement, they've got some very specific ideas in mind that refute the once-seemingly-inevitable Empire Station Complex plan. Following on the heels last week's Sept. 28 webinar (during which they asserted the "need for an appropriate above-ground, world class train station at Penn Station" that would see Madison Square Garden move "for the fifth time in its history and be replaced with a building on a par with Grand Central Terminal… or the original Penn Station," their Oct. 4 online presentation will be moderated by Kirsten Theodos, with panelists/speakers including Lynn Ellsworth, George Calderaro, Brad Vogel, John Massengale, and John Mudd. To register for this webinar and future Coalition events, click here.
Tuesdays, October 5 through November 23: The Fresh Food for Seniors Program | Manhattan Borough President Gale Brewer, NYC Council Speaker Corey Johnson, and Councilmember Helen Rosenthal announce the fall return of their joint initiative, offering seniors a bag of 5-6 varieties of fresh fruits and vegetables grown by NY, NJ, CT and PA farmers, and sourced by GrowNYC. The bags, $9 each, are ordered a week in advance, and picked up the following week. Registration is underway now. For the Hell's Kitchen, Chelsea, and West Village areas, order and pickup dates are, respectively, Tues., Oct. 5/12 and 19/26, and Nov. 2/9 and 16/23. Your Chelsea area participants are SAGE (305 7th Ave., 15th floor, 646-576-8669), VISIONS (135 W. 23rd St., 646-486-4444), and Hudson Guild NORC (441 W. 26th St., 212-760-98006). For more info, see the below flyer.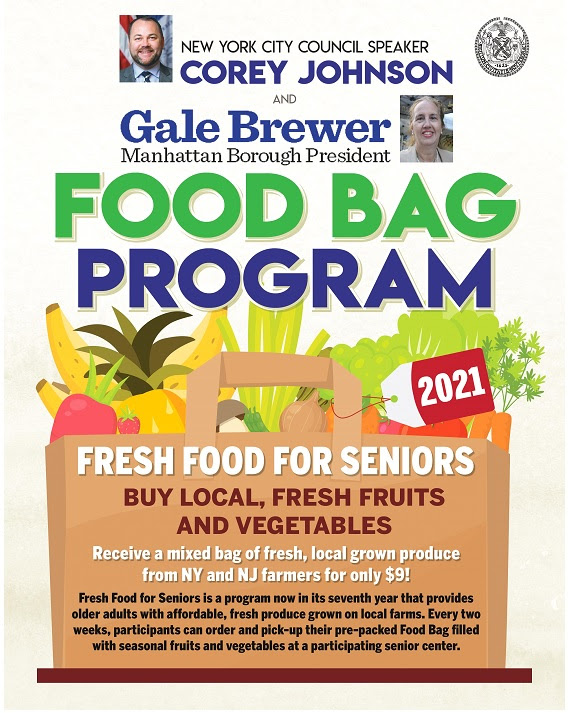 Wednesday, October 6, 6:30pm via Zoom: The Manhattan Community Board 4 (CB4) Full Board Meeting | The entire voting membership of CB4 meets this week, for the first time since late July. Having skipped August as tradition dictates, the early September meeting was cancelled due to a light late summer workload from its various committees. Just as well, as CB4 and others were scrambling to accommodate June 25, 2021's return of the Open Meetings Law, which compels local government boards to do their business in public. During the lifting of that law, the online option brought CB4 into the Zoom era. Suddenly, committee and full board meetings that required one's physical presence became the stuff of archived YouTube channel content, available 24/7 to anyone with web access. (For a detailed timeline of the above-described events, click here.) Compelled to return to the "real world" yet given no additional funds to retain their web presence, CB4 was doing their best to accommodate demand from both sides of the fence, as many wanted to keep attending online, while others who'd never been won over by the Zoom experience were happy to return to the days of public meetings held in public. Fast forward to Cuomo's disgraced exit, the emergence of the concerns over the Delta variant and humanity's ability to adhere to common sense public gathering protocols for more than a few minutes. With all this and more in mind, newly minted Governor Kathy Hochul suspended the Open Meetings Law on September 1, allowing for online-only proceedings through until January 15, 2022.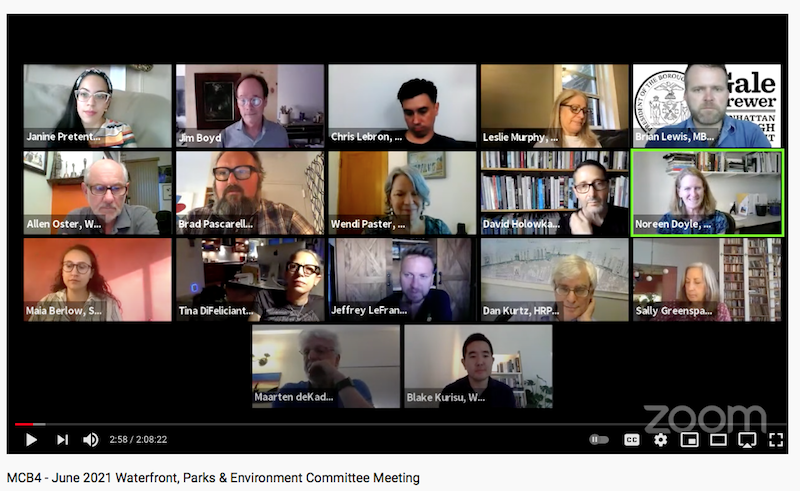 That's a very long way of saying this October 6 full board meeting–and all future CB4 meetings through at least mid-January–will again be the stuff of zeroes and ones, and wind up in the CB4 YouTube channel archives for those who missed its live broadcast. But don't think it's business as usual. CB4 notes these changes when they return to the online format, particularly where the interactive element comes into play. With the goal of improving accessibility to the public session, the public can now access the public session sign up sheet in the following ways:
The CB4 Full Board Public Session Speaker Form can be accessed through the CB4 Homepage as well as the calendar event page. The link to the Public Session Speaker Form will be listed on the Full Board agenda and the virtual meeting registration emails. Early sign-up to speak at the public session closes at 5pm on the day of the meeting (October 6). Those who do not sign up by 5pm can raise their virtual hands using the raise hand function through Zoom (*9 by phone) once the public session starts, with a 1-minute grace period. To confirm a time to speak during the public session, please sign up prior to the meeting. To register for the Oct. 6 meeting, click here. To attend by telephone: 646-518-9805. Webinar ID: 986 0945 5541.
Wednesday, October 6, 4-7pm and Select Dates Through October 25: FREE Flu Shots from Lenox Health Greenwich Village | It's a easy win if you want to make the argument that this event is not in Chelsea. Yes, technically, it does take place outside our generally agreed upon border of 14th St.–but only by one street over. And did we mention it's free? Funded by Lenox Health Greenwich Village and co-hosted by a number of local electeds and stakeholders (including Community Board 4 and NYS Assemblymember Richard Gottfried), there are eight vaccination opportunities from Sept. 27 to Oct. 25. So-called "debate" about the COVID vaccination notwithstanding (newsflash folk, it works), the flu shot's life-saving effectiveness was vetted and codified a long, long time ago. So do it for yourself, and others, and in a manner that won't cost you so much as one thin dime. See the below flyer for details. Note: Masks are required, and no appointments needed at the event's 200 W. 13th St. (fifth floor) location. For those over 65, they have the higher-dose antigen version recommended for seniors.
Chelsea Community News is made possible with the help of our awesome advertisers and the support of our readers. If you like what you see, please consider taking part in our GoFundMe campaign (click here). To make a direct donation, give feedback, or send a Letter to the Editor, email scott@chelseacommunitynews.com.