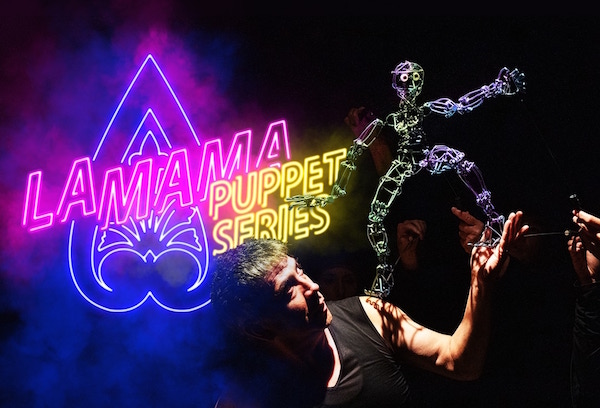 Stored on a shelf or consigned to a corner for the long, silent stretches that fill most hours of their day, a strange alchemy takes place when a puppet and its maker hit the stage to tell a story. Transference of energy? Exchange of souls? A single, satisfactory explanation may elude, as to why we can feel so deeply for a collection of fabric and foam, or an anthropomorphic mashup of wires, bolts, and gears you'd swear just furrowed its brow.  Downtown theatre La MaMa knows all about this art form's power to communicate the essence of human experience–or elicit bliss, just by bopping back and forth while lip synching the Mah-Na, Mah-Na song (if you don't get the reference, please, please, click here). Through October 24, the biannual La MaMa Puppet Series showcases puppetry in its most ancient form to its most cutting-edge means of expression–a fitting way to open La MaMa's 60th season, its first back on the boards since theaters were shuttered alongside most other public gathering places. Turns out the artists featured in 2021's Puppet Series were spending their sheltering-in-place time on pursuits other than Netflix binges and RSVPing to Zoom meetings.
Many of the artists participating artists, noted Puppet Series director Denise Greber, "continued to develop their work during the COVID-related lockdown last year, and we are curious to see how that isolated, larger-than-life experience is reflected in the nuances that make puppet artistry so exceptional." By exploring the "joy and the sorrow of the human experience" through their "profoundly personal" work, the festival reaffirms, said Greber, "our need for courageous artists to tell their stories."–Intro text by Scott Stiffler | Below text taken from press materials provided by La MaMa
The La MaMa Puppet Series has performances on select dates through Through Oct. 24 at La MaMa's Ellen Stewart Theatre and Downstairs Theatre (66 E. Fourth St., btw. Bowery & Second Ave). Family Programming takes place Oct. 16-17. All in-person events require proof of vaccination against the COVID-19 virus and use of facial masks at all times while on the premises. Visit lamama.org for schedule & tickets (adults, $25; students/seniors, $20; multi-show packages from $45 to $150 save from $5 to $50).
American Puppet Theatre Today: The Photography of Richard Termine is the exhibit on view Wed.-Sun., 1-7pm, through Oct. 10 at La MaMa's La Galleria (47 Great Jones). Presented by The Jim Henson Foundation, its content is culled from 30+ years of work by American puppet theatre documentarian Richard Termine, whose fascination with the art form began when he first worked with Henson in 1987, eventually earning an Emmy for work on Sesame Street.
When I Put on Your Glove | October 7-10 at the Downstairs| Creating something that surpasses what's been handed down is what makes taking over the family business such a high risk/big reward endeavor. That fraught dynamic flows through When I Put on Your Glove, which makes its New York premiere as part of the Puppet Series. As the daughter of renowned puppeteer Eric Bass—whose Vermont-founded Sandglass Theatre has been winning accolades since 1982—Shoshana Bass wastes no time in acknowledging she's got some big shoes to fill, and proceeds to do so with her own idiosyncratic blend of puppetry, dance, and spoken word.
Body Concert | Oct. 7-10 in the Ellen Stewart Theatre | A U.S. premiere by Kevin Augustine, a solo puppeteer inspired by Butoh dance in this wordless piece in which Augustine animates puppets using full body Movement—hands, arms, feet, toes, outstretched legs—in dream-like vignettes that depict the human journey between birth and death. Founder of Lone Wolf Tribe, Mr. Augustine's body of work includes The God Project at La MaMa.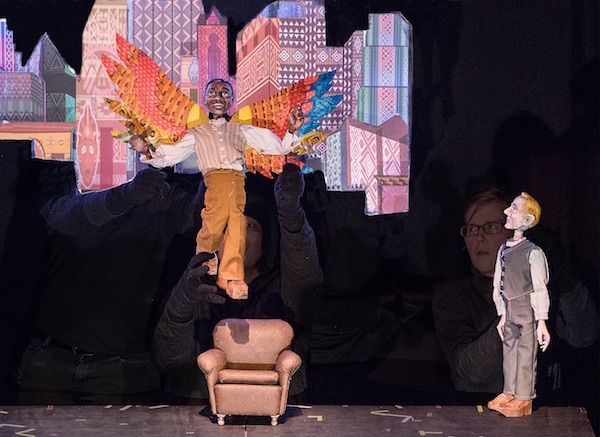 Dreaming | Oct. 14-17 at the Ellen Stewart Theatre | Torry Bend's most recent collaboration with playwright Howard Craft and director JaMeeka Holloway has its New York premiere here. It follows two men deeply affected by Winsor McCay's comic strip Little Nemo in Slumberland. In a world where comic book characters live side by side with real people, Malachi Washington works to free comics cast in prejudiced bodies while Winsor's son, Bob McCay, seeks to revive the old comic strip. What follows is a compelling story of reckoning, healing, and examining the racist legacy of comics and animation. Bend's previous work, The Paper Hat Game, received the UNIMA citation of excellence, the highest honor in North American puppetry, and was a New York Times Critic's pick and was nominated for a Drama Desk Award.
Puppet Slam | Oct. 14-16, Downstairs Theatre | Puppeteer Cathy Shaw will curate this slam that features contemporary short-form puppet and object theatre from emerging and seasoned puppet artists.
Jump Start | Oct. 21-24, Ellen Stewart Theatre and Downstairs Theatre | Five excerpts from works-in-progress will be performed on the same program. These puppet artists have been developing their new works via La MaMa residencies supported by Cheryl Henson and the Henson Foundation since the onset of the pandemic:
Living Not Dying by Leah Ogawa; a solo puppet work about life's transformations.
MIA M.I.A. by Charlotte Lily Gaspard; a new shadow puppet musical for adults. A Midnight Radio Show production.
Lady Xok by Rebekah Cristana de Ybarra, an interdisciplinary presentation combining puppetry with dance, song, electric and Mesoamerican instruments.
Sounding the Resonant Path by Tom Lee; a performance installation with music that draws on the spiritual connection between the human world and the natural environment.
The Autobipuppetry of Jeghetto by Tarish "Jeghetto" Pipkins; a barber and self-taught artist from a small mill town in Pennsylvania, Jeghetto has been creating puppets and performances for over a decade at his home base in North Carolina. Autobipuppetry is comprised of Mr. Pipkins' life story as told through a puppet miniature of himself.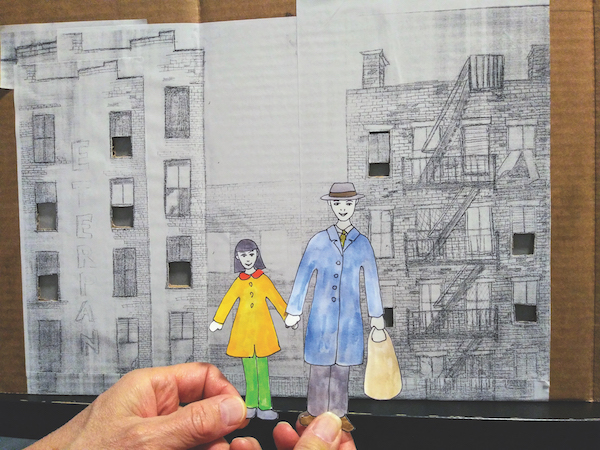 Family Programming: Nostalgia | Through Oct. 24, Lobby of Downstairs Theatre | Nostalgia reveals instances of love through stories based on imagined or remembered reality from members of Loco7's Sirovich Senior Center's community of artists and teenage students from New York City Public Schools. This interactive video installation is made up of 13 unique short toy theatre pieces that the intergenerational participants created around the theme of nostalgia and love.
Chelsea Community News is made possible with the help of our awesome advertisers, and the support of our readers. If you like what you see, please consider takin part in our GoFundMe campaign (click here). To make a direct donation, give feedback, or send a Letter to the Editor, email scott@chelseacommunitynews.com.