BY SCOTT STIFFLER with PHOTOS COURTESY OF ABRACADABRA | Some work in a world where illusions are created with the skilled use of misdirection—while others work in a world where they work with someone named "Miss Direction." Now, the seemingly disparate worlds of magic and drag have found common ground in an online form that, with proper proof, scores them a deep discount on all the tools of their trade and then some.
"It takes a lot of time and energy, and a lot of money, to rise to the level of a working professional. We respect that, and this is our way of showing it," said Ashley, who manages the makeup department at Abracadabra (19 W. 21st St. btw. Fifth & Sixth Aves.).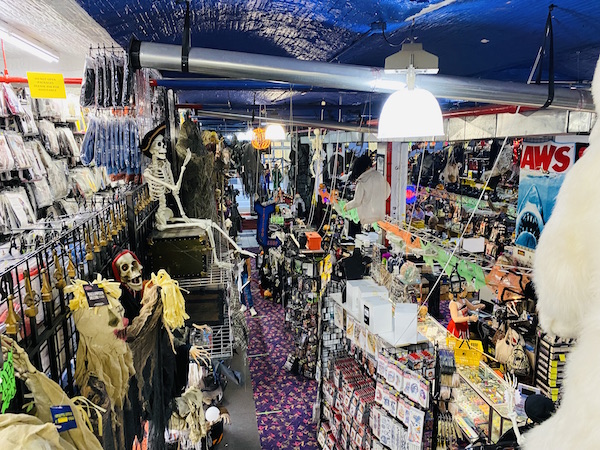 Packed from floor to ceiling with all manner of product whose combined presence gives credence to management's claim that you've just stepped foot inside "The world's most unique store," first-times and frequent visitors alike soon find themselves blissfully adrift in a sea of eye candy costumes, masks, and props, along with special sections dedicated to magic and makeup. This time of year, the world pours through Abracadabra's door, possessed by the desire to knock them dead at Halloween parades, parties, and the culturally sanctioned practice of door-to-door extortion known as "Trick-or-Treating."
When the calendar flips to November 1 and the Halloween crowd has migrated to the discount candy aisle at CVS, Abracadabra doesn't pull a disappearing act: It merely pivots toward holiday gift giving and partygoing (Christmas, Hanukah, New Year's, Sexy Arbor Day, etc.). That working pros choose to resupply in-store all year long is part of how the double-digit discount came to be. As for how it comes to be acquired, Applications for Entertainment Professionals status must be submitted online via the store's website (click here for the application page), after which the staff will review the information provided and determine if your track record as a Magician, Makeup FX Pro or Drag Performer is up to snuff. Be prepared to give your website URLs and social accounts, note your number of years in the business, list past/present performance venues, and name your favorite/most used products.
"As long as you're working—doing shows, parties, club or theater dates—as long as you can prove you do it for some form of income, it's yours," says Ashley, of the 20 percent discount. That sizable chunk off the bill goes for everything they have in stock, job-related or not—giving this reporter pause to imagine (pay attention, DC/Marvel) a parallel Earth where drag queens excel at card tricks (see photo above, left side) and magicians competing on a reality TV show must lip synch for their lives while rocking boots, be they kinky, goth, or Wonder Womanish (see photo below).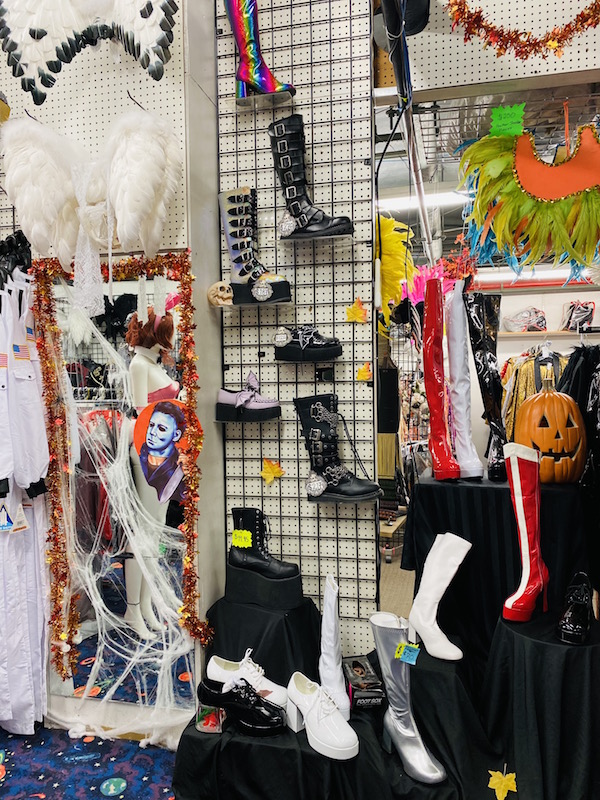 Back in the world of reality—more specifically,  Abracadabra's heightened version of it—Ashley noted the store sees its share of drag kings as well as the more commonly sighted queens. Come they do into the store, said Ashley, and they come in all stripes. "Avant garde, impersonators, beauty queens," she says, "and it varies from there." Among the most popular drag-centric products for aspirants and working pros alike, said Ashley, are "Kryolan paint sticks. They're foundation sticks and we keep a good stock of them. Also, the 301 Eyelashes are definitely big sellers." See for yourself. Click on the website's "Makeup" section and the drop down menu offers you the chance to visit Abra Cosmetics. There, you'll not only find products created with drag queens mind, you'll find that many of those products were created by drag queens (Thorgy Thor, Monet X Change, Scarlet Envy, and Paige Turner are among the familiar names with lipstick , eyeliner, or lip gloss to offer).
Ashley added that Abracadabra wishes they could extend the discount to everybody who shows a keen interest in drag, FX makeup, or magic, but a line had to be drawn somewhere. (As is, their standards for declaring you an Entertainment Professional are tough but fair). So while you may not be part of the 20 percent (off) crowd today, the store that's seen it all is well-equipped to usher starry-eyed hopefuls into  the realm of recognized professionals. In the time between those two states of being said Ashley, "We're all expanding our community."
Abracadabra is located at 19 W. 21st St. (btw. Fifth & Sixth Aves.). Hours: Mon.–Wed. 11am-7pm, Thurs.–Sat. 11am-8pm, Sun. 12-7pm. Call 212-627-5194 or click here to visit the website. Order on the web and pick your order up on the same day. Call the store at 212-627-5194 or email info@abracadabranyc.com.
Chelsea Community News is made possible with the help of our awesome advertisers, and the support of our readers. If you like what you see, please consider taking part in our GoFundMe campaign (click here). To make a direct donation, give feedback, or send a Letter to the Editor, email scott@chelseacommunitynews.com.