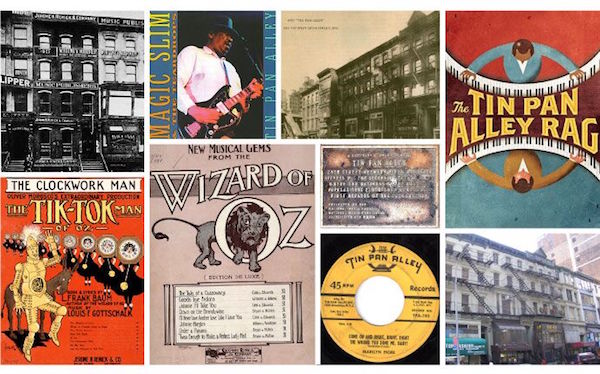 BY TRAV S.D. | Good news for lovers of American popular song of the traditional variety: Its heritage just got much more secure, and you'll have an opportunity to celebrate and learn more on Tin Pan Alley Day, held at Flatiron North Plaza (23rd St. & Broadway) this Saturday, October 23, between noon and 4pm. This free outdoor public concert is being co-presented by the Flatiron 23rd Street Partnership (aka the Flatiron BID), and the newly launched Tin Pan Alley American Popular Music Project.
For those who came late (and this is about a century late), "Tin Pan Alley" was the popular nickname for the stretch of West 28th Street between Broadway and Sixth Avenue, which was home to a number of important song publishing firms in the late 19th and early 20th centuries. An army of songwriters toiled away at pianos in their studios, cranking out popular tunes for Broadway, vaudeville, and the recording industry. The collective, clashing sound of all that music happening at once gave the street its evocative handle. It's where tunesmiths like Irving berlin and George M. Cohan rolled up their sleeves and went to work, giving us thousands of songs, some of which are still popular today.
Saturday's event celebrates the establishment of the brand-new Tin Pan Alley American Popular Music Project, as well as the recent New York City landmarking of 47-55 West 28th Street. Regarding that occasion, tinpanalleyny.org noted:
Tin Pan Alley is a landmark! After many years, innumerable attempts, with the help of many historians, preservationists and friends, the great work of Landmarks Preservation Commission and the support from Speaker Corey Johnson, on April 23 2020, City Council gave its final approval to be Landmarks during the first ever virtual meeting! The five designated buildings represent Tin Pan Alley's significant contributions to American culture and popular music.
Saturday's Tin Pan Alley Day is also cause to anticipate the imminent expansion of the Flatiron/23rd Street Partnership to include those five buildings within their purview starting in 2022. Says James Mettham, executive director of the Partnership, "We are excited that Tin Pan Alley will officially become part of our district with our upcoming expansion into NoMad which will bring our supplemental services, including sanitation, safety, public space management, and marketing to this historic block."
The not-for-profit Tin Pan Alley Day American Popular Music Project is an initiative of the 29th Street Neighborhood Association. Says George Calderaro, the program's director, "We created the Tin Pan Alley Project to share the history of the people, events and songs of Tin Pan Alley, to support music and cultural literacy, and inspire current and future artists and musicians as well as the public at large."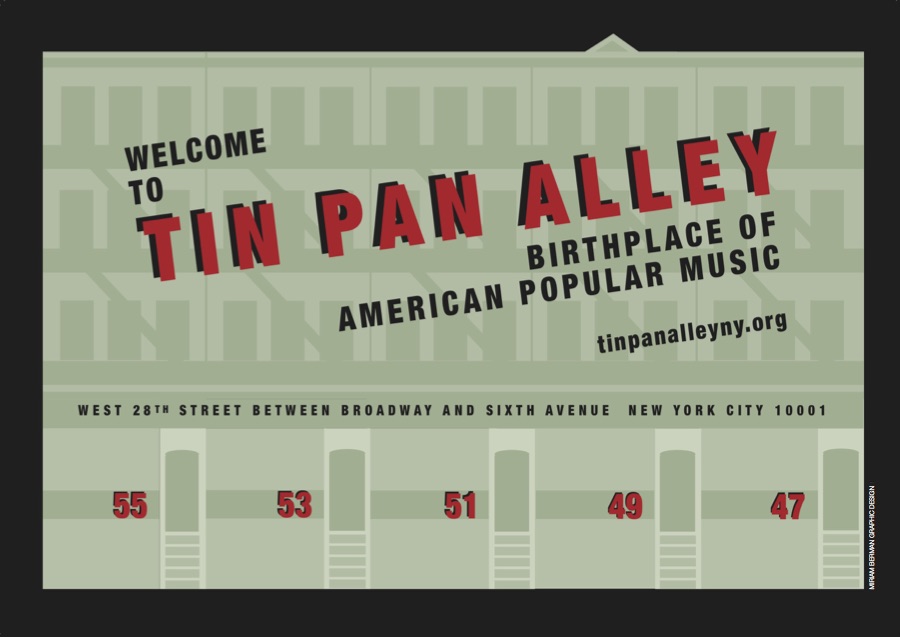 Saturday's program will feature a long list of singers, musicians, and dancers who work with the Great American Songbook, including Vince Giordano and the Nighthawks, Billy Stritch, TADA! Youth Theater Ensemble, Tony Waag & The American Tap Dance Foundation Ensemble, Marilyn Maye, Jill O'Hara, Natalie Douglas Steve Ross, Anita Gillette, Klea Blackhurst, Danny Bacher, Aaron Lee Battle, Ken Bloom, Jim Brochu, Richard Carlin, Eric Comstock, Natalie Douglas, Cassidy Ewert, Willy Falk, DeWitt Fleming Jr., Eric Yves Garcia, , Luke Hawkins, Robert Lamont, Gabrielle Lee, Larry Marshall, Sanborn McGraw, Jeannie Otis, Jennifer Poroye, Steve Ross, and Terry Waldo & The Gotham City Band. There will also brief presentations by historians Ken Bloom, Andrew Dolkart, and John Reddick.
Tin Pan Alley Day is Saturday, October 23, noon to 4pm, taking place at the Flatiron North Plaza on 23rd Street/Broadway (not on 28th Street, the actual Tin Pan Alley). Rain date is Sunday, October 24.
For more information, click here to visit www.tinpanalleyny.org/news/tin-pan-alley-day-2021.
Chelsea Community News is made possible with the help of our awesome advertisers, and the support of our readers. If you like what you see, please consider taking part in our GoFundMe campaign (click here). To make a direct donation, give feedback, or send a Letter to the Editor, email scott@chelseacommunitynews.com.