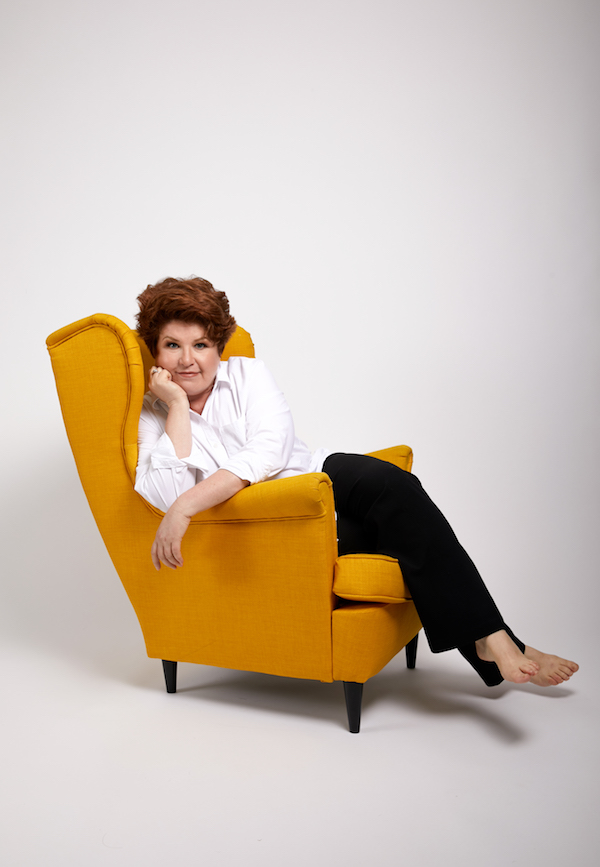 It's a rare individual who can take the stage, bring the best of herself to songs that have been the calling cards of others for decades, and emerge a favorite daughter of their creator. As actual documented showbiz legend has it, that's exactly what happened from the moment Broadway lyricist/composer Jerry Herman heard beyond-brassy, rafter-raising belter Klea Blackhurst sing a number cut from Herman's Hello, Dolly! and written for Ethel Merman, the original choice to star. He wasted no time whisking Blackhurst to the Palladium, where the London Philharmonic accompanied her. Many similarly prestigious gigs followed, with the singer paying tribute and becoming known as one of "Jerry's girls."
"When Klea Blackhurst sings one of my songs, you know exactly what I wanted my music and lyrics to say," said Herman, noting, " I'm one of her biggest fans."
Fast forward 10 years and one pandemic later, and Blackhurst returns to her familiar stomping ground, Birdland Jazz Club—where one floor below, at sister space Birdland Theater, she'll premiere One of the Girls: The Words and Music of Jerry Herman. The October 20-22 show pays tribute to "the powerful, loving and memorable women in Jerry's life," as well as out gay man Herman's uncanny knack for bringing the interior life of women front and center through characters including Dolly Gallagher Levi of Hello, Dolly! and Auntie Mame Dennis of Mame.
Every bit as charismatic and watchable as those fictions, Blackhurst (who identifies and she/her and describes herself as an "actress singer, comedienne, and merminologist") told us this was a pre-COVID passion project given added gravitas because of the. . . well, we'll let her tell you in her own words via a Q&A conducted earlier this week.
Scott Stiffler for Chelsea Community News (CCN): This show focuses on the vocal parts for women, created by Jerry Herman. How close to the bone does Herman's take on the internal life of women cut, and what do you feel his body of work says about humanity, from the female perspective and in general?
Klea Blackhurst: Hi Scott and thanks for letting me answer your questions! My show is about the women, both real, his mother and all the actresses he worked with, and also about the characters themselves. So we have a couple lines of inquiry going through the show, in terms of the songs he wrote… One of Jerry's real gifts was understanding how to capture feelings he couldn't possibly have experienced yet… or ever, I guess. He wrote Milk and Honey when he was 28 and there are wonderful songs in there about not wasting a moment, sung by an older woman acting on these feelings of love. He could not possibly have been writing from experience yet. He would never be a woman, of course, but—If He Walked Into My Life is one of the great torch songs. The female singers who've tackled it understand that depth—the searching for answers, the answer is always in the question. It's a song filled with questions; questioning their choices along the way. The real secret weapon in that one is that it's not about pining after a man. It's about raising a little boy. Zing! Right to the heart.
CCN: What selection from the Herman songbook best describes you, and what song best describes him?
Klea: This might be too easy, but I'm going to go with I Am What I Am for both of us. It is the definition of a show tune. It was simply electric in La Cage aux Folles. This sweet man, Albin, is being asked to hide himself away by the boy he's raised. Why? He might be an embarrassment to his girlfriend's conservative family. That's certainly a powerful set up for the song. But the song has also taken its place as a genuine anthem for anyone who feels different. In the show, it is from a place on anger and hurt. In another context, it is simply a declaration and really quite joyous.
CCN: What is the most notable/memorable thing you did for yourself, watched, and ate during the pandemic? Was this show influenced in any way by that period of time?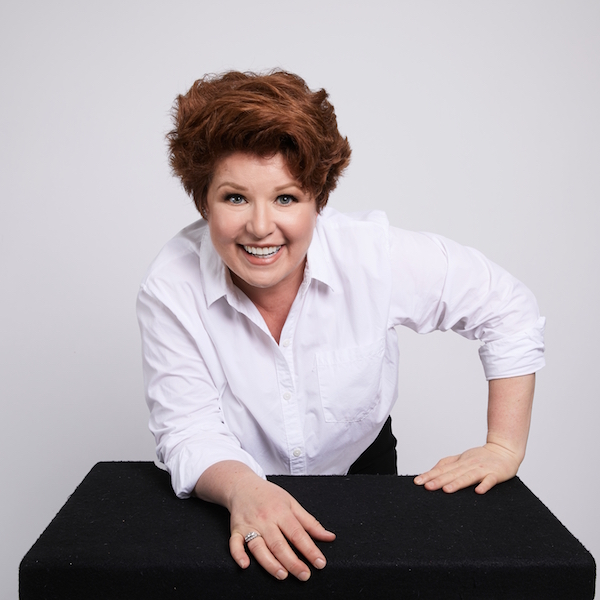 Klea: The show was supposed to make its debut in April 2020. It has had a chance to percolate, I guess you'd say. I think the work I've done with Mark Waldrop, who's directing and Michael Rice, my longtime musical director, is just that much more thoughtful, I suppose. Like, I am really, really ready to put it out there!! I ate everything. I watched old movies and started teaching voice lessons over Zoom. Let me out.
CCN: How did Denise Cooper, Mark Waldrop, and Michael Rice contribute to the show, and what's the backstory of you and the Pocket Change Trio?
Klea: Denise and I have a teeny tiny production company called Lunch Money Productions. She manages to get my shows up and running, she gets the deals made, so that I'll show up with the right show, with the right songs and the right number of musicians. She is a real-life grown-up general manager, out in the larger world, so I have to say the ways she has helped me are incalculably kind. Mark Waldrop is just brilliant. I did a number of Lyrics & Lyricists shows at the 92nd Street Y that Mark directed back in the good old days, and I knew he was my guy. Amazingly enough he was in the original cast of La Cage aux Folles and stayed with it its entire run. He was also in the short-lived Jerry show, The Grand Tour. So he was the perfect choice for helping me shape One of the Girls. Michael Rice and I met doing an Off-Broadway show called Radio Gals. Twenty-five years ago! I thought he was unique and kooky and strangely brilliant. There is nothing ordinary about him, as a man or an arranger. Mostly that's a good thing! I've worked with him ever since. Our original band was The Lunch Money Quartet, then we worked as a trio and they became my Pocket Change. When we go with just Ray on bass, I call them Nickel & Dime. When I can only afford Michael, I call him Jack Schitt.
CCN: What was it like being directed by Jerry Lewis? Did his infamous take on women comedians (working blue) come up, and did the two of you work on physical comedy?
Klea: Okay, here's the thing. I have no idea why Jerry was so strange in many of his appearances and the quotes he'd make. The women comedian nonsense is so sexist and weird and I don't really understand why he went there. I really don't. I've noticed how he really held a grudge. Which led to some ridiculous statements about Joan Rivers. Stupid. He thought I was a 21st century Kathleen Freeman, the great character woman who he used in many of his movies. She's legendary and Jerry worshiped her. He was very vocal about that being why he wanted to work with me. I reminded him of Kathleen, who had passed away and wasn't available anymore! I don't know if it's because of my voice, meaning our show was a musical, that he found what I did funny. Or he was in a better mood—or what. No idea. He would take my instincts and amplify them, give me courage to exercise them. And he taught me how to stop the show. Literally, by the numbers. If any of your readers come to my show, I'll tell them how. No extra charge.
CCN: What do you hope for this show, in terms of its future performance and recording life?
Klea: I hope it has a wonderful run at Birdland. I hope it takes me everywhere and is booked everywhere. My Ethel Merman show [Everything the Traffic Will Allow] 20 years ago, which I CANNOT believe! I haven't felt this excited about the possibilities since that show. It has a universal appeal. Whether you know Jerry Herman or not. It doesn't matter. If you've heard of Hello, Dolly!, you'll probably be okay. And even if you haven't, you'll get to know him.  He's just the most innately optimistic writer in history. Even the sad songs make you feel better. My great hope is that the label Club44 Records will come and decide to record the show! They produced the Christmas album I did with Billy Stritch and Jim Caruso and they are the nicest people ever. Our producer, Wayne Haun, has superhuman ears. He can find the good in a session and make it great.
CCN: Is 'A Swinging Birdland Christmas' coming back this year?
Klea: Yes! Last I heard, we start December 21 and take it right on through Christmas! Twelve years of this fa-la-la!!
CCN: Foxhole atheists make a lot of promises when they think the end is near. During the pandemic, did you swear to God or anyone else that you'd do something in your professional life if you made it out alive? If so, what? If not, would you make something up for us now and really sell it?
Klea: I swore I would toot my own horn! I mean, why not? Nobody's gonna toot it for me.  I recently wrote a major pitch, to a theater I love—they're closing their season with Hello, Dolly! I explained in a very well-written, thoughtful letter WHY I should be their Dolly! Pre-pandemic, I would never have done something like that. Ever. I mean, what have I got to lose?  When you consider what goes on in this old world, who cares if a theatre knows I REALLY want a particular job. What's the worst that can happen? I mean I started out without the job. I don't have the job yet. But heck, let me get through this week and I'll check up on that situation. I'll light some candles and blow the bugle! Get back to me on that.
CCN: Favorite Golden Girl, and why?
Klea: For this conversation, let's go with Beatrice Arthur's Dorothy. 1. She's a genuine baritone. 2. She starred as Vera Charles, opposite Angela Lansbury in Mame. 3. Mark Waldrop directed her Broadway show and 4. I just have to believe that a true Broadway Dame like Bea Arthur would encourage you to come see my show! Since she's not here to confirm or deny, let me blow my own horn here and tell you that you should roll the rug up, open a new window and come celebrate the fact that it's today! The best of times is now and after all, we're here.
"One of the Girls: The Words and Music of Jerry Herman" is performed Wed. Oct. 20th through Fri. Oct. 22nd, 8:30pm at Birdland Theater (downstairs at Birdland Jazz Club, 315 W. 44th St. btw. Eighth & Ninth Aves.). There is a $40 music charge, $20 food/beverage minimum. For reservations, call 212-581-3080 or click here to visit the Birdland website. In compliance with NYC rules for indoor activities, Birdland requires proof of vaccination or a verified medical exemption from all customers, staff, and performers.
Chelsea Community News is made possible with the help of our awesome advertisers, and the support of our readers. If you like what you see, please consider taking part in our GoFundMe campaign (click here). To make a direct donation, give feedback, or send a Letter to the Editor, email scott@chelseacommunitynews.com.