Saturday, October 30, 4-7pm | Et Alia Theater Presents This is Me Eating___  | Et Alia Theater director Ana Moioli's $5,000 NYC Artists Corps Grant from the New York Foundtion for the Arts (NYFA) and the NY Department of Cultural Affairs (DCLA) allowed for this 45-minute immersive performance exploring the multicultural layers of one's relations to eating and the universality of body image issues. The show is museum-themed and intimate, exhibiting to 20 to 30 people per performance. The performers will work with projection, sound, and physicality in order to immerse the audience in a simulative and meditative state that provokes reflection. "Come ready to be part of these women's inner and outer explorations of their eating habits, traditions, and mental reflections," said Giorgia Valenti, who shares artistic director duties. "Come ready to feel part of a creative process and absorb this global process. You might just discover you are not so alone." Saturday, October 30, 4-7pm | Et Alia Theater Presents This is Me Eating___ at Alchemical Studios (104 W. 14th St.) | At 4pm, 4:15pm, 6:25pm and 7pm. For ticket and info, click here. To learn more abut Et Alia Theater, click here.
The Return of Echoes in the Garden | Playwright Ross G. Hewitt and American Bard Theater Company certainly made history with their March 13, 2020 production of Echoes in the Garden: Its opening night was also its closing night, because of COVID-19 safety precautions. Now, the determined assemblage comes full circle, having relaunched—without incident—a run that began on Oct. 20 and lasts until early November. Jumping back and forth in time, the fictional Echoes has its narrative roots in an actual incident from the on an incident in the playwright's early childhood. Hewitt notes:
"I met my maternal grandmother only twice in my life. The first time, I was three years old… This play is based loosely on that visit. I only remember visiting a chicken coop for the first time and my mother saying the visit did not go well. I took those few facts, and what personality descriptions I had of my grandparents and deduced what may have happened and why. I grew up not knowing my mother's parents and wondered was it just because my sister and I were bi-racial? Or was there a possible deeper explanation?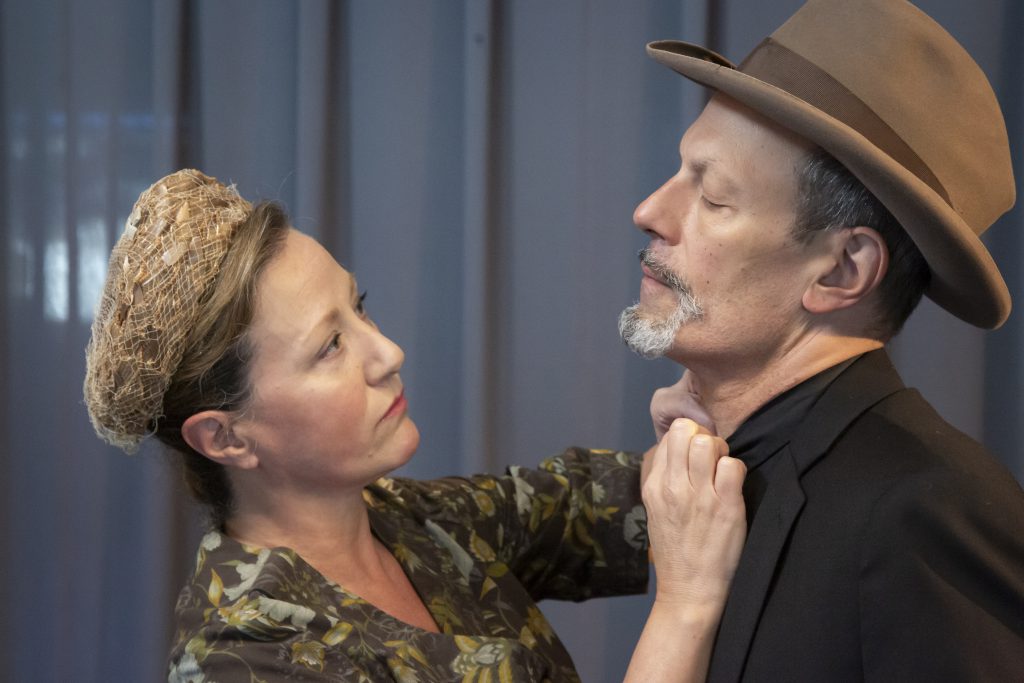 Echoes in the Garden has a 90-minute, no intermission runtime and plays the following regular schedule through Sat., Nov. 6: Wed.-Sat. at 7pm and Sun. at 2pm. At The Chain Theatre (312 W. 36th St. 4th Fl.,). Tickets are $25 general admission, $20 for students/seniors. To order, click here or purchase at the theater beginning 30 minutes prior to performance. Tickets may also be purchased in-person at the theater a half hour prior to the performance. For info on American Bard Theater Company, click here.
A Note from the Production: Per our arrangement with Actor's Equity Association for producing under showcase code, our cast and crew are fully vaccinated (with the exception of the minor actors) and we are following the current NYC.gov "Key to NYC" guidelines. At this time, we will be asking audiences to show proof of vaccination and to continue wearing masks inside the theater. This is subject to change and said changes will be reflected on our website, social media, and ticketing platform, if needed.
Chelsea Community News is made possible with the help of our awesome advertisers, and the support of our readers. If you like what you see, please consider taking part in our GoFundMe campaign (click here). To make a direct donation, give feedback, or send a Letter to the Editor, email scott@chelseacommunitynews.com.
ffd
fd