Daily through October 31, Early Voting allows you to have your say in the Nov. 2 General Election by taking care of that important citizenship task at your convenience (well, within available hours, which are daily and pretty long). There's just one catch, if you can call it that: Your vote must be cast at the polling site assigned to you by address. For many in Chelsea, that will be The Shed at Hudson Yards, which is where we found ourselves on Sunday, October 24, the second day of Early Voting. A worker at the site told us participation was robust: 200 people on Saturday, with nearly 400 on the day of our visit (which occurred close to its 5pm closing time). Below, find info on Early Voting as well as Tuesday, November 2's Election Day.
Find your poll site here FindMyPollSite.vote.nyc and note: Upon entering any Board of Elections facility, you are required to wear a mask/face covering and maintain 6 feet of distance. For the Board's website, click here.
Early Voting Dates & Hours
Sat Oct 23, 8am-5pm
Sun, Oct 24, 8am-5pm
Mon Oct 25, 7am-4pm
Tues Oct 26, 10am-8pm
Wed Oct 27, 10am-8pm
Thurs Oct 28, 10am-8pm
Fri Oct 29, 7am-4pm
Sat Oct 30, 8am-5pm
Sun Oct 31, 8am-4pm
---
The deadline to apply for an absentee ballot for the November election via the online portal has expired.
You may still apply for an absentee ballot in-person at your local county board of elections office.
The last day to apply in-person is November 1, 2021.
To visit the NYC Board of Elections Absentee Ballot info page, click here.
---
For help understanding the ballot, click here.
Questions? Call 1-866-Vote-NYC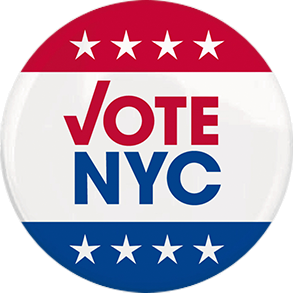 —Info compiled by Chelsea Community News staff, from NYC Board of Elections info.
Chelsea Community News is made possible with the help of our awesome advertisers, and the support of our readers. If you like what you see, please consider taking part in our GoFundMe campaign (click here). To make a direct donation, give feedback, or send a Letter to the Editor, email scott@chelseacommunitynews.com.