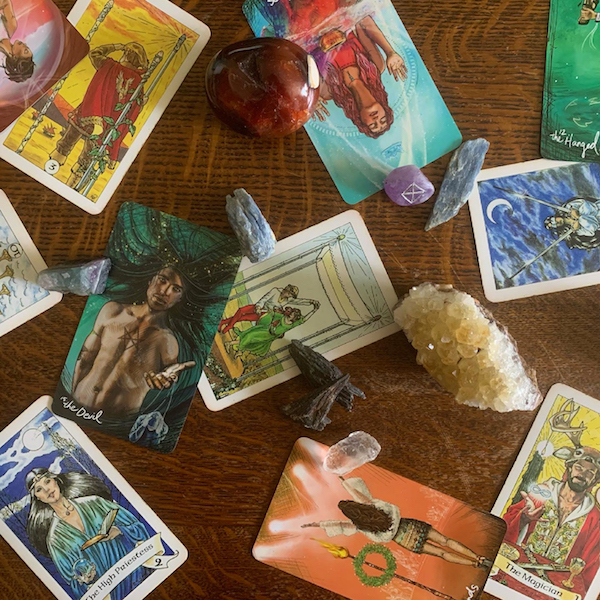 BY CHARLES BATTERSBY | As Halloween approaches, the mystical becomes a mere entertainment for the month of October. Arcane secrets are explored as a seasonal craze, then abandoned as thoughts of turkeys, Black Friday deals, and New Year's debauchery swoop in. A ubiquitous appearance at Halloween events are tarot card readers. While noticeably more prominent throughout this season, they remain a presence all year long, practicing their craft and honing their skills. We spoke to several people who read tarot, and asked them about the therapeutic, spiritual, and entertainment value of these enigmatic decks.
Our reporter received a personal reading from StephanMoravski, who has been reading tarot for seven years. Moravski, known as @tarotforlight on Instagram, calls himself a "Light Worker" in addition to being a tarot reader—by which he means, "working from a place of light, and bringing light into the world and your practice. You can be a light worker in many ways. You can be a tarot reader and be a light worker. You can be a lawyer and be a light worker. It's about the decision to raise your consciousness and the consciousness of other people, by trying to practice love and not fear… We make choices based on fear all the time. It's wired into us."
For Moravski, tarot is "a system about helping people gain clarity around what it is in their life they're confused about. I definitely didn't start reading as a fortune teller, which is often what people think tarot is about."
Although the cards, with their colorful cast of characters like the Magician, the Devil, and the Hanged Man are easily seen as supernatural, or even menacing, the reading with Moravski was more like a therapy session than a fortune-telling scene in an old werewolf movie. "It's about helping people forward, and to grow," Moravski said, "and unravel any mysteries in their lives that they need clarity and conversation around."
And the cards do provide talking points, which are relevant to most people's lives, or open to interpretation, like a Rorschach inkblot. Among the 78 cards are 22 "Major Arcana" cards, which begin with the Fool. The deck, when looked at in numeric order, tells of the Fool's journey as he travels and learns about himself, eventually coming to understand the world around him.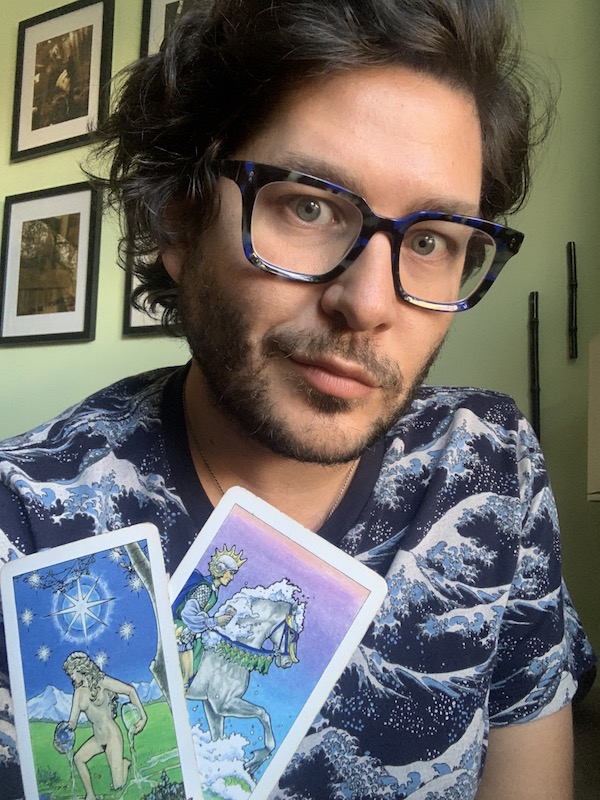 Anyone seeking a greater understanding of themselves can easily identify with the Fool and the people he encounters on his journey, like the Lovers. Moravski acknowledged that the reading was partly a mundane matter of getting people to open up. "It is a system" he noted, "that gets people talking about things that they may not talk about if you just said, 'Hey, how's your love life?' "
Our reading used multiple decks of cards, an unusual technique which Moravski began using in 2020. "I started by incorporating oracle decks because I was curious about them and wanted to diversify my arsenal, but wasn't ready to get a new tarot deck in the mix," he told us after the reading, "Then after having multiple oracle decks I decided under the advisement of a tarot mentor of mine that it was time to expand, and I then went out and found a deck that was recommended and that I liked. Now I use both often depending on which feels right for whom."
From a purely objective standpoint, it was interesting for our reporter to see how often the same cards and suits turned up from both decks. Coincidence or not, the recurring themes and patterns were easy to spot.
Moravski is openly gay (he even offers readings on his Grindr profile) and our reporter is transgender. We asked him about the LGBT community and his work with tarot. Moravski observed that LGBT people often have a special sensitivity. In his words they, "have had to come terms with getting to know yourself, and being honest with what we call the shadow aspects of the tarot. Things that you've been shaming or denying… [LGBT people] have to learn to love themselves in a way that other people don't have to deal with necessarily. Until something happens in their life that makes them come out of their own closet in whatever way that is."
"I try to treat every person I read for the same," he added, "and bring as little preconception to the reading as possible, but I know many queer folk have similar challenges and, having been through them myself it's hard not to draw on that upon that experience so it does influence me, I draw upon my own healing experiences and also am further healed when I get to help any person."
We also spoke, via Zoom, with Cathy Towle, who described her long career as an activist/medium/coach, or as she says, "A person who likes to look under the blanket." And her work is overtly of a spiritual nature.
Towle's experience with tarot cards stretches back 40 years, and she explained their ancient origins as part of a game called Tarocchi, or Tarocchini, which was created in the early 15th century. The "suits" of a modern deck of playing cards (hearts, spades, clubs, and diamonds) correspond to the tarot card suits (cups, swords, wands, and pentacles). Tarot later became a divination tool and gained popularity in the 18th century. They became a ubiquitous fortune-telling tool in the 20th century with modern decks like the Rider Waite deck and Aleister Crowley's Thoth deck.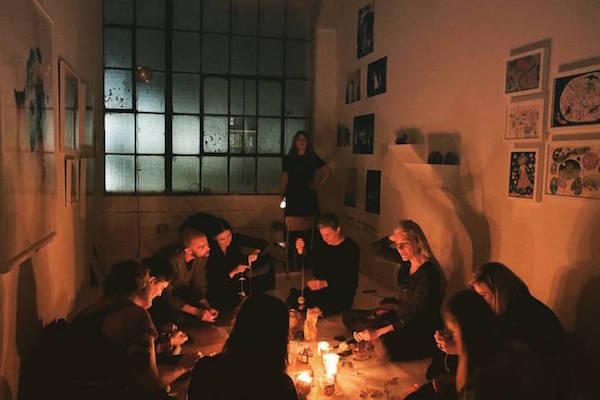 Towle says about her readings, "You could say there's a therapeutic aspect to it, but there's a definite healing aspect to it. And there's a fun aspect to it. Is it performative? It can get on the edge of performative when the lightness comes in." Again referencing "Light" as did Moravski. "What I mean by that is we move from the shadow work, into the other side, where we're in the feelings of joy and happiness. You can feel the change from one state to other where there is compassion and gratitude, and that's what I mean by The Light, in that situation. I'm also a Reiki master and Reiki healer. In the energy work, I see this light coming into the body."
Towle, as a reader, has her own idiosyncrasies. She doesn't read "inverted" or "reversed" cards. In a traditional tarot reading, when a card appears upside down it has a different meaning than when right side up. "The given cards around a particular card I might lay out will give me the context. But, I've learned to have a certain dialog with the cards too. And you find that that happens when you use them a lot." she told us, "They're a helpful tool when you need to connect to your own inner guidance."
Towle also spoke to us about the LGBT community and how it relates to the "shamanistic tradition." She even used the phrase, "Coming out of the closet as a medium." In her words, many LGBT people have come to, "a full understanding of who they were, and then stepped into it… and claimed something different than the status quo."
"That's a very indigenous thing to do," she said. "There's a wisdom, a throwing off of shame. A throwing off of what other people prescribe a role to be, that I find very similar to stepping into the shamanic role or the shamanic realm. You throw off the prescribed understandings, and you open without fear to something completely different, and you have to accept who you are in that process."
We spoke to a third person who uses tarot cards, but explicitly for entertainment purposes: Doc Sasko (a.k.a. "Dr. S"), who is a magician and mentalist. We met with Dr. S at the magic shop Abracadabra in Chelsea (19 W. 21st St. btw. Fifth & Sixth Aves.). For him, tarot cards are a prop used in his mentalism, and sleight of hand acts. But he notes that tarot adds a mystical flavor he can't get with disappearing scarves.
"When I give someone a choice, I say, do you want to see a card trick, a coin trick, or a tarot reading?" Dr. S told us, and he went on to explain how the mere idea of tarot engages audiences, even when they know they're only witnessing a trick. "I know there are people who do it more spiritually. For me it's more entertaining, and to pull [the audience] in, and briefly suspend their disbelief."
He uses what he calls "a combination of cold reading and mentalism," which he says is similar to Sherlock Holmes making deductions about a person based on quick observations. There is nothing supernatural implied in his act—he is unequivocally a performer. For his entertainments, he doesn't use the full 78 card tarot deck, but rather uses a handful of the Major Arcana cards.
Dr. S pointed out how the symbols used in the Major Arcana have such a universal nature that they can be easily incorporated into a sleight of hand routine. In one of the decks that he uses, the Magician card is depicted with a coin, a clock, and a wand or pen: everyday items that just happen to magically appear out of his pockets. Our reporter endeavored to keep their eyes on Dr. S's hands to catch him in the middle of sleight of hand tricks, but the tarot cards did make an effective distraction.
While Dr. S's magic tricks are harmless fun, we did begin to wonder about the superstitions around tarot. Before we ended our talk with Towle, we asked her about the potential dangers of dabbling in the supernatural. She sees tarot as a benign and useful tool, but she does warn people away from experimenting with the Ouija board because, in her words, "You don't want to invite those kinds of low-level energies into your life."
Even in the middle of spooky season, Towle still advises everyone to, "Find a way to choose joy instead of fear, because it's there. Because it releases us from the noise around us."
Chelsea Community News is made possible with the help of our awesome advertisers, and the support of our readers. If you like what you see, please consider taking part in our GoFundMe campaign (click here). To make a direct donation, give feedback, or send a Letter to the Editor, email scott@chelseacommunitynews.com.