Saturday, October 30, 11am-5pm: Treats in the Streets | Meatpacking—the Business Improvement District intent on turning its increasingly leisure- and retail-focused area of concern into a car-free pedestrian's paradise, makes no bones about it on Sat., Oct. 30. From 11am to 5pm–From Horatio to 13th Street, Eighth Ave. to West End–will be filled with games and activities fit for kids and adults alike. Stores and restaurants along the way will have special treats. Participating businesses include Amy's Bread Chelsea Market Baskets, Serafina Meatpacking, The Google Store, and the Meeting Point Galley.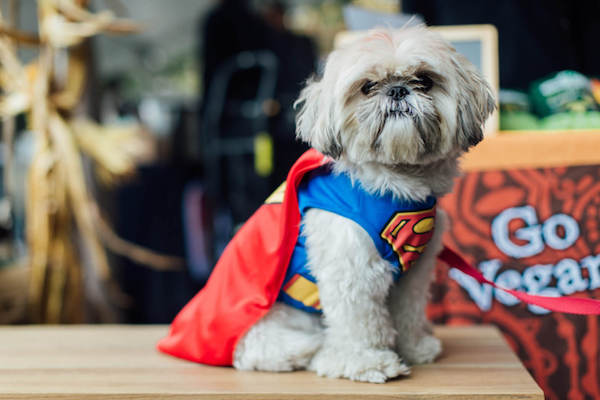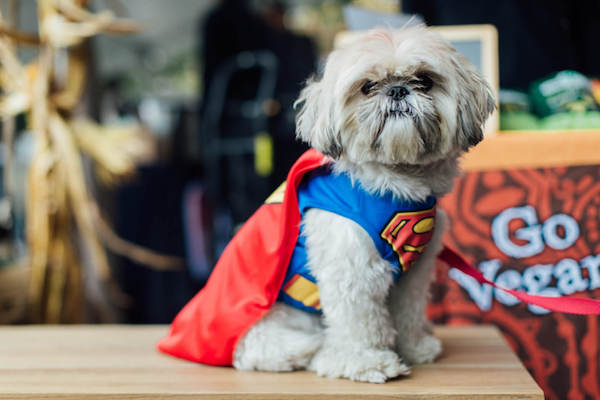 Then, of course, there is the triumphant return of the Annual Meatpacking Doggie Costume Contest! Cancelled last year because not even the super-strong cute factor the 2019 contestant seen directly above could save the day, the event is on again once more–because to the great delight of doggies everywhere, this time it's the humans who've been taken to the doctor to get their shots. With two full years to plan the ultimate costume, completion promises to be fierce. Tongues are waging as to who will take the title from reigning champion Ruth Baderginsbark, seen directly bow wow. (Sorry–meant to say, "seen directly below.")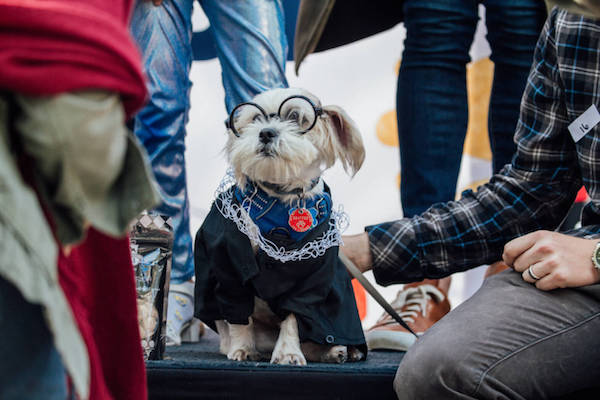 Baderginsbark's successor will be chosen by a distinguished celebrity panel comprised of Courtney Quinn (@colormecourtney), Maxine the Fluffy Corgi (@madmax_fluffyroad), Yuhua Hamasaki (@yuhuahamasaki), and State Senator Brad Holyman (@bradhoylman). In addition to naming a grand prize winner, there will be other recognitions for dogs of distinction. "For this year's costume contest," said event organizers, "expect bigger and better prizes for pups. The grand prize will be an overnight stay at the dog-friendly Gansevoort Hotel! Onsite registration will be available until 1:30pm on October 30 on Little W 12th Street." If you're a pet parent who end up presenting your pup, send a photo of their most runway ready moment to scott@chelseacommunitynews.com and we'll include it in our post-Contest photo essay.
Finally, your BONUS ACTIVITY takes place Sat/Sun, Oct. 30/31, between 11am and 5pm daily, on W. 13th St. between Ninth Ave. and Washington St. The Future Streets Design Expo is Meatpacking's first-ever event of its kind. Its mission: To give the public an up-close, personal look at the work of designers and manufacturers who are creating products for the future of NYC's streets and public outdoor spaces. "Visitors will be able to see and interact with a range of products including Fantastica's "Fast Casual" line of modular outdoor dining platforms, the newly debuted Oonee Mini secure bike storage unit, parklets, and other outdoor furniture produced by re-ply, and others," notes the organizers. In addition, the New York Department of Transportation and Department of City Planning will host community outreach regarding public policy changes and the City's permanent Open Streets program.
For more info about Treats in the Streets, click here.  The event takes place throughout Meatpacking—from Horatio to 17th St., Eighth Ave. to West End Ave.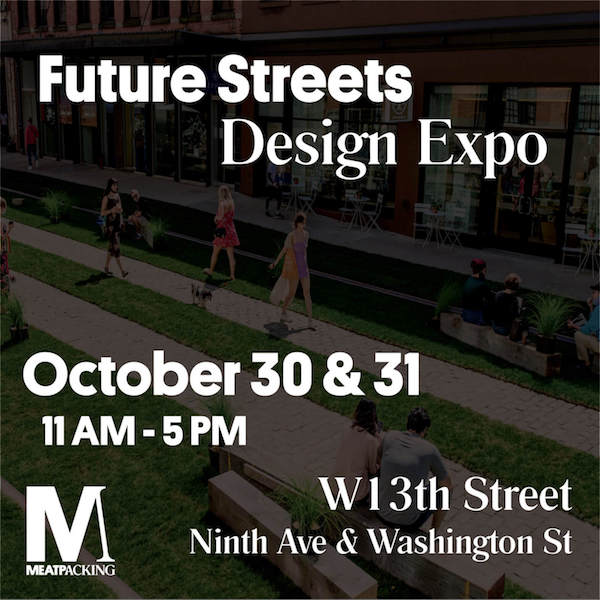 Chelsea Community News is made possible with the help of our awesome advertisers, and the support of our readers. If you like what you see, please consider taking part in our GoFundMe campaign (click here). To make a direct donation, give feedback, or send a Letter to the Editor, email scott@chelseacommunitynews.com.