BY CHARLES BATTERSBY | Is the Mad Hatter really mad, or is he just drunk? Is the Doormouse sleepy, or merely passed out from too much gin? These questions and more are answered over the course of a 90-minute interactive Alice In Wonderland-themed Mad Hatter's (Gin &) Tea Party happening in various cities around the country, including New York. The tea party is one-part interactive theater, two parts cocktail party, and garnished with a dash of cosplay.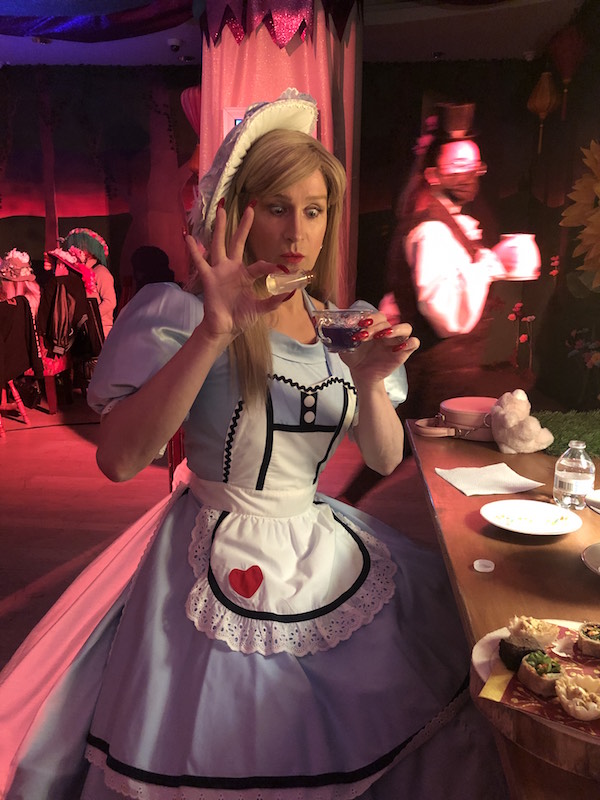 Patrons who walk into the unassuming Bryant Park storefront are quickly sent down an immersive rabbit hole: First stop is the haberdasher. Each patron can choose their own mad hat from a vast selection, but  you are welcome to wear your own if you like. Once haber-dashed, people will be taken through a photogenic labyrinth, and seated at a table with cocktails, snacks, and a live show.
Guests at this tea party are not just handed cups of tea with gin mixed in (the evening has an interactive component). Every party guest is given a box of mysterious ingredients to mix their own drinks. Over the next 90 minutes, they are instructed to open each one as each new cup of tea is served—with wondrous results! Mysterious blue gin will turn purple when attendees mix it with secret (possibly magical) potions, and bubbles explode in bursts of smokey vapor.
The event is partially a performance, which includes recitations of Lewis Carroll's poems by a cast of costumed characters. The Mad Hatter, Doormouse, and March Hare are all present, and the waitstaff is referred to as "Tweedles." Also on hand are animated characters who appear on video screens, and via voice-overs. (One doesn't really expect to see a Cheshire cat anyway.) The cast also guides all of the attendees in party games to better get to know their friends, or make new pals with people on the other side of the table.
As always these days, nothing happens of it doesn't happen on Instagram, and/or Tiktok. The venue has several grammable and tokable nooks with Alice-themed props and set pieces to keep people occupied before the performance. (Be warned, these are not available after the party, so arrive early for your chance to pose with the hookah).
The event is not affiliated with Disney, which means that some of most culturally prominent interpretations of these characters aren't present. For fans of Lewis Carroll's books, this may be a good thing, even though the "Unbirthday Song" is a Disney exclusive. While the story is not especially deep, the real draw is the booze, which is likely to make audiences forgiving the show's dramaturgic failings.
The event is still an excellent way to help an Alice-obsessed friend celebrate their 21+ birthday (or unbirthday). Party guests may even learn a little about how to prepare a cocktail, too.
Mad Hatter's (Gin &) Tea Party is an immersive, socially-distanced event, ensuring you are comfortable and at ease. Alcohol-free cocktail options available upon request. Weekly schedule and starting times: Thursday & Friday: 6pm and 8pm / Saturday: 12pm, 2pm, 4pm, 6pm and 8pm / Sunday: 12pm, 2pm, 4pm and 6pm. At 330 Madison Ave. (entrance on the corner of Madison Ave. &  E. 43rd St.). For tickers, click here.
Chelsea Community News is made possible with the help of our awesome advertisers, and the support of our readers. If you like what you see, please consider taking part in our GoFundMe campaign (click here). To make a direct donation, give feedback, or send a Letter to the Editor, email scott@chelseacommunitynews.com.