In This Week's "THIS WEEK IN CHELSEA"
In Order of Appearance:
March with the Empire Station Coalition / 23 Days of Flatiron Cheer / Clement Clarke Moore Park Tree Lighting / Fulton Tree Lighting / Down to Earth Farmers Market / Chelsea Community Church / Hudson Guild Gallery Exhibit /             

Tuesday, December 7, 6pm: March with the Empire Station Coalition | Grab a flashlight (for the vigil at event's end), dress warmly and be at the northwest corner of Eighth Avenue and W. 31st St. at 6pm tonight, to participate in a grim walking tour that takes you past places that could be demolished to make room for the demolition-happy repurposing project  begun by disgraced Governor Cuomo and disgracefully continued by his placeholder successor. If that sounds a bit dramatic, do a dive into the facts and ask yourself: If it were your place of business or home they were coming for, would you step aside with best wishes for the shiny towers rising up from your former mailing address? Empire Station Coalition thinks we can do better–but first, they['er go to stop the project from its scheduled trajectoruy. Brad Vogel and Justin Rivers lead this walking tour of endangered sites in the Penn Station Neighborhood. Click here for a preview of some of the sites–and see the graphic just above this listing for a look at of some of the groups who are part of the Empire Station Coalition.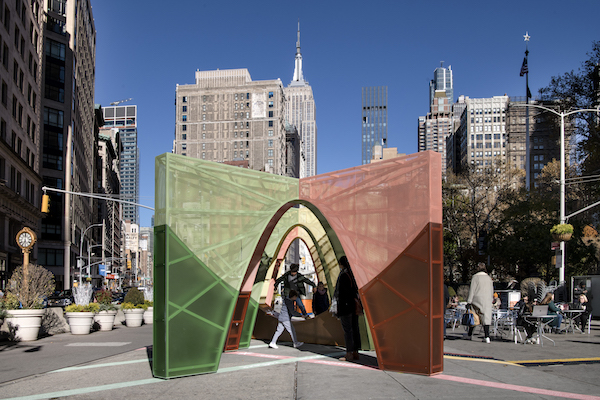 Through Thursday, December 23: 23 Days of Flatiron Cheer | The Flatiron/23rd Street Partnership, a nonprofit BID (Business Improvement District), is the brainy brawn behind the 10th annual "23 Days of Flatiron Cheer" event, which continues for… well, they tell you that in the title. What it means for you: Twenty-three consecutive 24-hour spans offering, they promise, "digital deals and giveaways from local businesses, holiday meal-kit roundups from local restaurants, holiday-themed neighborhood walking tours, a Winter Solstice Celebration with MoMath on December 21, holiday carolers, and more." No need to look for the "more." It's already here, in the form of a public art installation unveiled last week. Created in partnership with Van Alen Institute, Interwoven uses its location (the iconic intersection, Flatiron North Public Plaza) and design features (among them, by color-coded archway sensors set off by two or more people) to represent the coming together of New Yorkers as they come back to familiar, pre-COVID haunts. For more information on Interwoven and other "23 Days" features, click here.
Saturdays, rain or shine, 9am-3pm: Chelsea Farmers Market | Down to Earth Farmers Markets has once again put down roots in Chelsea (on W. 23rd St. near Ninth Ave.). By and large, it's the same experience as it's always been (fresh products, friendly people), albeit with a few notable nods to COVI-precaution protocol: If you have not been fully vaccinated, please wear a face mask. There is no food sampling in the market, and all ready-to-eat goods must be consumed off-site.
Thursday, December 9, 4:3opm at Clement Clarke Moore Park (10th Ave. & W. 22nd St.): Tree Lighting & Reading | Enjoy a reading of the classic Christmas poem, 'Twas the Night Before Christmas, wherein Father Christmas is famously imagined by the father of Chelsea. And who is that? Hint: The park you've gathered at is named for him. This Chelsea tradition is brought to you by the West 400 Block Association. See the below flyer for more info.
Friday, December 10, 5pm at 419 W. 17th St. (btw. 9th & 10th Aves.): Tree Lighting | Futon Houses continues their annual tradition. See the below flyer for details.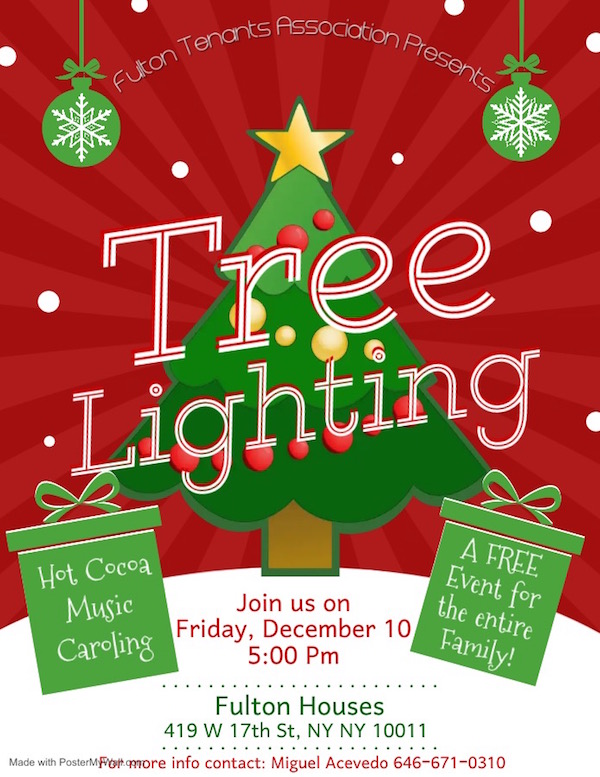 Sunday Services from Lay-Led, Nondenominational Chelsea Community Church  | Their first service since summer hiatus took place at noon on September 19, as an online Zoom event. Services have returned to the brick and mortar world. Chelsea Community Church has a different speaker every Sunday, as well as traditional music. To receive an invitation, send an email to info@chelseachurch.org. Learn about their history and access programming info, by visiting their website (click here to do so). Last week, the guest speaker was the Rev. Christine Lee (Episcopal), priest in charge at St. Peter's Episcopal Church Chelsea. On Dec. 12, it's Rev. Dr. William Weisenbach (Presbyterian), who served as Senior Pastor of the First Presbyterian Church of Katonah, NY, until his retirement in 2012. Dr. Weisenbach holds a Doctor of Ministry and a Doctor of Divinity degree. This service will also have song and music featuring Deborah Karpel, soprano. On Dec. 19, the guest isMel Lehman (Mennonite), executive director of Common Humanity, an organization he founded in 2009 to build better understanding about the people of the Middle East. He previously worked for 20 years at the National Council of Churches as an editor focusing on international humanitarian issues.  Dec. 26's guest is TBA.
Through Jan. 5, 2022 | Exhibit: The Art of Comics at Hudson Guild Gallery | The below flyer tells (almost) all you really need to know about this new exhibit at Hudson Guild Gallery, so have a look–and for that other "need to know" info, click here for a link with the Gallery's particular COVID protocol, including how to widen your 15-minute viewing window.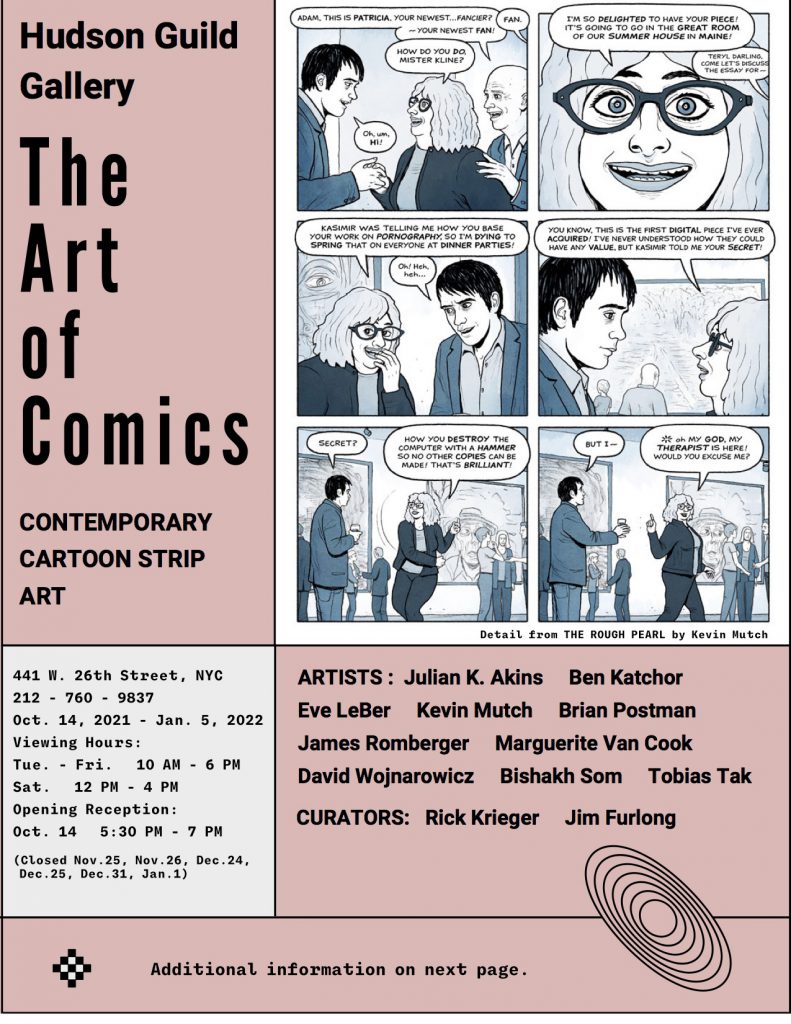 —Compiled by Scott Stiffler
Chelsea Community News is made possible with the help of our awesome advertisers and the support of our readers. If you like what you see, please consider taking part in our GoFundMe campaign (click here). To make a direct donation, give feedback, or send a Letter to the Editor, email scott@chelseacommunitynews.com.