In This Week's "THIS WEEK IN CHELSEA"
In Order of Appearance:
Four CB4 Committee Meetings, Mon.-Thurs. / 23 Days of Flatiron Cheer / Down to Earth Farmers Market / Chelsea Community Church / Continuum / Hudson Guild Gallery Exhibit /         
Monday, December 13 through Thursday, December 16: Four Nights, Four CB4 Committee Meetings| Community Board 4 (CB4) sprints toward the end of its 2021 calendar with four committee meetings, Monday through Thursday of this week. For all the details, including how to register for attendance via Zoom and how to view the live stream via their YouTube channel, click here for the CB4 December calendar page.  Mon.-Thurs., 6:30pm nightly, the committees are: The Arts, Culture, Education, & Street Life (ACES), the Business, License & Permits Committee (BLP), the Transportation Planning Committee (abbreviated as tone-deaf-to-our-times "TRANS"), and the Housing, Health, & Human Services Committee (HHHS).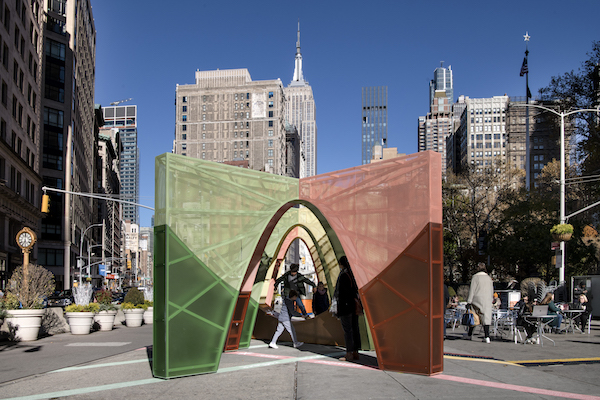 Through Thursday, December 23: 23 Days of Flatiron Cheer | The Flatiron/23rd Street Partnership, a nonprofit BID (Business Improvement District), is the brainy brawn behind the 10th annual "23 Days of Flatiron Cheer" event, which lasts for… well, they tell you that in the title. What it means for you: Twenty-three consecutive 24-hour spans offering, they note, "digital deals and giveaways from local businesses, holiday meal-kit roundups from local restaurants, holiday-themed neighborhood walking tours, a Winter Solstice Celebration with MoMath on December 21, holiday carolers, and more." No need to look for the "more." It's already here, in the form of a public art installation unveiled last week. Created in partnership with Van Alen Institute, Interwoven uses its location (the iconic intersection, Flatiron North Public Plaza) and design features (among them, by color-coded archway sensors set off by two or more people) to represent the coming together of New Yorkers as they come back to familiar, pre-COVID haunts. For more information on Interwoven and other "23 Days" features, click here.
Saturday. December 18, 9am-3pm: This Season's Final Chelsea Farmers Market | Down to Earth Farmers Markets has once again put down roots in Chelsea (on W. 23rd St. near Ninth Ave.). By and large, it's the same experience as it's always been (fresh products, friendly people), albeit with a few notable nods to COVID-precaution protocol: If you have not been fully vaccinated, please wear a face mask. There is no food sampling in the market, and all ready-to-eat goods must be consumed off-site. This Saturday, December 18, is the last Market of the season, so stop by and stock up!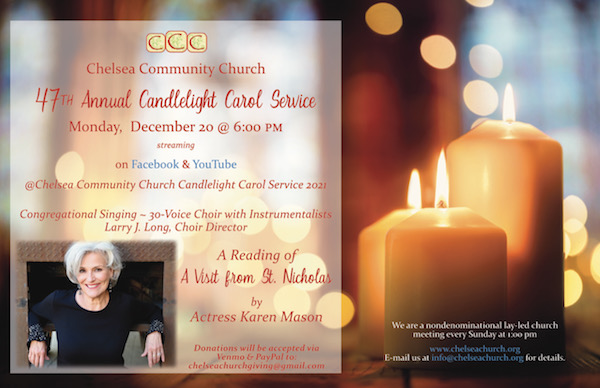 Chelsea Community Church  | Sunday services for this non-denominational, lay-led church have resumed. Proof of vaccination is required for those who wish to attend their Sunday 1pm gathering at St. Peter's Episcopal Church (346 W. 20th St., btw. Eighth & Ninth Aves.). These weekly services are followed by a coffee hour in the rectory. Optional communion is served in individual cups. CCC has a different speaker every week, as well as traditional music. To receive an invitation, send an email to info@chelseachurch.org. Learn about their history and access programming info by visiting their website (click here to do so). On Dec. 19, the guest is Mel Lehman (Mennonite), executive director of Common Humanity, an organization he founded in 2009 to build better understanding about the people of the Middle East. He previously worked for 20 years at the National Council of Churches as an editor focusing on international humanitarian issues.  Dec. 26's guest is TBA. CCC's 47th annual Christmas Candlelight Carol Service takes place on Mon., Dec. 20, at 6pm online, via Facebook and YouTube (@Chelsea Community Church Candlelight Carol Service 2021). The service will include scripture lessons, choir singing, and veteran Broadway actress Karen Mason's reading of the 1822 poem, A Visit from St. Nicholas—otherwise known as Twas the Night Before Christmas (its author, Clement Clarke Moore, donated the land for St. Peter's Episcopal Church, where CCC meets). The event is free. Online donations accepted via Venmo or PayPal to chelseachurchgiving@gmail.com.
BEYOND THIS WEEK
Wednesday, December 22, 7pm at The Eagle NYC and Online: Continuum Presents The Tonight Show-Ho-Ho | The Eagle NYC's monthly intergenerational social series, Continuum—created to unite generations and mitigate isolation—returns with a December installment whose hybrid nature allows attendance via livestreaming on the Eagle NYC Facebook page, or in person at 554 W. 28th St. (btw. 10th & 11th Aves.) location. As usual, your well-informed, been-there-done-that-twice host/moderator is drag queen/oracle Witti Repartee. The theme recalls the classic late night talk show format pioneered by Steve Allen and canonized by Johnny Carson. Safe bet it'll be Repartee at the desk welcoming a panel of yet-to-be-announced guests to join her on the couch. Gay-friendly and diversity-welcoming though the current crop of late night hosts may be, it's been a long time coming, and we're further betting a Repartee-led Tonight Show will deliver a queer-centric take on the classic format that the senior-leaning end of the Continuum demographic longed for but never got. (Frequent Carson guests such as Charles Nelson Reilly executed their uncompromisingly flamboyant antics to raucous laughter from audience and host, his sexuality allowed and accepted, so long as it went unacknowledged. The result: A painfully thin line between being laughed with and laughed at.) For info on more events at The Eagle NYC, click here to visit their website.
Through Jan. 5, 2022 | Exhibit: The Art of Comics at Hudson Guild Gallery | The below flyer tells (almost) all you really need to know about this new exhibit at Hudson Guild Gallery, so have a look–and for that other "need to know" info, click here for a link with the Gallery's particular COVID protocol, including how to widen your 15-minute viewing window.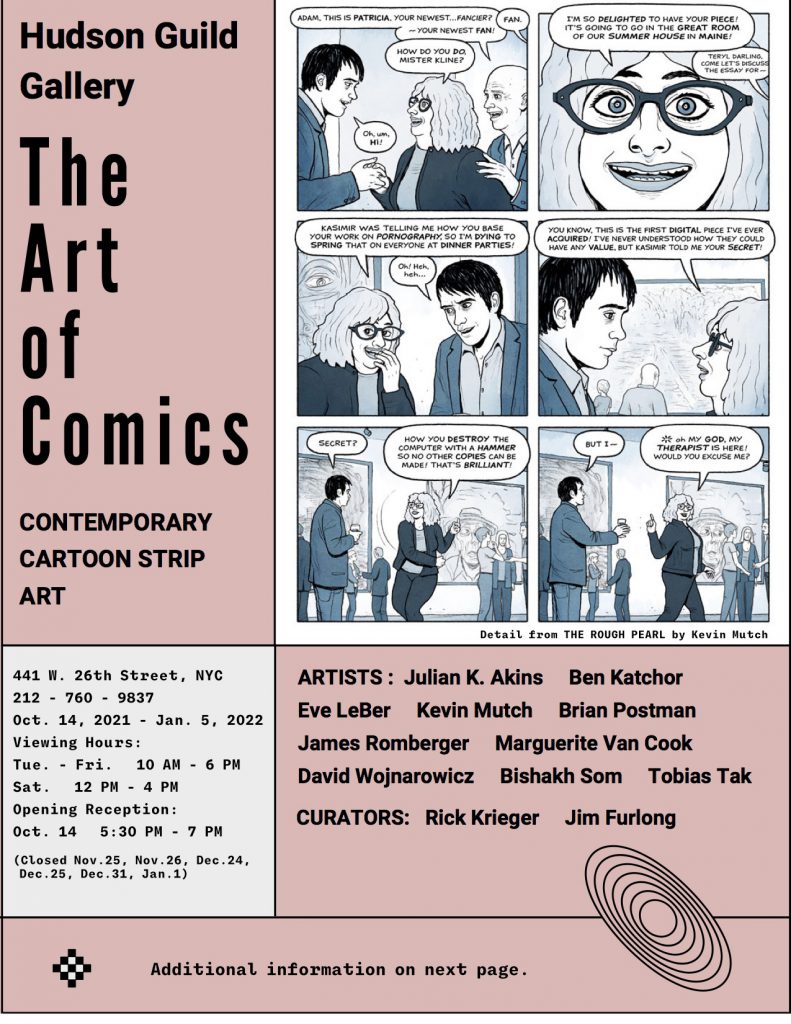 —Compiled by Scott Stiffler
Chelsea Community News is made possible with the help of our awesome advertisers and the support of our readers. If you like what you see, please consider taking part in our GoFundMe campaign (click here). To make a direct donation, give feedback, or send a Letter to the Editor, email scott@chelseacommunitynews.com.