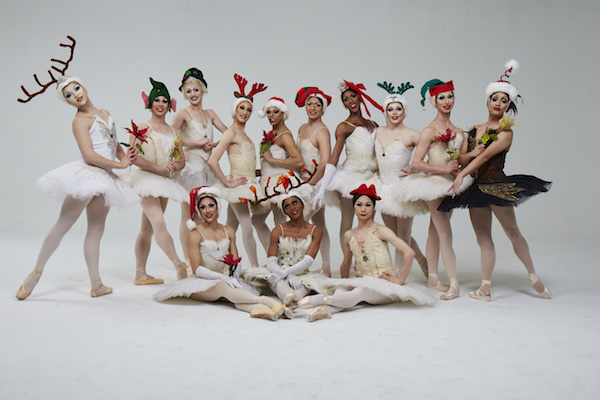 NOTE: Due to "break-through COVID-19 cases detected within the company," all scheduled performances through January 2 have been cancelled. Click here for more information, including ticket holder options.
BY ELIZABETH ZIMMER | Issues of race make headlines, while issues of gender increasingly occupy the public mind. It used to be easy: Men were men and women were women and that was that.
No more, especially not in major metropolises like this one. New York—perhaps especially Chelsea—accommodates a range of gender expression, and 1974-founded Les Ballets Trockadero de Monte Carlo celebrates that range, and the battered art of ballet, in ways that delight and amuse. The program notes are hilarious, and the choreography mocks our gender expectations at every step. Artistic director Tory Dobrin often casts the smallest guys in the company in the male roles, allowing the "ballerinas" to tower over them, and sling them over their shoulders.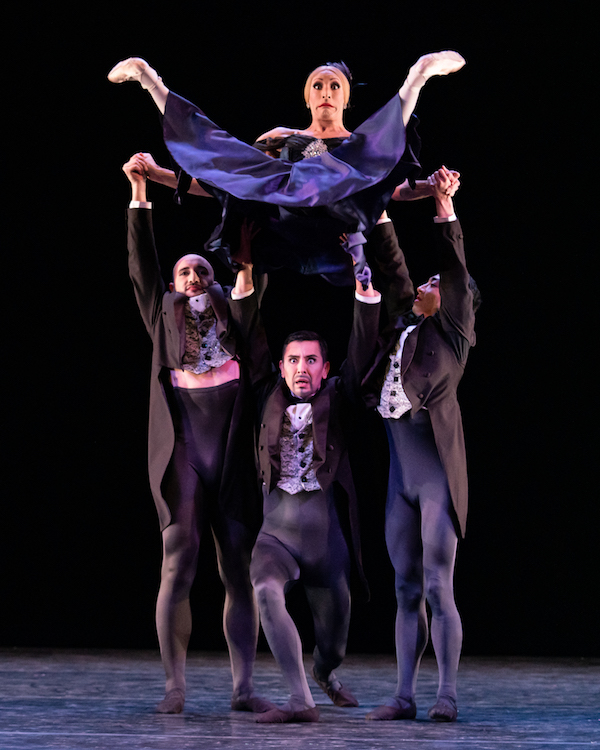 Opening its three-week holiday season at the Joyce with the first of two programs, the all-male Trocks, as they are affectionately known, mount ballet parodies ranging from the blunt to the rapier-sophisticated. Their version of the second act of Swan Lake features the coquette Nadia Doumiafeyva (read it out loud), a brassy blond who seems to be channeling Fran Drescher. Eight supporting swans spit and squawk, behaving more like real birds than like the scrawny dancers who usually take these parts; they range in size from petit to basketball-player, are diverse in age, color, and nationality, and can really dance. Watching them delicately battu their size 12 pointe shoes is absolutely mesmerizing. Most of them are flat-chested, but then so are most female ballet dancers.
New to New York this season is Nightcrawlers, a slightly curdled take on Jerome Robbins' In the Night, to Chopin. It reminded me even more of Paul Taylor's 1976 Cloven Kingdom, with its male characters in black tights and long morning coats, and the "females" in jewel-tone dresses with huge marcasite brooches. Choreographed by the wonderful Peter Anastos as a sort of dark sequel to his beloved Yes, Virginia, Another Piano Ballet, the piece segues from the sublime to the ridiculous in a matter of seconds, and takes us with it. The dancing is fast and furious, almost equine, and at one point Nadia Doumiafeyva, still in her Swan Queen get-up, hurries through, perhaps having finally escaped Rothbart.
Valpurgeyeva Noch, which is Russian for Walpurgisnacht, entered the troupe's rep in 2009, and has only ripened with time. Inspired by Leonid Lavrovsky's Soviet ballet to Gounod's Faust and staged by Elena Kunikova, it's a trove of exquisite detail, with the bigger gals in magenta peignoirs and the small guys behorned as the fauns, all at play on the eve of May Day, when witches, folklore says, ride to the mountains and frolic with the Devil.
There's more, including the classic Dying Swan. On opening night, the standing, screaming ovation at the two-hour program's end lasted a long time, extended when the troupe of 14 reappeared in green foam Statue of Liberty tiaras and formed a kick line, egging the audience on to further expressions of adoration.
If you have seen the Trocks in action, you don't need my urging to go see them again. If you haven't, make this the year you visit our neighborhood dance palace and partake of their delightful bounty. The refreshment stand has reopened! There is merch! It's a party! Don't forgot your vax card! Two completely different programs are on display through January 2.
At the Joyce Theater (175 Eighth Ave. at W. 19th St.) through January 2. Performance content, times, and dates vary. For tickets, click here to visit joyce.org or call 212-242-0800. For artist info, click here.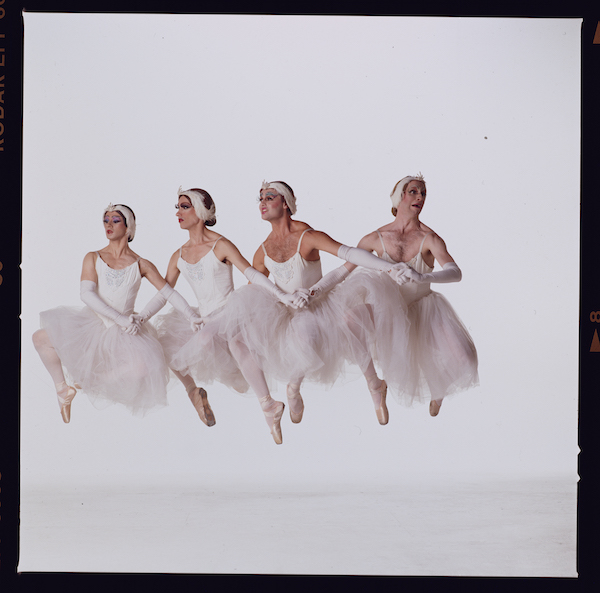 THE TROCKS' STATEMENT ON DIVERSITY, EQUITY, INCLUSION & ACCESS
Les Ballets Trockadero de Monte Carlo was founded in 1974 in the wake of the Stonewall Riots. Early performances were held on the makeshift stage of the NYC LGBTQ rights organization known as the West Side Discussion Group, an offshoot of the groundbreaking Mattachine Society, one of the first LGBTQ rights groups in the US. This historic backdrop has always underscored the Trocks' commitment to providing a stage for dancers often underrepresented in classical ballet due to their sexual orientation, gender identity, size, social class, race and ethnicity.
In the nearly 50 years since its inception, the company has continued its mission of performing polished parodies of classical ballets 'en pointe' and 'en travesti', surprising and delighting audiences by boldly defying classical ballet's conventional gender classification. While being slyly subversive, the Trock' global visibility has helped move drag from counterculture to its current place in the mainstream.
As ambassadors of LGBTQ culture and acceptance, the Trocks remain committed to supporting, mentoring, and inspiring the next generation of LGBTQ performers and arts appreciators; supporting LGBTQ elderly and mentoring LGBTQ youth; and serving as an integral link to the history and traditions of LGBTQ performance. The company's education and engagement programs allow the Company to extend the work it does on stage and engage communities in reimagining their expectations of ballet performance and its intersection with gender roles and identities.
While we recognize that there is still much to be done to achieve full diversity, equity, inclusion and accessibility in the ballet world, within our own company, and in the world at large, we strive to build and deepen this work both on and offstage. The board, staff, and company of Les Ballets Trockadero proudly stand together with those who embrace a commitment to diversity, equity, inclusivity and accessibility in all its forms.
Chelsea Community News is made possible with the help of our awesome advertisers, and the support of our readers. If you like what you see, please consider taking part in our GoFundMe campaign (click here). To make a direct donation, give feedback, or send a Letter to the Editor, email scott@chelseacommunitynews.com.